printer friendly version
No need for custom enclosures thanks to rugged subrack system
29 June 2022
Enclosures, Racks, Cabinets & Panel Products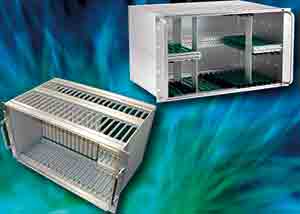 The KM6-HD subrack range from Verotec meets the requirements of IEEE 1101.10 and 11, which expand on IEC60297 to add functionality required for modern industrial computing applications. This includes RFI shielding, a rear transition area, front-panel ESD/coding and handles with an injector/extractor operating feature. KM6-HD is therefore well suited to VME64x and CompactPCI applications serving typical markets such as telecoms, medical and instrumentation.
In addition, this product range would suit any rugged application where resistance to shock and vibration is required. Built to meet MIL-STD-167, its features include positive guide retention, heavy two-screw fixing tiebars, 3 mm thick side plates and rack angles and a conductive finish throughout. The KM6-HD subrack accepts standard Eurocards in 3U, 6U and 9U heights and depths of up to 400 mm in both the IEC 297 and IEEE 1101.10 standards. They are supplied fully assembled and complemented by the standard range of KM6 accessories.
RFI protection is achieved through the use of covers, EMC contact fingers and conductively finished mating parts. The Faraday cage achieved with subracks can give very high levels of signal attenuation across a wide band of frequencies. The nature of the construction also allows the user to define a balance between EMC and ventilation.
Selective RFI protection is another option, with the use of plug-in screened modules. There are a couple of alternatives: either the problem can be designed out at the board level (there is some doubt, however, that susceptibility problems can be designed out through tracking and layout changes), or the problem areas can be 'canned', but again there are some doubts regarding susceptibility.
The use of secure card guides (screwed in), two-point extrusion to endplate fixing and additional mounting at the rear of the frame take care of shock and vibration resistance. It should be remembered that the effectiveness of the mounting is only as good as the rack/system into which the frame is mounted.
For securely mounting PCBs without using a subrack, only custom solutions are available and these are normally loosely based around the subrack principle anyway.
For ESD protection, grounding clips in the card guide system are used to discharge electrostatic build up from the PCB either during insertion or during the course of normal operation in situ. Additional grounding at the front panel is now seen as good ESD practice and this is achieved either with the use of metal inserts or through the grounding pin in IEEE1101.10 injector/ejector mechanisms.
Alternative methods of ESD are hard to define. Some claim that good production methods, i.e., operators fitted with discharge clips and product storage in antistatic packaging, are helpful. Others claim sufficient discharge is possible through an allocated pin(s) of the connector.
The subrack concept allows the user to configure the usable space to suit the application, thus removing the necessity to 'tool' each configuration as a custom solution.
Divider kits for the front and rear allow for a variety of heights, widths and depths within a single envelope size. Even the orientation of the PCBs can be readily changed from vertical to horizontal, or indeed a combination of the two within the same frame. The alternative to this is to produce a custom solution, which may well require a high tooling investment.
Credit(s)
Further reading:
New low-cost 60 W PSU
Vepac Electronics Power Electronics / Power Management
The new VCB60 series of 60 W PSUs from XP Power addresses the need for high-quality easy-to-use power solutions at attractive price points.
Read more...
---
IP68 sealed enclosures from Hammond Manufacturing
Electrocomp Enclosures, Racks, Cabinets & Panel Products
Hammond Manufacturing has introduced the 1551W series, IP68 sealed versions of its popular 1551 miniature enclosure family, in five initial sizes.
Read more...
---
PSU available in 75 W to 1000 W output range
Vepac Electronics Power Electronics / Power Management
The switched-mode power supplies can accept a wide range of dual AC/DC inputs and have active power factor correction.
Read more...
---
Extruded aluminium enclosures
Sivan Electronic Supplies Enclosures, Racks, Cabinets & Panel Products
The extruded aluminium enclosures of Gainta's ALUG7XX series are available in different sizes, with lengths suitable for indoor desktop device or outdoor wall-mounting junction/control box use. Five 
...
Read more...
---
Conduction-cooled electronics cases
Actum Electronics Enclosures, Racks, Cabinets & Panel Products
As electronics and processing systems become smaller and smaller, the need for versatile, compact form-factor cases that allow efficient heat dissipation increases. nVent Schroff offers customisable conduction-cooled 
...
Read more...
---
New generation of tool-free cable entry system
Enclosures, Racks, Cabinets & Panel Products
The system offers a tool-free assembly and high cable density for routing and sealing cables that have already been terminated.
Read more...
---
Half-duplex transceiver for RS-485
Vepac Electronics Computer/Embedded Technology
The new enhanced transceiver is designed for RS-485 data bus networks and is fully compliant with the TIA/EIA-485A standard.
Read more...
---
World's fastest 16-bit arbitrary waveform generator
Vepac Electronics Test & Measurement
The ARB Rider AWG-5000 has a 6,16 GS/s real-time update rate with a 16-bit vertical resolution and is available in two, four or eight channel models.
Read more...
---
Adjustable 1200 W power supply with near-to-zero output
Vepac Electronics Power Electronics / Power Management
Powerbox releases a 1200 W power supply, optimised for conduction cooling, which has adjustable near-to-zero output voltage and current.
Read more...
---
Affordable laboratory power supply
Vepac Electronics Power Electronics / Power Management
For developers, it offers two switchable USB outputs with their own LCD display for the voltage and current values.
Read more...
---