printer friendly version
Ambient light and proximity sensor
29 September 2021
Opto-Electronics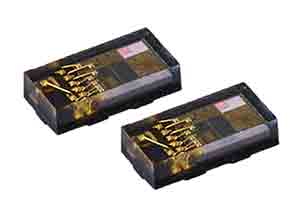 Mouser Electronics is now stocking the TMD2712 ambient light and proximity sensor from ams. The sensor incorporates an infrared (IR) VCSEL (vertical cavity surface emitting laser) and factory-calibrated VCSEL driver in a tiny 1 x 2 mm module.
The TMD2712 provides object detection by photodiode detection of reflected IR energy (sourced by the integrated VCSEL). Detect/release events are interrupt-driven and occur when a proximity result crosses upper and lower threshold settings. The proximity engine features a wide range offset adjustment to compensate for unwanted IR energy reflection at the sensor. Proximity results are further improved by automatic ambient light subtraction.
The sensor has dedicated data converters producing 16-bit data. This architecture allows applications to accurately measure ambient light, enabling devices to calculate illuminance to control display backlighting.
Applications for the TMD2712 sensor include mobile phone display and proximity management, and user proximity detection and ambient light measurement for wearables.
For more information contact TRX Electronics, +27 12 997 0504, info@trxe.com, www.trxe.com
Credit(s)
Further reading:
27 GHz SMA interconnect products
TRX Electronics Interconnection
Mouser Electronics is now stocking EP-SMA 27 GHz connectors, adaptors and cable assemblies from TE Connectivity. The portfolio provides engineers with increased bandwidth, power and performance that are 
...
Read more...
---
eBook explores surge protection design challenges
TRX Electronics Technical Literature
Mouser has joined forces with Bourns as the title sponsor of a new eBook titled 'How to choose the right surge protection technology'.
Read more...
---
Wide range of sensor technologies for innovative designs
TRX Electronics Analogue, Mixed Signal, LSI
Mouser Electronics has created a sensor technology content stream on its website that highlights the latest in innovative sensor solutions and resources from the world's top manufacturers. With the 
...
Read more...
---
VCSEL modules for 3D gesture recognition
Future Electronics Opto-Electronics
ams Osram has expanded its 3D sensing portfolio with four new VCSEL modules. The number of applications which utilise 3D sensing technology continues to increase, from the detection of the surroundings 
...
Read more...
---
ToF ranging sensor board eases integration
Altron Arrow Opto-Electronics
The VL53L5CX-SATEL breakout boards from STMicroelectronics can be used for easy integration into customer devices. The PCB section supporting the VL53L5CX time-of-flight (ToF), multizone ranging sensor 
...
Read more...
---
Interconnect system with 1,0 mm centreline
TRX Electronics Interconnection
Mouser Electronics is now stocking the AMPMODU 1,0 mm centreline interconnect system from TE Connectivity (TE). This interconnect system offers an 85% space saving on the board when compared to the 
...
Read more...
---
UV-A light detection for wearable and mobile devices
Future Electronics Opto-Electronics
Monitoring vital signs such as pulse or oxygen saturation in the blood via smartphones and smartwatches has been available for several years. The corresponding UV channel of the TSL2585 from ams Osram 
...
Read more...
---
RF power GaN transistor
TRX Electronics Telecoms, Datacoms, Wireless, IoT
Mouser Electronics is now stocking the A3G26D055N Airfast RF power gallium nitride (GaN) transistor from NXP Semiconductors. The transistor is designed for cellular base station applications requiring 
...
Read more...
---
Thermal management solutions for automotive and Mil/Aero
TRX Electronics Manufacturing / Production Technology, Hardware & Services
How thermal materials work, how to dissipate unnecessary heat and some of the selection criteria that come into play to select the best TIM form, fit and function.
Read more...
---
Time-of-flight multi-zone ranging sensor
EBV Electrolink Opto-Electronics
STMicroelectronics has announced the first multi-zone FlightSense time-of-flight sensor to be offered for general-purpose applications, bringing sophisticated distance sensing to the full spectrum of 
...
Read more...
---