printer friendly version
Fully configurable gate driver for SiC MOSFETs
29 September 2021
Power Electronics / Power Management
As demand for electric buses and other electrified heavy transport vehicles increases to meet lower emission targets, silicon carbide (SiC)-based power management solutions are providing greater efficiencies in these transportation systems. To complement its broad portfolio of silicon carbide MOSFET discrete and module products, Microchip Technology announced a new 1200 V production-ready digital gate driver, providing system developers with multiple levels of control and protection for safe, reliable operation and qualified to stringent transportation requirements.
For designers of silicon carbide-based power conversion equipment, the AgileSwitch 2ASC-12A2HP 1200 V dual-channel digital gate driver with its 'Augmented Switching' technology is production qualified and fully configurable. To ensure reliable, safe operation, it provides multiple levels of control and a higher level of protection for silicon carbide MOSFET-based power systems.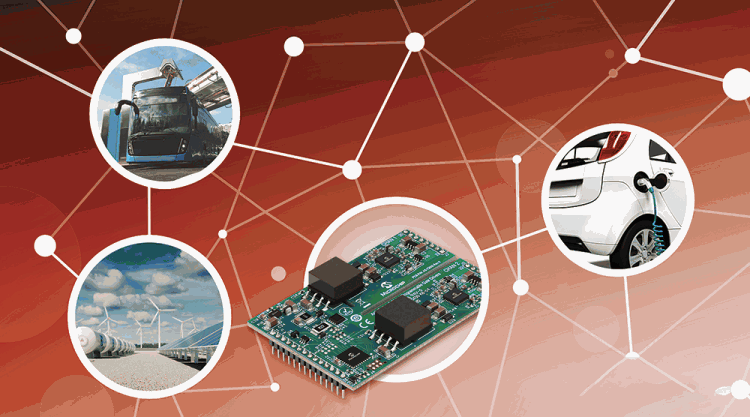 When compared to conventional gate drivers, key performance attributes of the AgileSwitch gate driver products include the ability to dampen drain-source voltage (Vds) overshoots by up to 80% and slash switching losses by as much as 50%. The 2ASC-12A2HP can source/sink up to 10 A of peak current and includes an isolated DC/DC converter with a low-capacitance isolation barrier for pulse width modulation signals and fault feedback.
The new gate driver is compatible with the company's latest release of the Intelligent Configuration Tool (ICT). This interface allows users to configure gate driver parameters including the gate switching profiles, system-critical monitors and controller interface settings. The result is a gate driver that is tailored to users' applications without having to change hardware, helping to speed development time from evaluation through production and enabling designers to change control parameters during the design process. Microchip claims that ICT, which is a free-of-charge download, can save designers approximately three to six months of development time on new designs.
In addition to commercial vehicles, other applications include charging infrastructure, energy storage systems, solar inverters and aircraft flight actuators.
Credit(s)
Further reading:
USB charger solution with high power density
Altron Arrow Power Electronics / Power Management
Diodes Incorporated has launched a three-chip solution for enhancing the performance of ultra-high-power-density USB Type-C power delivery (PD) systems. These products can be used in a wide variety of 
...
Read more...
---
Totem pole PFC controller
EBV Electrolink Power Electronics / Power Management
A new addition was made to ON Semiconductor's solution set for ultra-high density offline power supplies in the form of the NCP1680, a dedicated critical conduction mode totem pole PFC controller. It 
...
Read more...
---
Front-end modules for 5G MIMO infrastructure
Future Electronics Telecoms, Datacoms, Wireless, IoT
NXP Semiconductors has announced the new BTS6302U/6201U pre-drivers and BTS7203/5 dual-channel receive (RX) front-end modules (FEM) for 5G massive multi-input multi-output (MIMO) infrastructure. These 
...
Read more...
---
Compact offline switcher ICs
EBV Electrolink Power Electronics / Power Management
Power Integrations introduced LinkSwitch-TNZ, a new switching power supply IC that combines offline power conversion, lossless zero-crossing detection and optionally, X-capacitor discharge functions in 
...
Read more...
---
100 W and 300 W eighth-brick converters
Brabek Power Electronics / Power Management
Recom has introduced two new cost-effective DC/DC products with outputs of 100 W and 300 W in a DOSA-compatible, low-profile, through-hole eighth-brick format (58,4 x 23 mm). The RPA100E-W 100 W part 
...
Read more...
---
High-side current sense amplifier with adjustable gain
NuVision Electronics Power Electronics / Power Management
The MPQ8112A is a low-cost, unipolar, high-side current sense amplifier that operates from a 2,7 V to 60 V supply and typically consumes a 300 μA current. The Monolithic Power Systems part is ideal for 
...
Read more...
---
VCSEL modules for 3D gesture recognition
Future Electronics Opto-Electronics
ams Osram has expanded its 3D sensing portfolio with four new VCSEL modules. The number of applications which utilise 3D sensing technology continues to increase, from the detection of the surroundings 
...
Read more...
---
Super-junction 800 V MOSFETs
Altron Arrow Power Electronics / Power Management
The new super-junction STPOWER MDmesh K6 series from STMicroelectronics enhances several key parameters to minimise system-power losses. It is especially suited to lighting applications based on flyback 
...
Read more...
---
DC/DC converter for forklift trucks
Vepac Electronics Power Electronics / Power Management
The DC/DC converters of the series PCMDS550-FT from MTM Power are tailor-made to meet the requirements in forklift truck technology. Highest quality and safety are of particular importance when using 
...
Read more...
---
Wide-input buck converters in tiny package
Brabek Power Electronics / Power Management
RECOM now offers through-hole, 1/32nd brick footprint, non-isolated DC/DC converters by way of the RPMA-4.5 and RPMA-8.0, with 4,5&nbs;A and 8 A output ratings respectively. Each part has a wide 9-53 V input 
...
Read more...
---