printer friendly version
Wits researchers turn Jozi into live lightning research lab
29 September 2021
Editor's Choice
Lightning is one of the biggest weather-related killers in the world. In South Africa, more than 250 people are killed annually by lightning, whereas 24 000 people worldwide die each year. Thousands more are injured and according to the South African Weather Service, the estimated insurance claims in South Africa amount to more than R500 million each year.
Southern Africa, as a climate change hotspot, is likely to see increased lightning activity, making the study of lightning in Johannesburg paramount to mitigate the dangers to human safety and economic sustainability.
"As we move more towards renewable energy systems such as solar panels and wind turbines that are highly susceptible to lightning damage, we have to learn how these are affected by lightning and how to protect them better," says Dr Hugh Hunt, senior lecturer and head of the Johannesburg Lightning Research Laboratory (JLRL) in the School of Electrical and Information Engineering at Wits University.
To build on Wits University's rich history of pioneering research into lightning and as part of the Wits Centenary programme that seeks to advance society for good, the JLRL has partnered with lightning protection company, Dehn Africa and Sentech to support research into the protection of renewable energy systems from lightning.
The research involves installing a custom-built DEHNdetect lightning current measurement device – intended for measuring lightning currents to wind turbines – on the Sentech Tower in Brixton, Johannesburg. Watch a video of the first measurement of a lightning current to the tower by going to www.dataweek.co.za/*sep21-jlrl
"The best way to study lightning is to measure real lightning, which cannot be simulated in a high-voltage lab as the distances between clouds and the ground are not great enough," explains Hunt.
Together with colleague Dr Carina Schumann (who made the first high-speed videos of lightning in Africa in 2017), postgraduate students and collaborators from around the world, the JLRL is turning Johannesburg into a laboratory where live lightning events can be measured and characterised through the use of high-speed cameras, direct current measurements, fast electric field measurements and comparison with lightning location systems.
"Lightning is measured in flashes per square kilometre per year and Johannesburg averages a high flash density of 15 flashes/km2/year compared to Europe with an average of 3 flashes/km2/year. It is rare to find a country's economic and industrial centre in such a high lightning risk zone and Johannesburg is ideal to study lightning events because of its extremely unique characteristic of having a high cloud base – six kilometres on average – making it possible for us to film a full lightning flash. No other location where lightning currents to tall towers are measured can correlate the measurements with high-speed footage as well as we are able to do in Johannesburg," says Hunt.
The JLRL made the first measurements using the DEHNdetect device over the 2020 to 2021 Johannesburg summer thunderstorm season, high-speed filming and measuring an astounding 50 lightning currents. This has spurred Dehn Africa to further donate R500 000 to the JLRL for future research around the protection of renewable energy systems from lightning.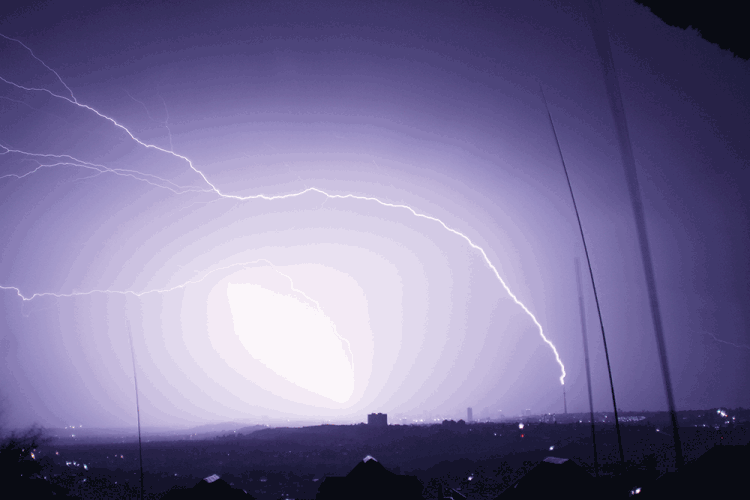 Live lightning event captured striking the Telkom Tower in Hillbrow (left) and the Sentech Tower in Brixton (right) in Johannesburg. Photo by Dr Carina Schumann/JLRL/Wits University.
"It is an absolute pleasure to extend our partnership even further with Wits University. As education and research are critical components to our economy, we as Dehn are truly excited to take the partnership to new levels," says Hano Oelofse, managing director of Dehn Africa.
The money will go towards installing more DEHNdetect devices on high infrastructure in Johannesburg, as well as to providing bursaries for MSc and PhD students working in lightning protection research and growing the research capabilities of the JLRL.
Professor Estelle Trengove, head of the School of Electrical and Information Engineering in the Faculty of Engineering and the Built Environment, says the JLRL is one of the School's flagship projects for the #Wits100 celebration next year.
"Although much is known about lightning, there is much that we still need to learn. The JLRL is working at the cutting edge of lightning physics today and the School is grateful for the generous donation from Dehn that has allowed it to expand this project further.
"At present, the Sentech Tower is equipped with current measurement equipment, but in future we would like to equip the Telkom Tower and other tall structures in Johannesburg with measurement equipment, to get a more complete picture of lightning activity over Johannesburg," she says.
International Conference on Lightning Protection 2022
To add to the celebrations, the International Conference on Lightning Protection – the premier lightning conference in Europe – will be hosted in South Africa next year thanks to the successful bid by Professor Ian Jandrell, a renowned expert in the field of lightning, high-voltage engineering and forensic engineering and currently the deputy vice-chancellor: Systems and Operations at Wits University.
FEBE100 Club
The Faculty of Engineering and the Built Environment (FEBE) is also celebrating its centenary in 2022 with companies, global and local, that are 100 years and older. It is doing so through the establishment of its FEBE100 Club that honours companies that have invested financially and otherwise, into the sustainability of the faculty and its myriad of pioneering projects and research. Dehn Africa is one of the first companies to join the FEBE100 Club as part of the university's centenary celebrations.
For more information visit the JLRL's website at www.wits.ac.za/eie/research-groups/johannesburg-lightning-research-lab--wits/ or use the short URL www.dataweek.co.za/*sep21-jlrl2
Further reading:
Water, water everywhere and not a drop to drink
27 October 2021, Omnigo, CZ Electronics Manufacturing, Deman Manufacturing, Jemstech , Editor's Choice
In light of the ongoing severe shortage of semiconductors globally,
Dataweek
asked a few local contract electronics manufacturers to share their experiences, but also for any positive spin they can give to the current state of affairs.
Read more...
---
Thermal management in high-performance RF and microwave PCBs
27 October 2021, Conical Technologies , Editor's Choice, Manufacturing / Production Technology, Hardware & Services
One of the many roles that a PCB has to perform is to channel heat from the underside of semiconductor devices through to the chosen heatsinking scheme as efficiently and effectively as possible.
Read more...
---
Omnigo's TestBench offers a reliable test base to meet a multitude of test requirements
27 October 2021, Omnigo , Editor's Choice
Ensuring that another product is ready to be part of our technologically driven world, functionally tested in an economical and timely manner.
Read more...
---
Prototype chip decodes any type of data sent across a network
29 September 2021 , Editor's Choice, News
The silicon chip can decode any error-correcting code through the use of a novel algorithm known as Guessing Random Additive Noise Decoding (GRAND).
Read more...
---
Personality profile: Hannes Taute
29 September 2021 , Editor's Choice
"You need to have energy and the right attitude to succeed – electronics distribution is all about building customer relationships and making sure your customers are taken care of."
Read more...
---
Construction of world's largest radio telescope arrays green-lighted
29 September 2021 , Editor's Choice, News
In addition to delivering exciting and revolutionary science, the construction of the SKA telescopes will produce tangible societal and economic benefits for countries involved in the project.
Read more...
---
A technical overview of three top LPWAN architectures
29 September 2021, Technews Publishing , Editor's Choice, Telecoms, Datacoms, Wireless, IoT
Hopefully one day soon, enough broad network rollouts will come online that it will become a simple case of choosing the one that fits your application, and your pocket, just right.
Read more...
---
Improving precision ADC signal chain design time with CTSDs
29 September 2021, Altron Arrow , Editor's Choice
Signal conditioning circuits with stringent requirements need to be designed and tailored around specific and individual ADC technologies to ensure that ADC data sheet performance can be achieved.
Read more...
---
Personality profile: Daniel Haywood
25 August 2021 , Editor's Choice
I find pockets of inspiration from the engineers and entrepreneurs that keep their businesses going and work hard to grow their companies.
Read more...
---
The LPWAN state of play in SA
25 August 2021, RF Design, Technews Publishing, Altron Arrow, Otto Wireless Solutions , Editor's Choice, Telecoms, Datacoms, Wireless, IoT
To help give our readers the low-down on what to be aware of and what to expect for the future, we consulted a few leading minds on the subject to get some of their insights and opinions.
Read more...
---