printer friendly version
UV-A light detection for wearable and mobile devices
27 October 2021
Opto-Electronics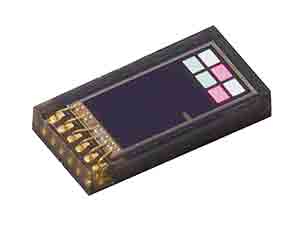 Monitoring vital signs such as pulse or oxygen saturation in the blood via smartphones and smartwatches has been available for several years. The corresponding UV channel of the TSL2585 from ams Osram detects the amount of UV-A radiation in natural sunlight, enabling the user to be warned of excessive UV-A radiation. Thanks to its extremely compact dimensions, the sensor is ideally suited for space-constrained wearable and other mobile applications.
While the UV-C portion of sunlight is blocked by the earth's atmosphere, UV-A and UV-B radiation reaches the Earth's surface. UV-B radiation penetrates only the upper layers of the skin and is responsible for sunburn. UV-A radiation, which accounts for around 90% of the UV component that reaches the Earth's surface, penetrates much deeper into the lower layers of the skin and can, in some cases, have significant health consequences – from weakening the connective tissue to faster ageing of the skin and a higher probability to develop skin cancer. With the help of this new ambient light sensor, smartwatch users can now be warned as soon as the UV-A dose in their environment becomes too high.
The sensor utilises advanced interference filters which are precisely deposited on each photodiode pixel to create a 315-400 nm UV-A channel, a human-eye response photopic channel and an IR channel. These provide essential information for indoor/outdoor identification, UV index calculation and ambient illuminance detection. Additionally, the TSL2585's unique edge-located photodiode placement supports very narrow µBezel design.
The TSL2585 has integrated light flicker detection on-chip and is equipped with three modulators with up to 14 kHz sampling rate. By providing the illuminance information and ambient light flicker information to the phone camera, it supports fast auto exposure and removal of banding effects caused by flicker from environmental lighting.
The compact dimensions of the extremely flat package – only 2,0 mm x 1,0 mm x 0,35 mm – allow for space-saving system designs to help manufacturers of extremely compact devices. The sensor can be operated with a voltage of 1,8 V and consumes only 0,7 µA when inactive.
Credit(s)
Further reading:
Front-end modules for 5G MIMO infrastructure
Future Electronics Telecoms, Datacoms, Wireless, IoT
NXP Semiconductors has announced the new BTS6302U/6201U pre-drivers and BTS7203/5 dual-channel receive (RX) front-end modules (FEM) for 5G massive multi-input multi-output (MIMO) infrastructure. These 
...
Read more...
---
VCSEL modules for 3D gesture recognition
Future Electronics Opto-Electronics
ams Osram has expanded its 3D sensing portfolio with four new VCSEL modules. The number of applications which utilise 3D sensing technology continues to increase, from the detection of the surroundings 
...
Read more...
---
ToF ranging sensor board eases integration
Altron Arrow Opto-Electronics
The VL53L5CX-SATEL breakout boards from STMicroelectronics can be used for easy integration into customer devices. The PCB section supporting the VL53L5CX time-of-flight (ToF), multizone ranging sensor 
...
Read more...
---
High-precision voltage reference IC
Future Electronics Analogue, Mixed Signal, LSI
Extended temperature-range voltage reference ICs for automotive and industrial applications require low drift, high reliability and high performance. A new high-precision voltage reference (Vref) IC from 
...
Read more...
---
Fully configurable gate driver for SiC MOSFETs
Future Electronics Power Electronics / Power Management
As demand for electric buses and other electrified heavy transport vehicles increases to meet lower emission targets, silicon carbide (SiC)-based power management solutions are providing greater efficiencies 
...
Read more...
---
Ambient light and proximity sensor
TRX Electronics Opto-Electronics
Mouser Electronics is now stocking the TMD2712 ambient light and proximity sensor from ams. The sensor incorporates an infrared (IR) VCSEL (vertical cavity surface emitting laser) and factory-calibrated 
...
Read more...
---
Time-of-flight multi-zone ranging sensor
EBV Electrolink Opto-Electronics
STMicroelectronics has announced the first multi-zone FlightSense time-of-flight sensor to be offered for general-purpose applications, bringing sophisticated distance sensing to the full spectrum of 
...
Read more...
---
New laser sensor technology detects difficult targets
Omron Electronics Opto-Electronics
Omron has launched a new E3AS-HL CMOS Laser Sensor with sensing technology that significantly improves detection capability using an industry-first Laser Class 1 CMOS laser sensor equipped with an FPGA. 
...
Read more...
---
Colour registration mark sensor
Vepac Electronics Opto-Electronics
SmartEye Colormark ll registration mark sensors from Tri-Tronics combine unique colour perception ability with very high-speed response. Many important features have been incorporated into the design 
...
Read more...
---
Ethernet PHYs for industrial networking
Future Electronics Telecoms, Datacoms, Wireless, IoT
Smart manufacturing is driving efficiencies in automation as digital networks increasingly connect machines, production line equipment and robotics. Operation technology (OT) and information technology 
...
Read more...
---