printer friendly version
RFID tags in different frequency ranges
27 October 2021
Telecoms, Datacoms, Wireless, IoT
Transponders in different frequency ranges are used in a variety of applications and technical sectors. Neosid offers RFID transponders and antenna devices for the following frequency ranges:
• LF - low frequency, 125/134,2 kHz.
• HF - high frequency/near-field communication (NFC), 13,56 MHz.
• UHF - ultra high frequency, 434/868/9xx MHz.
With NeoTAG, Neosid offers an extremely compact design that meets maximum range. The highly compact transponders withstand the most adverse conditions and have a remarkable reading range, even from within metallic environments.
A cleverly designed ferrite core optimises reading out from within a metallic environment at 13,56 MHz. The transponder is delivered with a read/write chip as standard and supplied in a surprisingly small housing (2,6 x 2,6 x 2,4 mm). That qualifies the compact NeoTAG components for a broad range of tasks that encompasses all industries in which small transponders with a far reading range are in demand.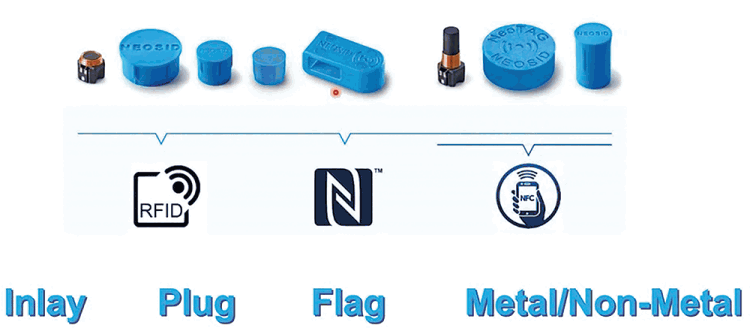 The assembled RFID chip supports ISO IEC 15693 and as NFC Forum Type 5 tags, they are useable for NFC applications as well. NeoTAG HF transponders are in accordance with the directive for market availability of radio equipment (RED directive 2014/53/EU).
The plastic housing for these 'plug-and-flag' products is made from high-quality polyphthalamide (PPA) material. This thermoplastic synthetic material possesses high strength and demonstrates high resistance to mechanical loads, chemical substances and heat. Its high creep strength and low mechanical distortion make PPA a very popular material for use in demanding industries. Due to this PPA material's high temperature stability of up to 280°C, NeoTAG transponders withstand use in high ambient temperatures.
For all supported RFID frequency ranges, Neosid offers a wide range of specially fitted transponder antennas that can be used in transponders as well as in RFID reader devices.
For more information contact Electrocomp, +27 11 458 9000, deon@electrocomp.co.za, www.electrocomp.co.za
Credit(s)
Further reading:
Embedded GNSS antenna with integrated LNA
RF Design Telecoms, Datacoms, Wireless, IoT
The HC990EXF from Tallysman is an extended-filter embedded GNSS helical antenna. This RHCP (right-hand circular polarised) antenna provides a peak gain of 3 dBi at full bandwidth and has an axial ratio 
...
Read more...
---
Wireless asset tag supporting Quuppa RTLS
EBV Electrolink Telecoms, Datacoms, Wireless, IoT
onsemi unveiled a new system solution that overcomes the main challenges associated with developing asset tracking tags. Battery life has been a major obstacle to asset tag adoption, particularly within 
...
Read more...
---
Wi-Fi SoCs with USB interface
iCorp Technologies Telecoms, Datacoms, Wireless, IoT
USB (Universal Serial Bus) is an industry standard that enables communication between a host controller and peripherals or other devices. A USB interface is integrated into Espressif Systems' ESP32-S 
...
Read more...
---
RS-485/422 differential transceivers
Hi-Q Electronics Telecoms, Datacoms, Wireless, IoT
Renesas has expanded its RS-485/422 portfolio with the RAA78815x family of 5 V differential transceivers with electrical fast transient (EFT) immunity of ±5000 V and ESD protection up to ±16 000 V, making 
...
Read more...
---
NB-IoT roll-out will rapidly increase adoption
Flickswitch Telecoms, Datacoms, Wireless, IoT
In today's ever-evolving world, catching the IoT wave is critical. Surveys show that four out of five businesses are investing in IoT, however, there are always questions when it comes to delivering long-term 
...
Read more...
---
Multi-mode LTE Cat. 4 module
iCorp Technologies Telecoms, Datacoms, Wireless, IoT
The SC200R-EM is a new-generation multi-mode LTE Cat. 4 smart module measuring 40,5 mm × 40,5 mm × 2,8 mm with built-in Android OS, based on Qualcomm's ARM Cortex-A53 64-bit quad-core processor and built-in 
...
Read more...
---
Tiny Bluetooth module fit for industrial applications
RF Design Telecoms, Datacoms, Wireless, IoT
The newly released ANNA-B4 is u-blox' smallest Bluetooth module to date, packed with features tailored to the needs of industrial applications. This comes at a time when smart factories have matured from 
...
Read more...
---
Multiprotocol, dual-processor wireless SoC
RF Design Telecoms, Datacoms, Wireless, IoT
Nordic Semiconductor's nRF5340 high-end multiprotocol system-on-chip (SoC) became the first member of its next generation of nRF5 Series SoCs. The nRF5340 builds on Nordic's proven and globally adopted 
...
Read more...
---
Cloud platform securely manages and connects edge devices
Avnet Silica Telecoms, Datacoms, Wireless, IoT
NXP Semiconductors' EdgeLock 2GO IoT service platform enables easy, secure deployment and management of IoT devices and services. The platform is integrated with NXP's Common Criteria (CC) EAL 6+ certified 
...
Read more...
---
Digital flow sensor for respiratory devices
Electrocomp Analogue, Mixed Signal, LSI
The compact SFM3119 digital flow meter is the successor to Sensirion's SFM3100 mass flow meter. Compared to its predecessor, the SFM3119 comes with a digital I
2
C output as well as improved specifications.  
...
Read more...
---