printer friendly version
Evaluation kit for formaldehyde sensor
27 October 2021
Design Automation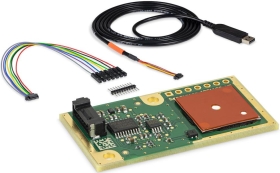 The SEK-SFA30 evaluation kit has been designed for easy evaluation of Sensirion's SFA30 formaldehyde sensor. The SFA30 is designed for easy integration into air purifiers, demand-controlled ventilation systems or indoor air quality monitors.
In addition to the SFA30 sensor module, the SEK-SFA30 comes with a UART-USB cable for a plug-and-play connection to a PC and evaluation with Sensirion's easy-to-use SEK-ControlCenter viewer software. For connecting the sensor to prototyping platforms such as Arduino or Raspberry Pi, a 7-pin jumper wire cable is provided.
Some of the features of the SFA30 formaldehyde sensor are:
• Low cross-sensitivity to ethanol.
• Long-term stability and six year service lifetime.
• Patented electrochemical cell with anti-dry technology.
• I2C/UART interface with lifetime-calibrated output.
• Fully temperature and humidity compensated via Sensirion RHT sensor.
Credit(s)
Further reading:
Sealed tantalum capacitors
Electrocomp Passive Components
With an operating temperature range of -55 to 125°C, with voltage derating, these capacitors have been designed especially for avionics and aerospace applications.
Read more...
---
Analogue front end for sensor measurements
Electrocomp Analogue, Mixed Signal, LSI
The NJU9103 AFE from Nisshinbo is a tiny analogue front end, with a 16-bit resolution ADC and up to 512 x signal amplification from the programmable gain amplifier.
Read more...
---
New series of chip-type capacitors
Electrocomp Passive Components
Panasonic Industries' SMT capacitor series all benefit from the longest lifetime plus the lowest ESR values currently available.
Read more...
---
SMD coupled inductors
Electrocomp Passive Components
TDK Corporation has expanded its family of flat wire inductors with the high-performance EPCOS ERUC23 coupled inductor series.
Read more...
---
Corrosion-resistant GRP enclosures
Electrocomp Enclosures, Racks, Cabinets & Panel Products
The design offers better impact resistance, and all sizes have the additional feature of shelves moulded into the base, fitted with threaded inserts to house a PCB or other electrical equipment.
Read more...
---
Millimetre-accurate ultrasonic ToF sensor
Electrocomp Telecoms, Datacoms, Wireless, IoT
InvenSense's SmartSonic family of ultrasonic ToF sensors integrate a MEMS piezoelectric micromachined ultrasonic transducer with an ultra-low power SoC in a miniature reflowable package.
Read more...
---
NTC thermistors for laser diode temperature measurement
Electrocomp Opto-Electronics
These bondable NTC thermistors can be mounted with Au wire bonding inside the package for highly accurate temperature detection of laser diodes used for optical communication.
Read more...
---
External Wi-Fi dual band antenna
Electrocomp Telecoms, Datacoms, Wireless, IoT
The X9001748 is an IP67 black or white antenna, which offers protection against dust and water, and provides a high gain suited for Wi-Fi applications.
Read more...
---
Snap-in capacity series with high capacitance density
Electrocomp Passive Components
TDK's new capacitor series cover a rated voltage range from 450 to 475 V DC, with capacitance values from 120 µF to 1,25 mF.
Read more...
---
EMI shielding knitted wire mesh
Electrocomp Interconnection
TE Connectivity's range of knitted wire mesh gaskets provides a cost-effective solution to high shielding performance applications to protect against RFI/EMI and EMP.
Read more...
---