printer friendly version
VCSEL modules for 3D gesture recognition
24 November 2021
Opto-Electronics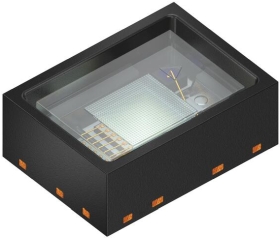 ams Osram has expanded its 3D sensing portfolio with four new VCSEL modules. The number of applications which utilise 3D sensing technology continues to increase, from the detection of the surroundings for robots to avoid collisions to the unlocking of smartphones via facial recognition. But 3D sensing also plays an important role for augmented and virtual reality (AR/VR) glasses.
Thanks to components like Bidos P2433 Q, various gestures can be reliably captured, raising the interaction between user and AR/VR glasses to a new level. The compact package also allows customers particular design flexibility. For augmented and virtual reality devices, as well as other 3D world-facing applications, the focus is on maximum user experience combined with compact and lightweight design. In the 3D sensing market, vertical cavity surface emitting lasers (VCSEL) have a huge impact due to their good beam quality, cost efficiency and simple design.
Bidos P2433 Q is available in four different versions including two different fields-of-illumination and two output power levels. The VCSEL-based modules with a size of 3,3 mm x 2,4 mm are suitable for 3D sensing applications using time-of-flight (ToF) measurement, which require a homogeneous illumination of the scene. Due to their wavelength of 940 nm, all modules are also free from the red glow effect which is perceived by the human eye as disturbing flickering.
The two higher-power modules with 6,5 W use dual-junction VCSELs for enhanced performance and efficiency of up to 45%. In addition, a photodiode monitoring system is integrated into the module as a special protection mechanism for eye safety. If the photodiode registers a change in the incidence of light – for example, if the optics are damaged – the current supply to the VCSEL is interrupted.
Besides 3D gesture recognition, the four new modules can also be used in industrial robotics for obstacle avoidance and virtual fencing, or in 3D face authentication systems in smart door locks or point-of-sale payment terminals.
Credit(s)
Further reading:
LED driver expansion board for STM32 Nucleo
Altron Arrow Opto-Electronics
STMicroelectronics' X-NUCLEO-LED12A1 LED driver expansion board for STM32 Nucleo features four LED1202 devices that can drive up to 48 LEDs. The LED1202 is a 12-channel, low quiescent current LED driver 
...
Read more...
---
Power stack reference design leverages Microchip SiC devices
Future Electronics Power Electronics / Power Management
E-mobility and renewable energy systems require power management solutions that drive performance and cost efficiencies in addition to speeding up development time. To keep pace with these requirements, 
...
Read more...
---
Port protection IC for MCUs tailored to USB-C dual-role power
Future Electronics Circuit & System Protection
The STMicroelectronics TCPP03-M20 USB Type-C port protection IC is tailored for Dual-Role Power (DRP) applications, simplifying the design of products that can act as a power source for connected devices 
...
Read more...
---
Front-end modules for 5G MIMO infrastructure
Future Electronics Telecoms, Datacoms, Wireless, IoT
NXP Semiconductors has announced the new BTS6302U/6201U pre-drivers and BTS7203/5 dual-channel receive (RX) front-end modules (FEM) for 5G massive multi-input multi-output (MIMO) infrastructure. These 
...
Read more...
---
ToF ranging sensor board eases integration
Altron Arrow Opto-Electronics
The VL53L5CX-SATEL breakout boards from STMicroelectronics can be used for easy integration into customer devices. The PCB section supporting the VL53L5CX time-of-flight (ToF), multizone ranging sensor 
...
Read more...
---
UV-A light detection for wearable and mobile devices
Future Electronics Opto-Electronics
Monitoring vital signs such as pulse or oxygen saturation in the blood via smartphones and smartwatches has been available for several years. The corresponding UV channel of the TSL2585 from ams Osram 
...
Read more...
---
High-precision voltage reference IC
Future Electronics Analogue, Mixed Signal, LSI
Extended temperature-range voltage reference ICs for automotive and industrial applications require low drift, high reliability and high performance. A new high-precision voltage reference (Vref) IC from 
...
Read more...
---
Fully configurable gate driver for SiC MOSFETs
Future Electronics Power Electronics / Power Management
As demand for electric buses and other electrified heavy transport vehicles increases to meet lower emission targets, silicon carbide (SiC)-based power management solutions are providing greater efficiencies 
...
Read more...
---
Ambient light and proximity sensor
TRX Electronics Opto-Electronics
Mouser Electronics is now stocking the TMD2712 ambient light and proximity sensor from ams. The sensor incorporates an infrared (IR) VCSEL (vertical cavity surface emitting laser) and factory-calibrated 
...
Read more...
---
Time-of-flight multi-zone ranging sensor
EBV Electrolink Opto-Electronics
STMicroelectronics has announced the first multi-zone FlightSense time-of-flight sensor to be offered for general-purpose applications, bringing sophisticated distance sensing to the full spectrum of 
...
Read more...
---