printer friendly version
VCSEL modules for 3D gesture recognition
24 November 2021
Opto-Electronics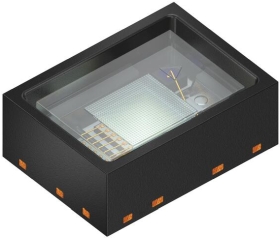 ams Osram has expanded its 3D sensing portfolio with four new VCSEL modules. The number of applications which utilise 3D sensing technology continues to increase, from the detection of the surroundings for robots to avoid collisions to the unlocking of smartphones via facial recognition. But 3D sensing also plays an important role for augmented and virtual reality (AR/VR) glasses.
Thanks to components like Bidos P2433 Q, various gestures can be reliably captured, raising the interaction between user and AR/VR glasses to a new level. The compact package also allows customers particular design flexibility. For augmented and virtual reality devices, as well as other 3D world-facing applications, the focus is on maximum user experience combined with compact and lightweight design. In the 3D sensing market, vertical cavity surface emitting lasers (VCSEL) have a huge impact due to their good beam quality, cost efficiency and simple design.
Bidos P2433 Q is available in four different versions including two different fields-of-illumination and two output power levels. The VCSEL-based modules with a size of 3,3 mm x 2,4 mm are suitable for 3D sensing applications using time-of-flight (ToF) measurement, which require a homogeneous illumination of the scene. Due to their wavelength of 940 nm, all modules are also free from the red glow effect which is perceived by the human eye as disturbing flickering.
The two higher-power modules with 6,5 W use dual-junction VCSELs for enhanced performance and efficiency of up to 45%. In addition, a photodiode monitoring system is integrated into the module as a special protection mechanism for eye safety. If the photodiode registers a change in the incidence of light – for example, if the optics are damaged – the current supply to the VCSEL is interrupted.
Besides 3D gesture recognition, the four new modules can also be used in industrial robotics for obstacle avoidance and virtual fencing, or in 3D face authentication systems in smart door locks or point-of-sale payment terminals.
Credit(s)
Further reading:
Qualcomm AI stack: a unified AI software solution
Future Electronics Computer/Embedded Technology
Qualcomm has bundled all its AI software offerings into a single package called the Qualcomm AI Stack which will assist developers in deploying AI applications.
Read more...
---
Hamamatsu Photonics boosts production capacity
Hamamatsu Photonics UK Opto-Electronics
Hamamatsu Photonics increases its current production capacity almost two-fold to help with expanding sales after completion of a new factory complex.
Read more...
---
Vicor launches new automotive e-book on electrification
Future Electronics News
The downloadable e-book from Vicor shares insights into new power conversion trends and technologies to support vehicle electrification.
Read more...
---
New compact SMT chokes for low-voltage applications
Future Electronics Passive Components
TDK has released three new B8272 series of compact EPCOS SMT common-mode chokes specially developed for DC/DC converters and low-voltage applications.
Read more...
---
Digital ambient light sensor
EBV Electrolink Opto-Electronics
The device is a highly sensitive light-to-digital converter that transforms light intensity into a digital signal output through an I
2
C digital interface.
Read more...
---
STMicroelectronics' new chip boosts energy efficiency
Future Electronics Power Electronics / Power Management
The new power-supply controller chip combines with ST's MasterGaN technology in a laptop/smartphone charger design with energy recovery.
Read more...
---
ST's new ToF sensor has double the range of existing modules
EBV Electrolink Opto-Electronics
The new sensor combines revolutionary metasurface lens technology with a more powerful and efficient laser and improved on-chip signal processing.
Read more...
---
Compact planar scanner with air bearing
Horne Technologies Opto-Electronics
PIglide positioning systems are ideally suited for high-precision applications such as inspection systems, laser marking, microscopy or scanning.
Read more...
---
Green laser diode for industrial applications
Future Electronics Opto-Electronics
ams OSRAM has introduced a green laser diode which is a brighter, more reliable and cost-competitive replacement for red lasers in applications such as levelling, scanning, biosciences and dot projection. 
...
Read more...
---
Industrial MCU with gigabit time-sensitive networking
Future Electronics DSP, Micros & Memory
Time-sensitive networking solution by NXP bridges communication gaps in industrial IoT.
Read more...
---