printer friendly version
ToF ranging sensor board eases integration
27 October 2021
Opto-Electronics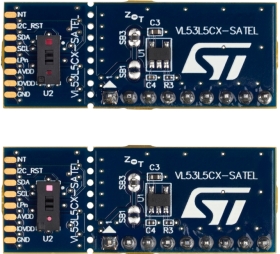 The VL53L5CX-SATEL breakout boards from STMicroelectronics can be used for easy integration into customer devices. The PCB section supporting the VL53L5CX time-of-flight (ToF), multizone ranging sensor is perforated so that developers can break off the mini-PCB for use in a 3,3 V supply application using flying leads. This makes it easier to integrate the VL53L5CX-SATEL breakout boards into development and evaluation devices due to their small size.
The VL53L5CX sensor provides up to 64 sensing zones with multi-target detection, distance measurement up to 4 metres in each zone and a wide square-edged field of view with 63° diagonal. The sensor is suited to gesture recognition, complex scene analysis including 3D room mapping for robotics, storage-tank level monitoring to assist in inventory management, liquid-level control and waste-bin level monitoring to enable smart refuse collection for enhanced efficiency.
For more information contact Renaldo Fibiger, Altron Arrow, +27 11 923 9600, rfibiger@arrow.altech.co.za, www.altronarrow.com
Credit(s)
Further reading:
AI-powered computer for autonomous machines
Altron Arrow Computer/Embedded Technology
Nvidia recently premiered Jetson AGX Orin, the world's smallest, most powerful and energy-efficient AI supercomputer for robotics, autonomous machines, medical devices and other forms of embedded computing 
...
Read more...
---
Step-down converter with nano quiescent current
Altron Arrow Power Electronics / Power Management
The ST1PS03 is a nano-quiescent miniaturised synchronous step-down converter which is able to provide up to 400 mA output current with an input voltage ranging from 1,8 V to 5,5 V. This STMicroelectronics 
...
Read more...
---
LED driver expansion board for STM32 Nucleo
Altron Arrow Opto-Electronics
STMicroelectronics' X-NUCLEO-LED12A1 LED driver expansion board for STM32 Nucleo features four LED1202 devices that can drive up to 48 LEDs. The LED1202 is a 12-channel, low quiescent current LED driver 
...
Read more...
---
Improving power supply regulation accuracy with resistor divider tool
Altron Arrow Power Electronics / Power Management
Analog Devices' LTpowerCAD resistor divider toolbox can use component tolerances and estimate corresponding errors in output voltage, letting designers decide what tolerance is allowable for their application.
Read more...
---
USB Type-C protocol decoder
Altron Arrow Power Electronics / Power Management
The AP43771V from Diodes Incorporated is a USB Type-C Power Delivery (PD) 3.0 PPS decoder dedicated to power source applications with legacy capabilities. It is compliant with USB Type-C specification 
...
Read more...
---
Discovery kit for IoT nodes using STM32U5 MCU
Altron Arrow DSP, Micros & Memory
The B-U585I-IOT02A Discovery kit provides a complete demonstration and development platform for STMicroelectronics' STM32U585AI microcontroller, featuring an Arm Cortex-M33 core with Arm TrustZone and 
...
Read more...
---
Signal chain implementation for condition monitoring systems
Altron Arrow Editor's Choice Analogue, Mixed Signal, LSI
Like all system designs, there are many choices to be made when it comes to designing a condition monitoring system, each of which comes with various trade-offs and can drastically alter the DAQ signal chain design.
Read more...
---
USB charger solution with high power density
Altron Arrow Power Electronics / Power Management
Diodes Incorporated has launched a three-chip solution for enhancing the performance of ultra-high-power-density USB Type-C power delivery (PD) systems. These products can be used in a wide variety of 
...
Read more...
---
Demo of new TouchGFX video widget
Altron Arrow Multimedia, Videos
The latest release (version 4.18) of STMicroelectronics' TouchGFX software for user-interface development with STM32 microcontrollers (MCUs) added support for video playback, enhanced tools for multi-developer 
...
Read more...
---
Configurable dual IO-Link and SIO transceiver
Altron Arrow Telecoms, Datacoms, Wireless, IoT
STMicroelectronics is bringing extra flexibility to IO-Link connections with the L6364 transceiver, which features dual communication channels that allow configurable output doubling for extra drive strength, 
...
Read more...
---