printer friendly version
32-bit MCU for IoT edge applications
24 November 2021
DSP, Micros & Memory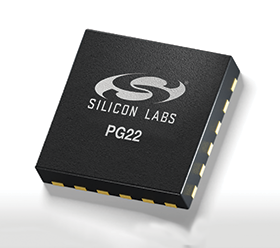 Silicon Labs launched the EFM32PG22 (PG22) 32-bit microcontroller (MCU), a low-cost, high-performance solution with an optimised combination of energy efficiency, performance and security. With easy-to-use, cost-efficient analog capabilities, the chip is ideally suited for rapid development of consumer and industrial applications with demanding size constraints and low-power operation requirements.
The PG22's unique mix of product features includes: ultra-low power consumption of 27 µA/MHz active and 1,1 µA EM2 with 8 KB RAM retention; Arm Cortex-M33 core running at 76,8 MHz; 64/128/256/512 Flash options with 32 KB RAM; compact package options of 5 x 5 mm QFN40 (26 GPIO) or 4 x 4 mm QFN32 (18 GPIO); advanced security including secure boot with Root of Trust and Secure Loader (RTSL); and a wide range of peripherals such as a 16-bit ADC, PDM, built-in sleep crystal and temperature sensor.
This MCU is pin- and software-compatible with the award winning EFR32xG22 wireless SoCs (BG22, MG22 and FG22), allowing designers to leverage a scalable embedded platform to simplify product development and help drive cost efficiency.
For more information contact NuVision Electronics, +27 11 608 0144, gdeklerk@nuvisionelec.co.za, www.nuvisionelec.com
Credit(s)
Further reading:
Fujitsu FRAM and ReRAM now available from Mouser
TRX Electronics DSP, Micros & Memory
Fujitsu Semiconductor Memory Solution's ferroelectric random access memory (FRAM) and large-density resistive random access memory (ReRAM) products are now being distributed by Mouser Electronics. Fujitsu 
...
Read more...
---
Single-string LED driver evaluation board
NuVision Electronics Power Electronics / Power Management
The EV3363-J-00A is an evaluation board designed to demonstrate the capabilities of Monolithic Power Systems' MP3363, a fixed-frequency converter that is ideal for low- to high-current boost applications. 
...
Read more...
---
Functional safety packages for Microchip MCUs and DSCs
EBV Electrolink DSP, Micros & Memory
Safety is a primary concern in automotive applications to ensure reliable operation and end users' wellbeing. Microchip Technology is offering newly certified functional safety packages to enable engineers 
...
Read more...
---
CR1225 battery holder with latching cover
NuVision Electronics Interconnection
Memory Protection Devices' new size of Snap Dragon supports BR1225 and CR1225 batteries, with both through-hole and surface-mount versions available. CR1225 batteries are extremely popular throughout 
...
Read more...
---
MCU with enhanced security and innovative sensing features
EBV Electrolink DSP, Micros & Memory
Enabled with Bluetooth Low Energy wireless connectivity, onsemi's new low-power RSL15 microcontroller (MCU) addresses the growing demand of connected industrial applications for security without sacrificing 
...
Read more...
---
Discovery kit for IoT nodes using STM32U5 MCU
Altron Arrow DSP, Micros & Memory
The B-U585I-IOT02A Discovery kit provides a complete demonstration and development platform for STMicroelectronics' STM32U585AI microcontroller, featuring an Arm Cortex-M33 core with Arm TrustZone and 
...
Read more...
---
200 MHz MCUs backed by TrustZone security
Hi-Q Electronics DSP, Micros & Memory
Renesas Electronics now offers a 200 MHz RA6E1 microcontroller (MCU) which uses a high-performance Arm Cortex M33 core and TrustZone. The device is built on a highly efficient 40 nm process and supported 
...
Read more...
---
Crossover MCU with 3D camera
EBV Electrolink DSP, Micros & Memory
NXP Semiconductors has announced the expansion of its NXP EdgeReady solution portfolio, adding a solution for secure face recognition that leverages a high-performance 3D structured light module (SLM) 
...
Read more...
---
High-side current sense amplifier with adjustable gain
NuVision Electronics Power Electronics / Power Management
The MPQ8112A is a low-cost, unipolar, high-side current sense amplifier that operates from a 2,7 V to 60 V supply and typically consumes a 300 μA current. The Monolithic Power Systems part is ideal for 
...
Read more...
---
Integrated buck power module with configurable settings
NuVision Electronics Power Electronics / Power Management
The MP5479 is a complete power management solution that integrates four high-efficiency step-down (buck) DC/DC converters, five low-dropout (LDO) regulators and a flexible I2C interface. Constant-on-time 
...
Read more...
---