printer friendly version
Configurable dual IO-Link and SIO transceiver
24 November 2021
Telecoms, Datacoms, Wireless, IoT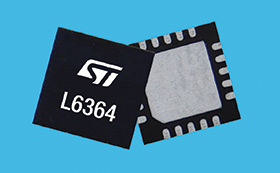 STMicroelectronics is bringing extra flexibility to IO-Link connections with the L6364 transceiver, which features dual communication channels that allow configurable output doubling for extra drive strength, in addition to a DC/DC converter and dual-mode UART.
The chip supports IO-Link at COM2 (38,4 Kbaud) and COM3 (230,4 Kbaud) modes, as well as standard single-input/output (SIO) communication. The dual outputs, comprising an IO-Link CQ pin and standard DIO pin, each have surge-pulse and reverse-polarity protection. The maximum drive strength is programmable up to 250 mA and the two channels can be paralleled to supply up to 500 mA.
An SPI port connects the L6364 to the host microcontroller (MCU), with an additional interrupt pin for diagnostic reporting. Sensor data can be exchanged with the MCU through the UART or by using single-Byte or multi-Byte (SPI) modes. The integrated UART, which supports IO-Link message sequencing (M-Sequencing), can be programmed to operate in IO-Link or standard SIO mode and allows unlimited M-Sequence size in single-octet IO-Link. An internal data buffer supports up to 15 octets.
In normal operation the L6364 is configured by the MCU via the SPI interface at startup. It starts operating in SIO-device mode, driving the output lines as configured by the MCU. If the device is connected to an IO-Link master, the master can initiate IO-Link communication by a wakeup request.
For more information contact Renaldo Fibiger, Altron Arrow, +27 11 923 9600, rfibiger@arrow.altech.co.za, www.altronarrow.com
Credit(s)
Further reading:
Embedded GNSS antenna with integrated LNA
RF Design Telecoms, Datacoms, Wireless, IoT
The HC990EXF from Tallysman is an extended-filter embedded GNSS helical antenna. This RHCP (right-hand circular polarised) antenna provides a peak gain of 3 dBi at full bandwidth and has an axial ratio 
...
Read more...
---
Wireless asset tag supporting Quuppa RTLS
EBV Electrolink Telecoms, Datacoms, Wireless, IoT
onsemi unveiled a new system solution that overcomes the main challenges associated with developing asset tracking tags. Battery life has been a major obstacle to asset tag adoption, particularly within 
...
Read more...
---
Discovery kit for IoT nodes using STM32U5 MCU
Altron Arrow DSP, Micros & Memory
The B-U585I-IOT02A Discovery kit provides a complete demonstration and development platform for STMicroelectronics' STM32U585AI microcontroller, featuring an Arm Cortex-M33 core with Arm TrustZone and 
...
Read more...
---
Wi-Fi SoCs with USB interface
iCorp Technologies Telecoms, Datacoms, Wireless, IoT
USB (Universal Serial Bus) is an industry standard that enables communication between a host controller and peripherals or other devices. A USB interface is integrated into Espressif Systems' ESP32-S 
...
Read more...
---
Signal chain implementation for condition monitoring systems
Altron Arrow Editor's Choice Analogue, Mixed Signal, LSI
Like all system designs, there are many choices to be made when it comes to designing a condition monitoring system, each of which comes with various trade-offs and can drastically alter the DAQ signal chain design.
Read more...
---
USB charger solution with high power density
Altron Arrow Power Electronics / Power Management
Diodes Incorporated has launched a three-chip solution for enhancing the performance of ultra-high-power-density USB Type-C power delivery (PD) systems. These products can be used in a wide variety of 
...
Read more...
---
RS-485/422 differential transceivers
Hi-Q Electronics Telecoms, Datacoms, Wireless, IoT
Renesas has expanded its RS-485/422 portfolio with the RAA78815x family of 5 V differential transceivers with electrical fast transient (EFT) immunity of ±5000 V and ESD protection up to ±16 000 V, making 
...
Read more...
---
NB-IoT roll-out will rapidly increase adoption
Flickswitch Telecoms, Datacoms, Wireless, IoT
In today's ever-evolving world, catching the IoT wave is critical. Surveys show that four out of five businesses are investing in IoT, however, there are always questions when it comes to delivering long-term 
...
Read more...
---
Multi-mode LTE Cat. 4 module
iCorp Technologies Telecoms, Datacoms, Wireless, IoT
The SC200R-EM is a new-generation multi-mode LTE Cat. 4 smart module measuring 40,5 mm × 40,5 mm × 2,8 mm with built-in Android OS, based on Qualcomm's ARM Cortex-A53 64-bit quad-core processor and built-in 
...
Read more...
---
Tiny Bluetooth module fit for industrial applications
RF Design Telecoms, Datacoms, Wireless, IoT
The newly released ANNA-B4 is u-blox' smallest Bluetooth module to date, packed with features tailored to the needs of industrial applications. This comes at a time when smart factories have matured from 
...
Read more...
---