printer friendly version
Auto-ranging benchtop and rackmount power supplies
24 November 2021
Power Electronics / Power Management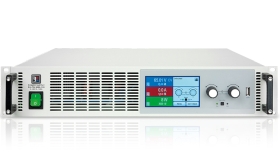 The programmable DC power supply family from Elektro-Automatik (EA) ranges in power from 80 W benchtop devices up to 30 kW in a single chassis. High power density units can be easily paralleled for up to 1,92 MW output and up to 2000&nbs;V d.c. All EA Elektro-Automatik DC programmable power supplies feature true auto-ranging which automatically offers increased current at lower voltages, enabling a single supply to meet wider test requirements.
The PS and PSI series feature 5-inch TFT touch panel displays for intuitive control, setup and programming. The intelligent interface allows users to program and test quickly without the need for extensive manual review. Most of the PS(I) family comes standard with an arbitrary waveform function generator, swappable digital interface control and built-in test routines for battery test, photovoltaic simulation and MPP tracking, to name a few.
True auto-ranging
These power supplies' true auto-ranging gives full power across a larger operating range to test more devices with just one supply. Auto-ranging enables the power supply to automatically adapt to higher output voltages when there is a smaller current, or handle higher currents when there is a lower voltage. This feature can deliver full power down to 33% of rated output voltage.
Waveform function generator
A common requirement for DC power supplies is to deliver the output voltage or current with a waveform other than a flat DC signal. EA's built-in function generator includes options for sine, triangle, square and trapezoidal waveforms, as well as custom arbitrary waveforms. In addition, the solution offers configuration tools for ramps, UI and IU tables and simulations for fuel cells and photovoltaics.
Swappable Anybus remote control
EA Anybus modules are easily installed by the user and can be swapped out in just a few minutes with a screwdriver when different communication protocols are desired. For computer or remote control, choices of interface include Ethernet, USB, EtherCAT, ProfiNET, ProfiBUS, CAN, CANOpen, Modbus, DeviceNet and RS-232.
Credit(s)
Further reading:
Wide-input DC/DC converters in 1/32nd bricks
Brabek Power Electronics / Power Management
RECOM now offers through-hole, 1/32nd brick-footprint, non-isolated DC/DC converters – the RPMA-4.5 and RPMA-8.0 – with 4,5 A and 8 A output ratings respectively. Each part has a wide 9-53 V input and 
...
Read more...
---
Step-down converter with nano quiescent current
Altron Arrow Power Electronics / Power Management
The ST1PS03 is a nano-quiescent miniaturised synchronous step-down converter which is able to provide up to 400 mA output current with an input voltage ranging from 1,8 V to 5,5 V. This STMicroelectronics 
...
Read more...
---
Convection cooled 150 W and 300 W power supplies
Vepac Electronics Power Electronics / Power Management
Cosel announced the addition of 150 W and 300 W free air convection cooled power supplies, the LHP150F and the LHP300F. Designed for industrial applications requiring high levels of safety, they are certified 
...
Read more...
---
Power supplies for embedded applications from 15 to 320 W
Vepac Electronics Power Electronics / Power Management
XP Power's LCW series of regulated-output, encased AC-DC power supplies is ideal for embedded industrial electronics, technology and equipment requiring household approvals. The nine new series (LCW15, 
...
Read more...
---
Microchip further expands GaN RF power offering
EBV Electrolink Power Electronics / Power Management
A significant expansion has been made to Microchip Technology's gallium nitride (GaN) RF power device portfolio with new MMICs and discrete transistors that cover frequencies up to 20 GHz. The devices 
...
Read more...
---
Buck/boost converter with ultra-low IQ and supercapacitor charging
Power Electronics / Power Management
A new bidirectional buck/boost converter with an ultra-low quiescent current (I
Q
) of 60 nA has been introduced by Texas Instruments. The TPS61094 integrates a buck mode for supercapacitor charging and 
...
Read more...
---
Motor/PFC controller with gate driver and voltage regulator
EBV Electrolink Power Electronics / Power Management
Infineon Technologies' iMOTION IMD110-6 is a series of highly integrated ICs for the control of three-phase motors. The devices integrate the motor controller with a high-voltage, three-phase gate driver 
...
Read more...
---
Open-frame 80 W DC/DC converter
Vepac Electronics Power Electronics / Power Management
A new 80 W DC/DC converter has been added to Cosel's value-added STMGF platform. Available in two versions, the STMGFS80 covers all industrial voltages from 9 V to 76 V. Using Cosel's efficient MGFS80 
...
Read more...
---
Power stack reference design leverages Microchip SiC devices
Future Electronics Power Electronics / Power Management
E-mobility and renewable energy systems require power management solutions that drive performance and cost efficiencies in addition to speeding up development time. To keep pace with these requirements, 
...
Read more...
---
New integrated voltage regulator range available from Mouser
TRX Electronics Power Electronics / Power Management
Empower Semiconductor, a leading supplier of integrated voltage regulators (IVR), has been signed up by Mouser Electronics for a global distribution agreement. Empower's patented IVR technology integrates 
...
Read more...
---