printer friendly version
Common-mode choke for 35 A commercial applications
24 November 2021
Passive Components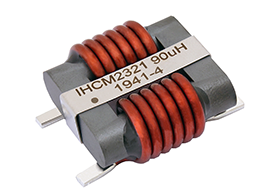 Vishay has introduced a new IHCM common-mode choke for high-current commercial applications up to 35 A. Available with a low-profile SMT construction, the IHCM-2321AA-10 is more robust than bulky toroid-based devices and delivers remarkable performance across temperature ranges up to +155°C.
With its low profile, the component offers a reduced size and volume, making it more resistant to shock and vibration, while the enhanced core design extends current saturation out to as much as 35 A. The IHCM-2321AA-10 is surface-mountable and compatible with automated pick-and-place assembly for increased flexibility in board layouts.
Along with excellent saturation characteristics, low DCR losses and a 1500 V d.c. dielectric withstand voltage between coils, the IHCM-2321AA-10 is ideal for commercial-grade DC/DC converters, EMI filters, and high-current filters for noise suppression in motor control and other circuity in industrial and telecom applications.
In addition to the standard surface-mount configuration, the choke offers customisable inductance, impedance, DCR and current ratings, along with through-hole mounting options.
For more information contact Willem Schmidt, Altron Arrow, +27 11 923 9600, [email protected], www.altronarrow.com
Credit(s)
Further reading:
TI releases top five power design tools
Altron Arrow Design Automation
Texas Instruments has released an online resource combining the top five power design tools available to aid in the next electronic project design.
Read more...
---
TDK announces robust varistors with 14 mm disk diameter
Electrocomp Passive Components
The new AdvanceD series of varistors have a wide operating voltage range up to 625 V and offer a surge current capability of 3000 A.
Read more...
---
Angle sensor for safety-critical applications
Altron Arrow Passive Components
TDK's TAS4240 TMR-based angle-sensor enables precise angle measurements in applications where high performance is needed and space is limited.
Read more...
---
1,5 A LDO linear regulator from TI
Altron Arrow Power Electronics / Power Management
The TPS7A74 from Texas Instruments is a 1,5 A low-dropout linear regulator with programmable soft-start for a wide variety of applications.
Read more...
---
New high current through-hole inductors
EBV Electrolink Passive Components
Vishay has released a high current, through-hole inductor for use in high current and high temperature applications, DC/DC converters, high current differential chokes and inverters.
Read more...
---
Automotive motion sensor with embedded ML core
Altron Arrow DSP, Micros & Memory
The ASM330LHHX, a six-axis inertial module with embedded machine learning core and dual operating modes, ensures the lowest power consumption and in-sensor event detection.
Read more...
---
Panasonic releases its updated touch-sensitive knob
Altron Arrow Electronics Technology
Panasonic, in conjunction with Microchip, has launched an update to its existing Magic Knob, a capacitive knob ready for standard touch sensors for use in controlling automotive information displays.
Read more...
---
ST develops new serial EEPROM class
Altron Arrow DSP, Micros & Memory
This new class of serial EEPROM is a 32-Mbit page-erasable memory that is less expensive than FRAM while offering a lower power consumption.
Read more...
---
Fully programmable motor controllers
Altron Arrow Power Electronics / Power Management
The MOTIX IMD70xA programmable motor controllers from Infineon are now available in one package to power the next generation of battery-powered applications.
Read more...
---
OMRON's latest MicroHAWK ultra-compact code reader
Altron Arrow Manufacturing / Production Technology, Hardware & Services
OMRON expands the MicroHAWK range with the V440-F, a scanner ideal for reading multiple codes in a wide area as well as for applications over longer distances and with minuscule barcodes.
Read more...
---