printer friendly version
New Microchip in-circuit emulator
24 November 2021
Test & Measurement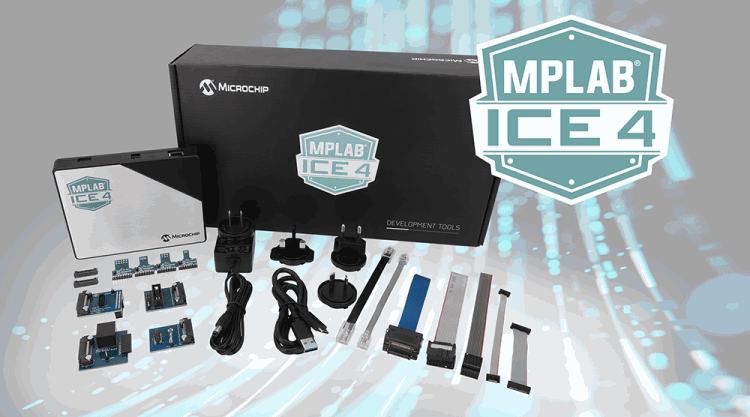 Embedded engineers seeking complete analysis of projects for rapid development require easy-to-use yet powerful emulation hardware. Microchip Technology has accordingly announced the MPLAB ICE 4 next-generation full in-circuit emulator, debugging and programming development tool for the company's PIC and AVR microcontrollers (MCUs), dsPIC, digital signal controllers (DSCs) and SAM MCUs and microprocessors (MPUs).
The new emulator is Microchip's fastest and most feature-rich emulation and programming tool for its MCUs and MPUs, debugging and programming with the powerful, easy-to-use graphical user interface of the MPLAB X integrated development environment (IDE). The MPLAB ICE 4 In-Circuit Emulator provides a flexible development experience including advanced debugging capabilities to write power-efficient code coupled with all the features needed to reduce debugging time.
The ICE 4 system connects using SuperSpeed USB 3.0 or High-Speed USB 2.0 with an option to go wireless using Ethernet or Wi-Fi connectivity for flexibility and ease of use. It provides Ethernet or Wi-Fi connectivity for seamless wireless programming and debugging. Ethernet connectivity provides remote debugging for applications which are monitored over long distances. Furthermore, Wi-Fi connectivity is excellent for providing isolation from environmental conditions such as high-voltage motor control applications or floating systems with no ground loop.
MPLAB ICE 4's powerful hardware integrates with MPLAB X CI/CD setup over Ethernet, creating an effective combination for hardware in the loop. Designers can use the CI/CD wizard to set up Jenkins and Docker on the latest version of MPLAB X IDE v6.00.
It is equipped with power debugging capabilities to monitor how power consumption correlates to code using MPLAB Data Visualizer. Additionally, embedded engineers can extract more from the code by using two independent current-sensing channels with varying resolutions for measuring and optimising the power consumption of a design.
Engineers can reduce development time using MPLAB ICE 4 In-Circuit Emulator's advanced features supporting many widely used instrumentation and instruction trace capabilities. ICE 4's several debug and programming interfaces and options for target connections using adaptor boards further help to reduce development time.
The in-circuit emulator debugs and programs all Microchip MCUs, DSCs and MPUs, simplifying the design process when developers migrate from one Microchip MCU or MPU to another. With the latest hardware, across-the-board device support, multiple features, reliability and seamless integration with the latest version of MPLAB X IDE v6.00, it provides a complete development system.
In addition to Microchip's proprietary freeware – MPLAB X IDE for embedded applications – the company provides a full range of free, optimising compilers, professional-grade compiler licences, functional safety licences and code coverage licences for developers.
For more information contact Andrew Athanasiou, Altron Arrow, +27 21 555 1884, aathanasiou@arrow.altech.co.za, www.altronarrow.com
Credit(s)
Further reading:
Seamless STM32Cube access to Azure RTOS
Altron Arrow Computer/Embedded Technology
The Azure RTOS suite is fully supported in the STM32CubeIDE tool and STM32CubeMX initialiser, which can directly configure Azure RTOS components.
Read more...
---
NFC/RFID demonstration kit
Altron Arrow Telecoms, Datacoms, Wireless, IoT
The boards are powered through their USB connectors and are supported by downloadable schematics, BOM, Gerber files, drivers and firmware sources.
Read more...
---
Power device analyser
Concilium Technologies Test & Measurement Power Electronics / Power Management
Keysight's new PD1550A is an advanced double-pulse tester that enables customers to test entire power modules quickly and easily.
Read more...
---
Absolute pressure sensor
Altron Arrow Analogue, Mixed Signal, LSI
The sensing element, which detects absolute pressure, consists of a suspended membrane manufactured using a special process developed by STMicroelectronics.
Read more...
---
2- and 4-output fanout clock buffers
Altron Arrow Analogue, Mixed Signal, LSI
Both devices support 2,5/3,3 V power supplies with separate input and output supply voltages for level shifting.
Read more...
---
64 Mbit SuperFlash memory for space systems
Altron Arrow DSP, Micros & Memory
Designers of spaceflight-qualified systems have a great need to reduce development time, cost and risk in their systems. Microchip Technology proposed the concept of starting with commercial off-the-shelf 
...
Read more...
---
Evaluation board for MEMS devices
Altron Arrow Test & Measurement
The STEVAL-MKI220V1 is an adaptor board designed to facilitate the evaluation of MEMS devices in the LPS27HHTW product family.
Read more...
---
LDOs consume minimal quiescent current
Altron Arrow Power Electronics / Power Management
The AP7387 supports many standard power rails and is well suited for multi-cell battery-powered applications.
Read more...
---
40 GHz RF power sensor
Conical Technologies Test & Measurement
Mini-Circuits' PWR-40PW-RC is a USB/Ethernet-controlled power sensor capable of making many different measurements.
Read more...
---
Upgraded AI/ML SDK for PolarFire FPGAs
Altron Arrow Design Automation
Network sizes have been reduced by 50% by optimising containers for weights and the built-in bit accuracy simulator's speed has been tripled.
Read more...
---