printer friendly version
Components and design resources for harsh environments
24 November 2021 Interconnection Analogue, Mixed Signal, LSI Passive Components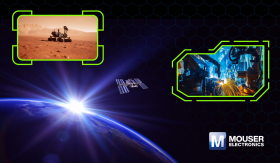 Providing engineers with the latest information and resources to build their designs for harsh environments, a targeted content stream from Mouser Electronics offers articles, products, blogs and diagrams that provide necessary information that supports engineers through their entire design phase.   
"Now more than ever, applications require electronics that are designed to operate in a variety of conditions. This makes it crucial that engineers plan for harsh environments prior to the design stage of development," said Kevin Hess, Mouser Electronics' senior vice president of marketing. "Mouser is here to guide customers through the planning process by offering a steady stream of content, services and tools." 
The harsh environments content stream includes a varied collection of technical articles that cover applications ranging from railway and industrial to space and aquatic. Mouser's products offering for harsh environments includes:  
• Phoenix Contact M12 connectors with cross-manufacturer connection compatibility to ensure wide availability worldwide, making them well suited for railway applications, industrial machinery, factory automation and more. 
• Texas Instruments' THVD15xx RS-485/RS-422 transceivers, designed for rugged industrial environments and ideal for multi-point applications over long cable runs. 
• TE Connectivity's Measurement Specialties MS5837-02BA06 pressure sensor modules are ultra-small gel-filled devices optimised for altimeter and barometer applications. These pressure sensor modules enable improved endurance in chlorine environments. 
• Kemet Electronics' F863 film capacitors are suited for harsh environmental conditions and meet demanding AEC-Q200 qualification requirements. 
For more information contact TRX Electronics, +27 12 997 0504,[email protected], www.trxe.com 
Credit(s)
Further reading:
Phase-stable cable assemblies operate up to 50 GHz
RF Design Interconnection
The Lab-Flex T series from Smiths Interconnect are low-loss high-frequency cables that have minimal phase change with changing temperature and flexure.
Read more...
---
Samtec has reorganised its AcceleRate products online
Spectrum Concepts Interconnection
Samtec recently reorganised its family of AcceleRate products into one webpage to enable easier browsing and comparison of products when trying to find the best high-performance solution for the given application.
Read more...
---
Samtec high-speed interconnects in next-gen UAS
Spectrum Concepts Interconnection
The unmanned aircraft system framework 2.0 autopilot platform utilises several of Samtec's high-speed board-to-board interconnects for the transfer of data between various add-on boards.
Read more...
---
Precision interconnects for DC to 90 GHz
Spectrum Concepts Interconnection
Samtec has released its 1,35 mm family of products including board and cable connectors suitable for millimetre wave applications to 90 GHz.
Read more...
---
16-port USB 3.0 SuperSpeed controller
Rugged Interconnect Technologies Interconnection
The SBX-DUB is a peripheral slot board for CompactPCI and is equipped with four individual USB 3.0 ports on the front panel and another 12 USB 3.0 ports via a connector on the backplane.
Read more...
---
Mouser stocks wide product selection from Renesas companies
TRX Electronics News
The products on offer include embedded solutions, semiconductors, optoelectronics, sensors and passive components.
Read more...
---
Double-row connectors for quick-connect applications
Spectrum Concepts Interconnection
Mill-Max announced a new range of double-row, gold-plated connectors in either spring-loaded or target versions.
Read more...
---
Samtec site's search function gets a UX upgrade
Spectrum Concepts Interconnection
Samtec announced a major upgrade to its on-site user search experience, including improvements in both performance and mobile compatibility.
Read more...
---
Spring-loaded connectors with rolling ball interface
Spectrum Concepts Interconnection
Omniball spring-loaded connectors feature a unique rolling ball interface, enabling contact to be made in both axial and non-axial alignments.
Read more...
---
Mouser stocks wide selection of the latest Phoenix Contact products
TRX Electronics Interconnection
The offering covers a vast selection of sensors, controllers, terminal blocks, connectors and wireless Ethernet products.
Read more...
---