printer friendly version
High-power resistors
28 February 2022
Passive Components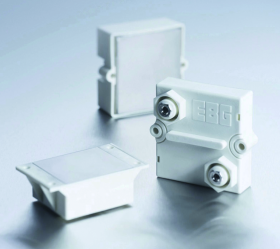 Choosing the right resistor for an application is not simply a matter of calculating the correct value and tolerance for the most cost-effective solution. High-performance electronic resistors are demanding components that contribute to the safe and efficient conversion and transmission of energy. As a leading international manufacturer of resistors, EBG resistors are used in electric power drives of high-speed trains, frequency converters in wind turbines, aeronautical applications, or HVDC (high-voltage DC) power transmission systems.
The wide range includes different non-inductive, ultra-high-power resistors. For small designs, resistors are available with power levels ranging from 350 W to 2000 W that can be mounted directly onto heatsinks and feature remarkable dielectric properties and partial discharge.
There are also cooled high-power resistors from 500 W to 1700 W and resistors with cable connections for flexible assembly, eliminating problems related to clearance and creepage distances.
Credit(s)
Further reading:
TDK announces robust varistors with 14 mm disk diameter
Electrocomp Passive Components
The new AdvanceD series of varistors have a wide operating voltage range up to 625 V and offer a surge current capability of 3000 A.
Read more...
---
Angle sensor for safety-critical applications
Altron Arrow Passive Components
TDK's TAS4240 TMR-based angle-sensor enables precise angle measurements in applications where high performance is needed and space is limited.
Read more...
---
New high current through-hole inductors
EBV Electrolink Passive Components
Vishay has released a high current, through-hole inductor for use in high current and high temperature applications, DC/DC converters, high current differential chokes and inverters.
Read more...
---
Actum Group leads in the interconnect industry
Actum Electronics News
Actum Group is a specialist importer and distributor of industrial and electronic products in Southern Africa and a leader in the interconnect industry.
Read more...
---
Clearing the Static: ESD wrist straps
Actum Electronics Circuit & System Protection
The human body is the primary source of electrostatic charge generation. In order to control and reduce static charge build-up and prevent electrostatic discharges (ESD) at an electronic equipment facility, we use grounding systems to ensure that all components are at the same electrical potential.
Read more...
---
High performance power inductor in a tiny package
RF Design Passive Components
The LPS4010 series inductors from Coilcraft are low-profile power inductors in a shielded package that offer high energy storage and low DC resistance.
Read more...
---
Surface-mount resettable fuses
Electrocomp Passive Components
The new series of fuses, suitable for overcurrent and thermal protection, expand the hold current up to 6 A and the maximum voltage to 33 V DC.
Read more...
---
New compact SMT chokes for low-voltage applications
Future Electronics Passive Components
TDK has released three new B8272 series of compact EPCOS SMT common-mode chokes specially developed for DC/DC converters and low-voltage applications.
Read more...
---
Conduction-cooled electronics cases
Actum Electronics Enclosures, Racks, Cabinets & Panel Products
As electronics and processing systems become smaller and smaller, the need for versatile, compact form-factor cases that allow efficient heat dissipation increases. nVent Schroff offers customisable conduction-cooled 
...
Read more...
---
Electrocomp stocks PhaseCap Energy Plus capacitor
Electrocomp Passive Components
TDK Electronics' new PhaseCap Energy Plus series capacitor is the latest generation of capacitor for power factor correction.
Read more...
---