printer friendly version
Precision resistors in automotive grade
28 February 2022
Passive Components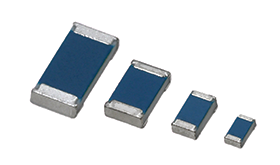 Vishay has enhanced its MC AT precision series of automotive-grade thin-film chip resistors with a wider range of resistance values in the 0402, 0603 and 0805 case sizes. The devices combine their high resistance values with TCR of ±25 ppm/K, tight tolerances of ±0,1% and thin-film stability.
The MCS 0402 AT, MCT 0603 AT and MCU 0805 AT offer resistance values from 47 Ω to 1 MΩ, 2 MΩ and 7,5 MΩ, respectively. They join the previously enhanced MCA 1206 AT, which offers resistance up to 10 MΩ. By providing higher resistance values in smaller case sizes, the devices save space by replacing larger components and reduce costs by eliminating the need for multiple lower-ohmic resistors connected in series.
Robust against moisture and temperature cycling and with advanced sulphur resistance in accordance with ASTM B 809, the devices are designed to deliver stable performance under harsh environmental conditions in automotive, industrial, medical and telecommunications equipment. Typical applications will include DC/DC converters, DC-linking and voltage dividers for battery management systems, on-board and on-wall chargers, power inverters, e-compressors and transimpedance amplifier networks.
MC AT precision series resistors feature operating voltages from 50 V to 200 V and power ratings from 100 mW to 400 mW at +70°C ambient temperature. They operate over a -55°C to +155°C temperature range and are AEC-Q200 qualified and RoHS-compliant.
For more information contact Willem Schmidt, Altron Arrow, +27 11 923 9600, [email protected], www.altronarrow.com
Further reading:
Chip capacitors for high capacitance and voltage
RS Components (SA) Passive Components
Multi-anode solid tantalum chip capacitors offer a high capacitance/voltage rating in a single package for power supply and power distribution applications.
Read more...
---
Lowering the cost of solar PV inverters
EBV Electrolink Passive Components
Vishay has turned its attention to lowering the cost of solar PV inverters and by reducing the number of electrolytic capacitors required.
Read more...
---
TDK announces robust varistors with 14 mm disk diameter
Electrocomp Passive Components
The new AdvanceD series of varistors have a wide operating voltage range up to 625 V and offer a surge current capability of 3000 A.
Read more...
---
Angle sensor for safety-critical applications
Altron Arrow Passive Components
TDK's TAS4240 TMR-based angle-sensor enables precise angle measurements in applications where high performance is needed and space is limited.
Read more...
---
New high current through-hole inductors
EBV Electrolink Passive Components
Vishay has released a high current, through-hole inductor for use in high current and high temperature applications, DC/DC converters, high current differential chokes and inverters.
Read more...
---
High performance power inductor in a tiny package
RF Design Passive Components
The LPS4010 series inductors from Coilcraft are low-profile power inductors in a shielded package that offer high energy storage and low DC resistance.
Read more...
---
Surface-mount resettable fuses
Electrocomp Passive Components
The new series of fuses, suitable for overcurrent and thermal protection, expand the hold current up to 6 A and the maximum voltage to 33 V DC.
Read more...
---
New compact SMT chokes for low-voltage applications
Future Electronics Passive Components
TDK has released three new B8272 series of compact EPCOS SMT common-mode chokes specially developed for DC/DC converters and low-voltage applications.
Read more...
---
Electrocomp stocks PhaseCap Energy Plus capacitor
Electrocomp Passive Components
TDK Electronics' new PhaseCap Energy Plus series capacitor is the latest generation of capacitor for power factor correction.
Read more...
---
Multilayer ferrite beads
Electrocomp Passive Components
As direct replacements for the discontinued BMB series, TE Connectivity's BMC multilayer ferrite beads cover a wide range of impedance characteristics.
Read more...
---