printer friendly version
Dual gate drivers simplify SiC and IGBT switching circuits
26 April 2022
Power Electronics / Power Management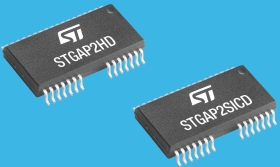 Two new dual-channel, galvanically-isolated gate drivers for IGBTs and silicon-carbide (SiC) MOSFETs from STMicroelectronics promise to save space and ease circuit design in high-voltage power conversion and industrial applications.
The STGAP2HD for IGBTs and STGAP2SICD for SiC MOSFETs leverage ST's latest galvanic isolation technology to provide 6 kV transient voltage capability in an SO-36W wide-body package.In addition, ±100 V/ns dv/dt transient immunity prevents spurious turn-on in electrically noisy operating conditions. The devices can deliver a powerful gate-control signal of up to 4 A, with dual output pins for extra flexibility in gate driving allowing for independent adjustment of turn-on and turn-off times. The active Miller clamp prevents gate spikes during fast commutation in half-bridge topologies.
Circuit protection features include thermal protection, a watchdog for safe operation and under-voltage lockout (UVLO) per channel to prevent start-up in a dangerous low-efficiency mode. The STGAP2SICD has a raised UVLO threshold voltage optimised for the needs of SiC MOSFETs.
Each device has an iLOCK pin for turning on both channels simultaneously in dual low-side and asymmetrical half-bridge applications. There is also interlocking to prevent shoot-through currents in conventional half-bridge circuits. Both drivers are rated for voltages up to 1200 V on the high-voltage rail and have an input-to-output propagation time of 75 ns with high PWM accuracy.
With dedicated shutdown and brake pins and a standby pin for power saving, these new gate drivers target applications such as power supplies, drives, inverters, welders and chargers. In addition, input pins compatible with TTL and CMOS logic down to 3,3 V simplify connection to a host microcontroller or DSP.
For more information contact EBV Electrolink, +27 21 402 1940, [email protected], www.ebv.com
Credit(s)
Further reading:
New series of power ribbon wire-wound resistors
Electrocomp Power Electronics / Power Management
This QL/QRZG series of high-power resistors have a high-power load up to 2500 W and are suitable for applications such as industrial braking, EV battery packs and charging stations.
Read more...
---
High-power semiconductor solutions for green hydrogen electrolyser applications
EBV Electrolink News
Gain insights into AC- and DC-coupled electrolyser applications and learn about Infineon's best-in-class semiconductor solutions in the upcoming webinar.
Read more...
---
350 W switching power supply
Conical Technologies Power Electronics / Power Management
The LMF350-23BxxUH series from Mornsun is an enclosed, fanless AC-DC switching power supply which is suitable for industrial and outdoor use.
Read more...
---
NXP releases real-time processors for automotive platforms
EBV Electrolink DSP, Micros & Memory
NXP has introduced real-time microcontrollers for automotive electronic control units as part of its S32 range of controllers.
Read more...
---
EV wireless recharging in the future of transportation
Power Electronics / Power Management
Wireless recharging of electric vehicles as they travel over specially equipped, dedicated road lanes looks promising after months of testing.
Read more...
---
New automotive-qualified driver family
MB Silicon Systems Power Electronics / Power Management
Power Integrations announces the SCALE EV family of gate-driver boards for Infineon EconoDUAL modules targeting high-power automotive applications.
Read more...
---
Embedded voice control via the STM32Cube
EBV Electrolink DSP, Micros & Memory
STMicroelectronics and Sensory collaborate to enable mass-market adoption of embedded voice control through the STM32Cube software ecosystem.
Read more...
---
Power supply design considerations for remote patient monitors
Altron Arrow Power Electronics / Power Management
Remote patient monitors (RPMs) are continuously evolving to include new features which creates greater demands on their single-cell battery supply. A solution is provided for an ECG RPM that preserves battery life.
Read more...
---
How to extend the run-time of battery-powered equipment
Accutronics Editor's Choice Power Electronics / Power Management
For a given battery selection and application, there are several downstream design decisions that can have a drastic impact on how long the battery lasts.
Read more...
---
PSU available in 75 W to 1000 W output range
Vepac Electronics Power Electronics / Power Management
The switched-mode power supplies can accept a wide range of dual AC/DC inputs and have active power factor correction.
Read more...
---