printer friendly version
Multizone time-of-flight sensors
28 February 2022
Opto-Electronics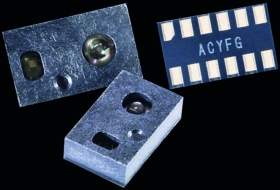 Mouser Electronics is now offering the TMF8820, TMF8821 and TMF8828 multizone time-of-flight sensors from ams Osram. The high-performance direct time-of-flight (dToF) sensors achieve a 5 m detection range, while the devices' multi-lens array significantly widens the field of illumination.
The TMF8820 and TMF8821 (now in stock at Mouser) and TMF8828 (available to order) are built using single-photon avalanche diode (SPAD) array, time-to-digital converter (TDC) and histogram technology. The sensors feature an associated vertical-cavity surface-emitting laser (VCSEL), while the high-quality lens on the SPAD supports a dynamically adjustable field of view up to 63°.
The highly versatile sensors enable detection of the target area in multiple zones with very precise measurement results. The sensors can also detect multiple objects per zone, allowing automated robots to gain additional sensory awareness and provide early alerts to potential obstacles.
The TMF8820, TMF8821 and TMF8828 perform all raw data processing on chip and report both distance information and confidence values through an I²C interface. Housed in a single compact, modular package, the sensors support a range of demanding applications including laser detect autofocus for mobile phone cameras, object detection and collision avoidance, presence detection and light curtain applications for industrial safety designs.
Credit(s)
Further reading:
Wireless charging IC solution
TRX Electronics Power Electronics / Power Management
The WLC1115 transmitter controller IC is the first highly integrated product of the new WLC family of controllers from Infineon for applications in inductive wireless charging.
Read more...
---
Hamamatsu Photonics boosts production capacity
Hamamatsu Photonics UK Opto-Electronics
Hamamatsu Photonics increases its current production capacity almost two-fold to help with expanding sales after completion of a new factory complex.
Read more...
---
Digital ambient light sensor
EBV Electrolink Opto-Electronics
The device is a highly sensitive light-to-digital converter that transforms light intensity into a digital signal output through an I
2
C digital interface.
Read more...
---
Mouser stocks wide product selection from Renesas companies
TRX Electronics News
The products on offer include embedded solutions, semiconductors, optoelectronics, sensors and passive components.
Read more...
---
ST's new ToF sensor has double the range of existing modules
EBV Electrolink Opto-Electronics
The new sensor combines revolutionary metasurface lens technology with a more powerful and efficient laser and improved on-chip signal processing.
Read more...
---
Mouser stocks wide selection of the latest Phoenix Contact products
TRX Electronics Interconnection
The offering covers a vast selection of sensors, controllers, terminal blocks, connectors and wireless Ethernet products.
Read more...
---
Modules support Wi-Fi 4 and Bluetooth 5.2
TRX Electronics Telecoms, Datacoms, Wireless, IoT
The new modules are mechanically and pin-compatible with the Sterling-LWB module, offering a simplified upgrade path for existing designs.
Read more...
---
Compact planar scanner with air bearing
Horne Technologies Opto-Electronics
PIglide positioning systems are ideally suited for high-precision applications such as inspection systems, laser marking, microscopy or scanning.
Read more...
---
Tiny CO2 sensor employs photoacoustic spectroscopy
TRX Electronics Analogue, Mixed Signal, LSI
The device uses a high-sensitivity MEMS microphone to detect the pressure change generated by CO
2
molecules within the sensor cavity.
Read more...
---
Mouser's resource pages make it easier to find what you need
TRX Electronics Design Automation
Mouser Electronics offers a wealth of customer-focused online tools to simplify and optimise the selection and purchasing process. Helping customers to easily browse, select and purchase products, the 
...
Read more...
---