printer friendly version
Rad-hard DAC for next-gen satellites
26 April 2022
Analogue, Mixed Signal, LSI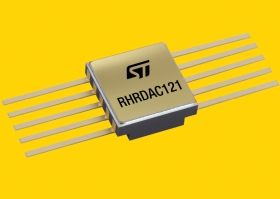 The STMicroelectronics RHRDAC121 radiation-hardened digital-to-analog converter (DAC) operates down to 2,5 V for use in modern, low-power system designs that older 3,3 V parts cannot support.
Consuming just 0,6 mW at its maximum speed and supply voltage, the 12-bit, 1 Msps successive-approximation register (SAR) DAC helps reduce size, weight and power (SWaP) in next-generation satellites. Typically used in circuits for telemetry, housekeeping and precision sensor-gain adjustment, its features include an SPI-compatible serial output, internal voltage reference and automatic power-on-reset to zero-volt output.
Maintaining stable performance parameters in harsh conditions up to 100 krad total ionising dose (TID), the RHRDAC121 is single-event latch-up (SEL)-free up to 125 MeV.cm2/mg. It is characterised for single-event transients (SET) and single-event upsets (SEU) and ready for immediate deployment with no further up-screening required.
The RHRDAC121 is QML-V qualified and comes in an hermetic ceramic package with gold- or solder-dipped leads. It is also available as a bare die.
For more information contact Renaldo Fibiger, Altron Arrow, +27 11 923 9600, [email protected], www.altronarrow.com
Credit(s)
Further reading:
Take advantage of Wi-Fi 6, 6E
Altron Arrow Telecoms, Datacoms, Wireless, IoT
Infineon has provided a host of online resources to learn more about the technology and benefits involved with Wi-Fi 6.
Read more...
---
Arrow Electronics opens new primary distribution centre
Altron Arrow News
Arrow Electronics, represented in South Africa by Altron Arrow, announced that it has opened a new, state-of-the-art primary distribution centre in Venlo, the Netherlands.
Read more...
---
Altron Arrow FAE earns top award
Altron Arrow News
STMicroelectronics awards top trophy to Altron Arrow's field application engineer for outstanding achievement in the certification course.
Read more...
---
Power supply design considerations for remote patient monitors
Altron Arrow Power Electronics / Power Management
Remote patient monitors (RPMs) are continuously evolving to include new features which creates greater demands on their single-cell battery supply. A solution is provided for an ECG RPM that preserves battery life.
Read more...
---
Transient voltage suppression diodes
Altron Arrow Power Electronics / Power Management
The 24 V XClampR transient voltage suppressors, available in SMC packaging, deliver low clamping ratios for high power density.
Read more...
---
Simple replacement for legacy barrel jacks
Altron Arrow News
It is estimated that over 10 billion power tools are still using the old barrel jacks for their power needs, which will need to change.
Read more...
---
u-blox' smallest ever GNSS module
RF Design Analogue, Mixed Signal, LSI
Designing an anomaly detection library with AI learning capability is possible with minimal data and with no specific data-science skills needed.
Read more...
---
Inertial module enables on-chip AI training
Altron Arrow Telecoms, Datacoms, Wireless, IoT
MIA-M10 concurrently receives four GNSS constellations (GPS, Galileo, BeiDou, and GLONASS) for maximum satellite signal availability.
Read more...
---
50 W Qi charger transmitter reference design
Altron Arrow Power Electronics / Power Management
The design supports two coils, which can work in alternation for increased receiver positioning freedom.
Read more...
---
Microchip simplifies automotive designs
Altron Arrow DSP, Micros & Memory
The new dsPIC33C DSCs add support for AUTOSAR, OS, MCAL drivers and functional safety, enabling robust and secure automotive solutions.
Read more...
---