printer friendly version
Software development kit for motor control
26 April 2022
Design Automation
STMicroelectronics' STM32 microcontrollers offer the performance of industry-standard Arm Cortex-M cores running either vector control or field-oriented control (FOC) modes, which are widely used in high-performance drives for air conditioning, home appliances, drones, building and industrial automation, medical and e-bike applications.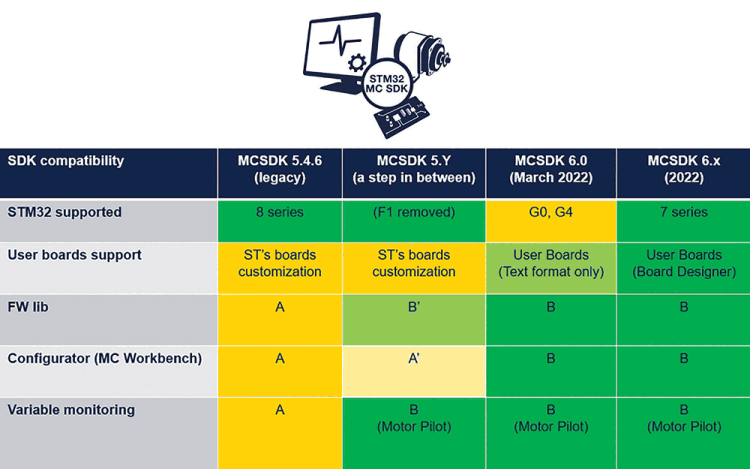 To ease development, the STM32 MC SDK (motor control software development kit) firmware (X-CUBE-MCSDK and X-CUBE-MCSDK-FUL) includes the permanent-magnet synchronous motor (PMSM) firmware library for FOC control and the STM32 Motor Control Workbench to configure the FOC firmware library parameters through its graphical user interface (GUI).
STM32 Motor Control Workbench is PC software that reduces the design effort and time needed for the STM32 PMSM FOC firmware configuration. The user generates a project file through the GUI and initialises the library according to the application needs. Some of the variables of the algorithm being used can be monitored and changed in real-time.
Credit(s)
Further reading:
Wireless MCU with 15 years of battery life
Altron Arrow DSP, Micros & Memory
ST has integrated an industry-unique ultra-low-power radio which the MCU can power-down to save energy while listening continuously for a wake-up signal.
Read more...
---
High bandwidth current-sense amplifier
Altron Arrow DSP, Micros & Memory
The AD8410A from Analog Devices is a high voltage, high-bandwidth current-sense amplifier which features an initial gain of 20 V/V.
Read more...
---
Microcontroller with Bluetooth LE 5.3
Altron Arrow News
The STM32WBA 32-bit Wireless series from STMicroelectronics brings designers the performance, efficiency, and security required for Bluetooth Low Energy 5.3-enabled applications. The STM32WBA offers essential 
...
Read more...
---
Comprehensive AI computing solution
Altron Arrow News
Powered by the NVIDIA Jetson AGX Orin, the BOXER-8640AI fanless Box PC from AAEON Technology brings AI capabilities to the edge. The NVIDIA Jetson AGX Orin's Ampere architecture boasts 1792 CUDA and 56 
...
Read more...
---
Isolated solid state relay
Altron Arrow Passive Components
The ISO808, ISO808-1 (PowerSO-36) and ISO808Q, ISO808Q-1 (TFQFPN32) are galvanic isolated eight-channel drivers featuring a low supply current.
Read more...
---
The dream of Edge AI
Altron Arrow Editor's Choice AI & ML
AI technology carries a great promise – the idea that machines can make decisions based on the world around them, processing information like a human might. But the promise of AI is currently only being fulfilled by big machines.
Read more...
---
Programmable BLE 5.3 SoC
Altron Arrow Telecoms, Datacoms, Wireless, IoT
The BlueNRG-LPS is an ultra-low power programmable Bluetooth Low Energy wireless SoC solution from STMicroelectronics that embeds the company's state-of-the-art 2.4 GHz radio IP.
Read more...
---
MAX78000 neural network accelerator chip
Altron Arrow AI & ML
The hardware-based convolutional neural network accelerator enables even battery-powered applications to execute AI inferences.
Read more...
---
Save space and improve efficiency with a 4-switch buck-boost controller
Altron Arrow Editor's Choice Telecoms, Datacoms, Wireless, IoT
A new generation of 4-switch buck-boost controllers enables power system design with very high efficiency and high power density by using inductor DC resistance (DCR) current-sensing techniques.
Read more...
---
Ultra-low noise, ultra-high PSRR µModule regulator
Altron Arrow Power Electronics / Power Management
Analog Devices' LTM8080 is an ultra-low noise dual output DC/DC µModule regulator that operates from up to 40 V at the input.
Read more...
---