printer friendly version
Arrow Electronics unveils new CEO
26 April 2022
News
Arrow Electronics has announced Sean J. Kerins as president and chief executive officer (CEO) effective 1 June 2022, succeeding Michael J. Long who will become executive chairman of the board of directors. Kerins will join the board following the annual meeting of shareholders on 11 May 2022.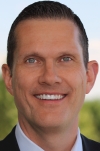 Kerins, a nearly 15-year veteran of Arrow, has served as chief operating officer since December 2020. Prior to that he served as president of Arrow's global enterprise computing solutions business since 2014 and previously president of the North American region for that business. Before joining Arrow in 2007, Kerins spent 10 years at EMC in sales and professional services roles, as well as progressively senior roles at Coopers & Lybrand Consulting, also serving as an industrial engineer at General Motors.
Kerins holds a Bachelor's degree in engineering from Syracuse University and a Master of Business Administration degree from Northwestern University's Kellogg School of Management.
"It has been an honour to work with the exceptional team at Arrow over the course of my career," said Long. "Talent and succession management are central to our strategy. After a thoughtful and multi-year succession process, I am delighted Sean has been named president and CEO. I am confident in his leadership to guide Arrow into the future and I look forward to continuing to serve on the Arrow board of directors."
For more information visit www.arrow.com
Credit(s)
Further reading:
RS to showcase IoT and Food Safe products at NAMPO Harvest Day
RS Components (SA) News
Following a two-year hiatus, this year's event will take place over five days as opposed to four, to accommodate Covid-19 restrictions.
Read more...
---
Absolute pressure sensor
Altron Arrow Analogue, Mixed Signal, LSI
The sensing element, which detects absolute pressure, consists of a suspended membrane manufactured using a special process developed by STMicroelectronics.
Read more...
---
2- and 4-output fanout clock buffers
Altron Arrow Analogue, Mixed Signal, LSI
Both devices support 2,5/3,3 V power supplies with separate input and output supply voltages for level shifting.
Read more...
---
64 Mbit SuperFlash memory for space systems
Altron Arrow DSP, Micros & Memory
Designers of spaceflight-qualified systems have a great need to reduce development time, cost and risk in their systems. Microchip Technology proposed the concept of starting with commercial off-the-shelf 
...
Read more...
---
Evaluation board for MEMS devices
Altron Arrow Test & Measurement
The STEVAL-MKI220V1 is an adaptor board designed to facilitate the evaluation of MEMS devices in the LPS27HHTW product family.
Read more...
---
LDOs consume minimal quiescent current
Altron Arrow Power Electronics / Power Management
The AP7387 supports many standard power rails and is well suited for multi-cell battery-powered applications.
Read more...
---
Mouser and Wevolver team up to expose university innovation
News
The programme aims to empower people to create and innovate by providing access to engineering knowledge through a variety of media, including blogs and podcasts.
Read more...
---
Upgraded AI/ML SDK for PolarFire FPGAs
Altron Arrow Design Automation
Network sizes have been reduced by 50% by optimising containers for weights and the built-in bit accuracy simulator's speed has been tripled.
Read more...
---
Joburg Business School launches PHD in digital transformation
News
The Fourth Industrial Revolution is no longer an abstract concept – it is happening. Leaders will do well to incorporate its emerging technologies into their organisations.
Read more...
---
Record number of national standards published in 2021
News
The SABS sees the information contained in SANS as fundamental to optimising the country's economic and industrial potential.
Read more...
---