printer friendly version
Mouser's resource pages make it easier to find what you need
30 May 2022
Design Automation
Mouser Electronics offers a wealth of customer-focused online tools to simplify and optimise the selection and purchasing process. Helping customers to easily browse, select and purchase products, the company's Services and Tools page and Help Centre give customers the ability to view and track orders, request technical support and data sheets, and place orders via API or EDI, among many other features.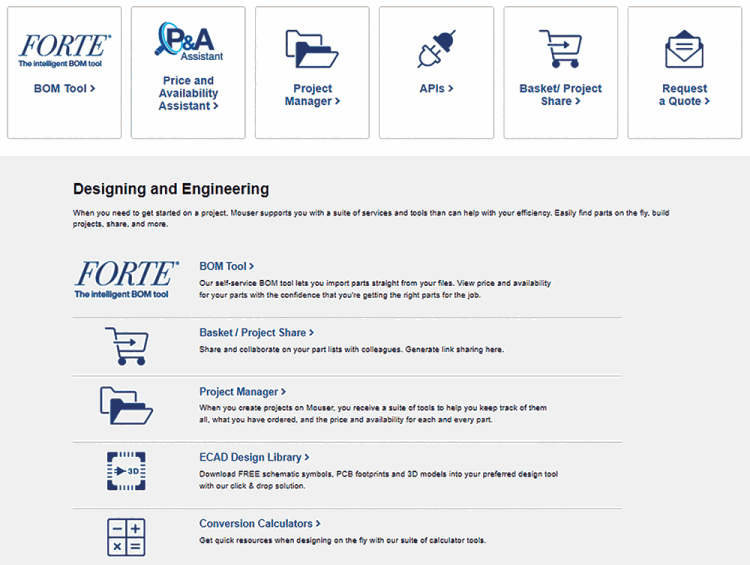 "Mouser's commitment to a best-in-class customer experience extends beyond our wide product selection to include comprehensive online customer service resources," said Mark Burr-Lonnon, Mouser's senior vice president of global service and EMEA and APAC business. "Our Help Centre and Services and Tools page make it even easier for our customers to find and order the parts they need for their next design project."
Choosing the right components for designs can be complicated and time-consuming, often involving multiple purchases and detailed parts lists. Mouser's Services and Tools page provides valuable resources for design and engineering, as well as for quoting and purchasing. It offers efficient, time-saving solutions, including the intelligent BOM tool, FORTE, order automation resources and an extensive ECAD design library. Mouser customers can access the Services and Tools page by visiting https://eu.mouser.com/servicesandtools/ or by clicking Services & Tools in the top navigation bar of any page on www.mouser.com.
Mouser's redesigned Help Centre offers a single destination for convenient customer support resources and answers to frequently asked questions. The searchable Help Centre provides customers with the information they need to create a 'My Mouser' account for simplified ordering, in addition to quick links for finding a specific part or requesting a quote. Customers can find the Help Centre at https://eu.mouser.com/help/tools/how-to-request-a-quote/ or by clicking Help in the top navigation bar of any page on www.mouser.com.
Credit(s)
Further reading:
The switch to 400G Ethernet
TRX Electronics Editor's Choice Telecoms, Datacoms, Wireless, IoT
The key drivers behind the adoption of 400G Ethernet will be the demands created by data-intensive applications, such as AI, cloud computing, big data analytics, and high-definition video streaming.
Read more...
---
High-voltage MCU with buck-boost battery charger
TRX Electronics DSP, Micros & Memory
Infineon's newly released EX-PD PMG1-B1 is a single-chip solution that combines USB-C port controller with microcontroller unit and buck-boost battery charging.
Read more...
---
Wireless security and Industry 4.0
TRX Electronics Telecoms, Datacoms, Wireless, IoT
5G technology has and will continue to transform telecommunications, and although its arrival is significant, so too is the potential rise in cybersecurity risk.
Read more...
---
Testing and building applications at the edge
TRX Electronics Test & Measurement
Today, edge computing is seen more as describing a topology that enables data to be processed at the location where it was generated that is most likely used to resolve issues of latency.
Read more...
---
Self-learning AI smart sensor
TRX Electronics DSP, Micros & Memory
The Bosch BHI260AP self-learning AI smart sensor, with integrated inertial measurement unit (IMU), is an all-in-one solution for always-on sensor applications, including fitness tracking and navigation, and machine learning analytics.
Read more...
---
DIGI XBee 3 Global LTE-M/NB-IoT development kit
TRX Electronics Telecoms, Datacoms, Wireless, IoT
DIGI XBee 3 Global LTE-M/NB-IoT development kit allows a simple and quick way to integrate cellular connectivity into devices with the XBee 3 Global LTE-M/NB-IoT embedded smart modems.
Read more...
---
New camera module targets AI and computer vision
Vepac Electronics Design Automation
Innodisk has announced its shift towards the AI industry with half of its AI development related to image recognition.
Read more...
---
Engineering the future of automation
Design Automation
As the next great leap forward in mechanisation, industrial automation integrates data into the manufacturing equation through high-input sensors and sensor infrastructures.
Read more...
---
Solution to battery cell monitoring
TRX Electronics Power Electronics / Power Management
The TLE9012DQU Li-ion battery monitoring IC developed by Infineon is a multi-channel monitoring and balancing IC designed for Li-ion battery packs.
Read more...
---
Connectors for future industrial automation
TRX Electronics Interconnection
Many connector manufacturers have been talking about the industrial marketplace, and with the global market for industrial automation predicted to double over the next decade, connectivity will be an important subject.
Read more...
---