printer friendly version
Seamless STM32Cube access to Azure RTOS
30 May 2022
Computer/Embedded Technology
STMicroelectronics has extended support for Microsoft Azure RTOS in the STM32Cube development environment, covering additional high-performance, mainstream, ultra-low-power and wireless microcontrollers (MCUs) from the STM32 family.
Users can leverage the qualities of Azure RTOS, the convenience of STM32Cube, and the flexibility of the STM32 family to optimise MCU properties thanks to the ability to choose from over 700 MCUs in the STM32 Arm Cortex-M portfolio. With this extension, there are dedicated software packages for mainstream STM32G0, ultra-low-power STM32L4, STM32L4+, STM32L5 and STM32U5, high-performance STM32G4, STM32F4, STM32F7 and STM32H7, and wireless STM32WL and STM32WB MCUs.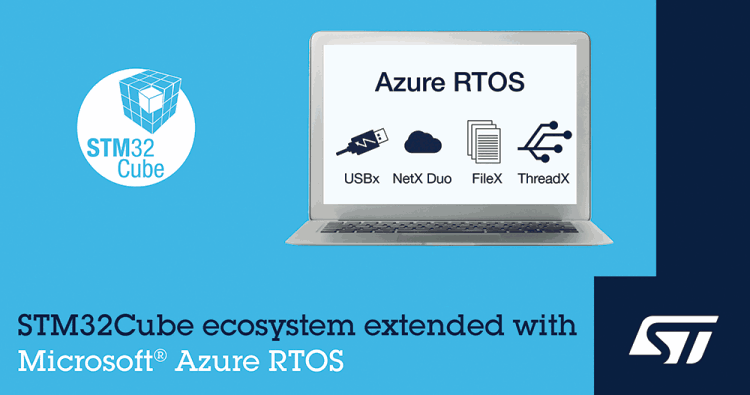 STM32Cube simplifies developing with Azure RTOS as a standalone package or as add-on configurable components. The Azure RTOS suite is fully supported in the STM32CubeIDE tool and the STM32CubeMX initialiser, which can directly configure Azure RTOS components. ST has added free code examples that help accelerate development and includes several demonstration projects that are ready to run on STM32 Nucleo boards, Discovery kits and evaluation boards. Code can alternatively be accessed on STMicroelectronics' Github page (www.dataweek.co.za/*may22-stm).
The Azure RTOS suite comprises a comprehensive and consistent middleware offering for embedded projects. It includes the ThreadX real-time operating system, which has a minimal memory footprint, and the FileX fault-tolerant FAT file system with LevelX wear-levelling for NAND and NOR Flash memories. The suite also comes with NetX Duo industrial-grade TCP/IP stacks, and the USBX USB stack with host and device support.
Integrating Azure RTOS within STM32Cube simplifies the development of high-quality embedded projects that are robust, energy efficient, feature rich and competitively priced. Support throughout the wider STM32 ecosystem helps quickly handle engineering challenges and includes the STM32 MCU wiki and a dedicated Azure RTOS topic in the online ST developer community.
For more information contact Renaldo Fibiger, Altron Arrow, +27 11 923 9600, [email protected], www.altronarrow.com
Credit(s)
Further reading:
Galleon releases a rugged 100GbE recorder
Rugged Interconnect Technologies Computer/Embedded Technology
The XSR 100GbE recorder is the latest addition to Galleon Embedded Computing's line-up of innovative military embedded solutions and is perfect for applications in unmanned systems, surveillance and reconnaissance.
Read more...
---
TI releases top five power design tools
Altron Arrow Design Automation
Texas Instruments has released an online resource combining the top five power design tools available to aid in the next electronic project design.
Read more...
---
Angle sensor for safety-critical applications
Altron Arrow Passive Components
TDK's TAS4240 TMR-based angle-sensor enables precise angle measurements in applications where high performance is needed and space is limited.
Read more...
---
1,5 A LDO linear regulator from TI
Altron Arrow Power Electronics / Power Management
The TPS7A74 from Texas Instruments is a 1,5 A low-dropout linear regulator with programmable soft-start for a wide variety of applications.
Read more...
---
Samsung launches GDDR6 RAM module
EBV Electrolink Computer/Embedded Technology
The DRAM is capable of 24 Gbps processing speeds and will significantly advance the graphics performance of AI-based applications and high-performance computing.
Read more...
---
Qualcomm AI stack: a unified AI software solution
Future Electronics Computer/Embedded Technology
Qualcomm has bundled all its AI software offerings into a single package called the Qualcomm AI Stack which will assist developers in deploying AI applications.
Read more...
---
Automotive motion sensor with embedded ML core
Altron Arrow DSP, Micros & Memory
The ASM330LHHX, a six-axis inertial module with embedded machine learning core and dual operating modes, ensures the lowest power consumption and in-sensor event detection.
Read more...
---
Panasonic releases its updated touch-sensitive knob
Altron Arrow Electronics Technology
Panasonic, in conjunction with Microchip, has launched an update to its existing Magic Knob, a capacitive knob ready for standard touch sensors for use in controlling automotive information displays.
Read more...
---
ST develops new serial EEPROM class
Altron Arrow DSP, Micros & Memory
This new class of serial EEPROM is a 32-Mbit page-erasable memory that is less expensive than FRAM while offering a lower power consumption.
Read more...
---
Fully programmable motor controllers
Altron Arrow Power Electronics / Power Management
The MOTIX IMD70xA programmable motor controllers from Infineon are now available in one package to power the next generation of battery-powered applications.
Read more...
---