printer friendly version
ST releases first automotive IMU with embedded ML
30 May 2022
Computer/Embedded Technology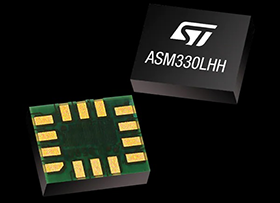 STMicroelectronics' ASM330LHHX inertial measurement unit (IMU) moves smart driving another step closer to high levels of automation with its machine learning (ML) core. The ML core enables real-time response and complex functions with low system power demand.
Leveraging ST's micro electromechanical systems (MEMS) technology, the automotive-qualified ASM330LHHX houses a 3-axis accelerometer and 3-axis gyroscope in a 2,5 x 3 x 0,83 mm package. The 6-axis module provides movement and attitude sensing for functions including vehicle positioning and digital stabilisation. It has a full-scale acceleration range of ±2/±4/±8/±16 and a wide angular rate range of ±125/±250/±500/±1000/±2000/±4000 dps that enables its usage in a broad range of automotive applications.
The ML core, a hardwired processing engine, runs AI algorithms directly on the sensor, ensuring extremely low latency between sensing an event and the vehicle's response. This enables sophisticated real-time performance that demands far lower system energy and computing power than a solution embedded on an application processor or cloud-based AI. Functions available include vehicle-stationary detection, attitude and heading reference, altitude estimation, car-tow detection and crash detection.
The ASM330LHHX has two operating modes, including low-power mode for running always-on applications like telematics, anti-theft systems, motion-activated functions, and vibration monitoring and compensation. When operated in low-power mode, current consumption is less than 800 µA with both the accelerometer and gyroscope running. There is also a high-performance mode for applications that demand the highest accuracy and lowest latency, including precise positioning, vehicle-to-everything (V2X) communication, and impact detection and crash reconstruction.
ST's proven MEMS fabrication processes ensure excellent sensor stability and low noise, and the module maintains high accuracy over an extended operating temperature range of -40°C to 105°C.
For more information contact Renaldo Fibiger, Altron Arrow, +27 11 923 9600, [email protected], www.altronarrow.com
Credit(s)
Further reading:
Galleon releases a rugged 100GbE recorder
Rugged Interconnect Technologies Computer/Embedded Technology
The XSR 100GbE recorder is the latest addition to Galleon Embedded Computing's line-up of innovative military embedded solutions and is perfect for applications in unmanned systems, surveillance and reconnaissance.
Read more...
---
TI releases top five power design tools
Altron Arrow Design Automation
Texas Instruments has released an online resource combining the top five power design tools available to aid in the next electronic project design.
Read more...
---
Angle sensor for safety-critical applications
Altron Arrow Passive Components
TDK's TAS4240 TMR-based angle-sensor enables precise angle measurements in applications where high performance is needed and space is limited.
Read more...
---
1,5 A LDO linear regulator from TI
Altron Arrow Power Electronics / Power Management
The TPS7A74 from Texas Instruments is a 1,5 A low-dropout linear regulator with programmable soft-start for a wide variety of applications.
Read more...
---
Samsung launches GDDR6 RAM module
EBV Electrolink Computer/Embedded Technology
The DRAM is capable of 24 Gbps processing speeds and will significantly advance the graphics performance of AI-based applications and high-performance computing.
Read more...
---
Qualcomm AI stack: a unified AI software solution
Future Electronics Computer/Embedded Technology
Qualcomm has bundled all its AI software offerings into a single package called the Qualcomm AI Stack which will assist developers in deploying AI applications.
Read more...
---
Automotive motion sensor with embedded ML core
Altron Arrow DSP, Micros & Memory
The ASM330LHHX, a six-axis inertial module with embedded machine learning core and dual operating modes, ensures the lowest power consumption and in-sensor event detection.
Read more...
---
Panasonic releases its updated touch-sensitive knob
Altron Arrow Electronics Technology
Panasonic, in conjunction with Microchip, has launched an update to its existing Magic Knob, a capacitive knob ready for standard touch sensors for use in controlling automotive information displays.
Read more...
---
ST develops new serial EEPROM class
Altron Arrow DSP, Micros & Memory
This new class of serial EEPROM is a 32-Mbit page-erasable memory that is less expensive than FRAM while offering a lower power consumption.
Read more...
---
Fully programmable motor controllers
Altron Arrow Power Electronics / Power Management
The MOTIX IMD70xA programmable motor controllers from Infineon are now available in one package to power the next generation of battery-powered applications.
Read more...
---