printer friendly version
ST releases first automotive IMU with embedded ML
30 May 2022
Computer/Embedded Technology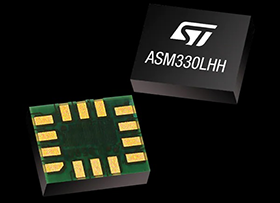 STMicroelectronics' ASM330LHHX inertial measurement unit (IMU) moves smart driving another step closer to high levels of automation with its machine learning (ML) core. The ML core enables real-time response and complex functions with low system power demand.
Leveraging ST's micro electromechanical systems (MEMS) technology, the automotive-qualified ASM330LHHX houses a 3-axis accelerometer and 3-axis gyroscope in a 2,5 x 3 x 0,83 mm package. The 6-axis module provides movement and attitude sensing for functions including vehicle positioning and digital stabilisation. It has a full-scale acceleration range of ±2/±4/±8/±16 and a wide angular rate range of ±125/±250/±500/±1000/±2000/±4000 dps that enables its usage in a broad range of automotive applications.
The ML core, a hardwired processing engine, runs AI algorithms directly on the sensor, ensuring extremely low latency between sensing an event and the vehicle's response. This enables sophisticated real-time performance that demands far lower system energy and computing power than a solution embedded on an application processor or cloud-based AI. Functions available include vehicle-stationary detection, attitude and heading reference, altitude estimation, car-tow detection and crash detection.
The ASM330LHHX has two operating modes, including low-power mode for running always-on applications like telematics, anti-theft systems, motion-activated functions, and vibration monitoring and compensation. When operated in low-power mode, current consumption is less than 800 µA with both the accelerometer and gyroscope running. There is also a high-performance mode for applications that demand the highest accuracy and lowest latency, including precise positioning, vehicle-to-everything (V2X) communication, and impact detection and crash reconstruction.
ST's proven MEMS fabrication processes ensure excellent sensor stability and low noise, and the module maintains high accuracy over an extended operating temperature range of -40°C to 105°C.
For more information contact Renaldo Fibiger, Altron Arrow, +27 11 923 9600, [email protected], www.altronarrow.com
Credit(s)
Further reading:
Take advantage of Wi-Fi 6, 6E
Altron Arrow Telecoms, Datacoms, Wireless, IoT
Infineon has provided a host of online resources to learn more about the technology and benefits involved with Wi-Fi 6.
Read more...
---
Arrow Electronics opens new primary distribution centre
Altron Arrow News
Arrow Electronics, represented in South Africa by Altron Arrow, announced that it has opened a new, state-of-the-art primary distribution centre in Venlo, the Netherlands.
Read more...
---
Altron Arrow FAE earns top award
Altron Arrow News
STMicroelectronics awards top trophy to Altron Arrow's field application engineer for outstanding achievement in the certification course.
Read more...
---
Quectel announces high-performance 5G smart module
iCorp Technologies Computer/Embedded Technology
The SG560D, an Android smart module that combines 5G and artificial intelligence, is suitable for complex applications such as in-vehicle infotainment and industrial handheld devices.
Read more...
---
Power supply design considerations for remote patient monitors
Altron Arrow Power Electronics / Power Management
Remote patient monitors (RPMs) are continuously evolving to include new features which creates greater demands on their single-cell battery supply. A solution is provided for an ECG RPM that preserves battery life.
Read more...
---
Transient voltage suppression diodes
Altron Arrow Power Electronics / Power Management
The 24 V XClampR transient voltage suppressors, available in SMC packaging, deliver low clamping ratios for high power density.
Read more...
---
Simple replacement for legacy barrel jacks
Altron Arrow News
It is estimated that over 10 billion power tools are still using the old barrel jacks for their power needs, which will need to change.
Read more...
---
Inertial module enables on-chip AI training
Altron Arrow Telecoms, Datacoms, Wireless, IoT
MIA-M10 concurrently receives four GNSS constellations (GPS, Galileo, BeiDou, and GLONASS) for maximum satellite signal availability.
Read more...
---
50 W Qi charger transmitter reference design
Altron Arrow Power Electronics / Power Management
The design supports two coils, which can work in alternation for increased receiver positioning freedom.
Read more...
---
Microchip simplifies automotive designs
Altron Arrow DSP, Micros & Memory
The new dsPIC33C DSCs add support for AUTOSAR, OS, MCAL drivers and functional safety, enabling robust and secure automotive solutions.
Read more...
---