printer friendly version
Microchip releases secure Arm Cortex-M23 microcontroller
30 May 2022
DSP, Micros & Memory
With security threats in the IoT, consumer, industrial, and medical fields on the rise, Microchip has decided to alter the playing fields by announcing the release of the industry's first microcontroller (MCU) to combine a secure subsystem and Arm TrustZone technology in a single package. The PIC32CM LS60, which integrates Microchip's Trust Platform secure subsystem, makes it easier to develop end products using one microcontroller rather than two or more semiconductor chips. Now, designers can go to one trusted source to find a 32-bit MCU that is designed to protect products and the end user from remote or physical attacks on their smart home devices, smartphone or tablet accessories, portable medical devices, wearables, connected appliances and industrial robots.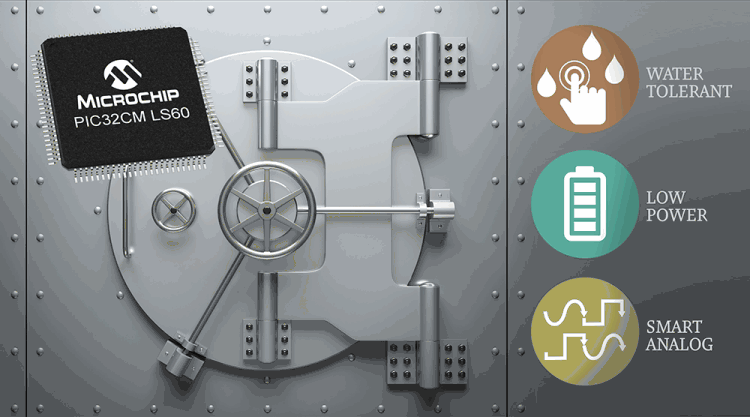 As the IoT industry continues to grow, the need for edge devices to be secured with high standards of protection has become vital. The PIC32CM LS60 enables developers to implement industry-proven security practices and countermeasures to protect against a wide class of known remote and physical attacks. These types of designs are supported with tools such as MPLAB Code Configurator TrustZone Manager and the Trust Platform Design Suite to simplify the configuration of the secure subsystem. The Microchip Trust Platform provisioning service is available to securely provision keys and certificates.
"With its integration of Arm TrustZone technology and Microchip's secure subsystem in one package, the PIC32CM LS60 is an offering that the market hasn't seen before," said Rod Drake, vice president of Microchip's 32-bit MCU business unit. "We believe this MCU's security, ease of use and low-power operation will be a powerful shift in implementing advanced security technology in IoT applications."
The PIC32CM LS60 MCU also integrates an enhanced peripheral touch controller with the Driven Shield Plus feature that prevents false touches due to moisture and provides high immunity to noise. This feature will be attractive to embedded designers who are challenged with developing touch interfaces that work well in noisy and moist environments.
In today's market it is imperative that products not only have strong embedded security but also offer low power consumption for longer battery life. The PIC32CM LS60 features core-independent SleepWalking peripherals and the Event System which act to keep the MCU core in sleep mode for extended periods to reduce power consumption. The MCU is compatible with the MPLAB Data Visualizer and Power Debugger tools that can be used to monitor, analyse, and fine tune power consumption numbers in real time. This makes it easier for designers to develop low-power applications and release extended-battery-life products to market faster.
The MCU also comes with on-chip analog capabilities that include operational amplifiers, digital-to-analog converters and analog-to-digital converters that can be operated in sleep modes and interfaced with a variety of sensors.
Credit(s)
Further reading:
Curiosity Nano development platform
EBV Electrolink DSP, Micros & Memory
Microchip Curiosity Nano (MC Nano) is a development platform which may be used to develop applications equipped with some of the 32-bit products from the PIC32 and SAM families.
Read more...
---
Powering your automotive electronics
Altron Arrow Power Electronics / Power Management
A look at the challenges of providing multiple supply rails to vehicle systems being powered from a single vehicle battery, with an available solution given.
Read more...
---
Microchip's new IC to replace Hall effect position sensors
Altron Arrow Electronics Technology
The LX34070 IC from Microchip is set to help accelerate the global move away from expensive and less accurate magnet-based solutions for safety-critical EV motor position monitoring.
Read more...
---
8-bit MCU development board provides onboard 5G
Altron Arrow DSP, Micros & Memory
The AVR-IoT Cellular Mini development board is the latest from Microchip and gives developers an easy blueprint for building IoT devices that connect via 5G.
Read more...
---
PowerDI8080 40 V MOSFET delivers industry-leading performance
Altron Arrow Power Electronics / Power Management
Diodes Incorporated has announced the introduction of the PowerDI80808-5, a power package that meets the needs of EV applications.
Read more...
---
AWS IoT reference example for ESP32-C3
iCorp Technologies DSP, Micros & Memory
Espressif has released the ESP-AWS-IoT library on GitHub which provides a reference framework for development on the ESP32-C3 core.
Read more...
---
Infineon's easy-to-use replacement for legacy barrel jacks
Altron Arrow News
It is estimated that over 10 billion power tools are still using the old barrel jacks for their power needs, which will need to change.
Read more...
---
Evaluation board for MEMS accelerometers
Altron Arrow Analogue, Mixed Signal, LSI
The board is designed to facilitate fast system prototyping and device evaluation of MEMS devices in ST's ASM330LHHX product family.
Read more...
---
ST releases first automotive IMU with embedded ML
Altron Arrow Computer/Embedded Technology
Smart driving moves another step closer to high levels of automation with STMicroelectronics' new machine learning core.
Read more...
---
Arrow Electronics announces alliance with Senseye
Altron Arrow News
The agreement will see Arrow Electronics together with Senseye bringing to market AI-based predictive maintenance solutions for industrial sectors.
Read more...
---