printer friendly version
Connectors for the evolving world of test and measurement
30 May 2022
Interconnection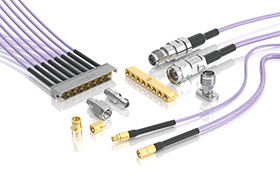 The sheer proliferation of electronic devices in the modern world means that test and measurement grows more important every day. As we rely on technology more and more, and even depend on this technology for our everyday safety, ensuring that systems are performing correctly is critical.
The world of test and measurement has evolved. It is no longer acceptable to simply test for open circuits or incorrect wiring. Instead, modern consumers and professionals expect any new product to be subjected to a sophisticated testing regime. This means that, as devices become more advanced, so too must the instrumentation employed to test them.
The instrumentation used for testing must be at least as capable as the systems they test, and this has become more challenging with the rise in bandwidth and the speed of communication. Silicon manufacturers are creating products that will communicate at 112 Gbps, and 224 Gbps is just around the corner. Testing equipment must be ready for these speeds, and the latest generation of instrumentation is built to provide remarkable accuracy by simulating real-world conditions.
Connectors and cabling serve as the highway for these signals, and in testing applications, they cannot be allowed to affect the test results in any way. When creating test equipment for the most demanding applications, designers must choose connectors that will provide the greatest possible signal integrity.
The challenges for connectors go beyond providing excellent signal integrity though. Connectors are the components upon which the rest of the instrumentation must rely, as they provide the interface between the test equipment and the finished product. Depending upon the complexity of the test and the production process, they also need to be capable of constant use.
Each plugging and unplugging of a connector is known as a mating cycle. Each mating cycle places a strain on the physical design of the connector itself. Test connectors may be in constant use, potentially hundreds of times every day, and their design needs to reflect this need for reliability.
Connectors for testing applications can take several forms. With the growth in demand for high-speed wireless communications, many of the latest test solutions use precision RF connectors that provide superior frequency stability. The Samtec range of precision RF connectors and cable assemblies are now delivering frequencies of up to 110 GHz for accurate testing and rapid results.
Board-to-board applications can benefit from the Samtec high-speed connector range. A range of high-density arrays, backplane and edge-card connectors are available for the latest printed circuit board (PCB) designs. Samtec also provides the Solutionator tool (www.samtec.com/solutionator/) which allows customers to rapidly configure mating pairs of connectors for a range of board-mount applications.
For testing solutions that require high reliability, Samtec has delivered the Severe Environment Testing (SET) programme, in which connectors are tested far beyond conventional standards for service life, vibration, shock and temperature cycling.
Credit(s)
Further reading:
Double-row connectors for quick-connect applications
Spectrum Concepts Interconnection
Mill-Max announced a new range of double-row, gold-plated connectors in either spring-loaded or target versions.
Read more...
---
Samtec site's search function gets a UX upgrade
Spectrum Concepts Interconnection
Samtec announced a major upgrade to its on-site user search experience, including improvements in both performance and mobile compatibility.
Read more...
---
Spring-loaded connectors with rolling ball interface
Spectrum Concepts Interconnection
Omniball spring-loaded connectors feature a unique rolling ball interface, enabling contact to be made in both axial and non-axial alignments.
Read more...
---
Mouser stocks wide selection of the latest Phoenix Contact products
TRX Electronics Interconnection
The offering covers a vast selection of sensors, controllers, terminal blocks, connectors and wireless Ethernet products.
Read more...
---
Samtec creates new online resource page for VITA 66
Spectrum Concepts News
Samtec delivers new resource landing page for VITA 66 optical VPX standard products and support.
Read more...
---
New SMT pins utilise a grooved pattern design
Spectrum Concepts Interconnection
Mill-Max expands its range of SMT pins with the introduction of three new series that feature the Sure-Hold grooved pattern design.
Read more...
---
Wire-to-board connectors with 0,8 mm pitch
Electrocomp Interconnection
An extensive array of circuit sizes (2 to 20 circuits) enables the extension of device functionality and features to meet product development needs.
Read more...
---
Type-C connectors for USB 2.0
Electrocomp Interconnection
The USB4105 Type-C USB 2.0 connectors from GCT (Global Connector Technology) offer a 5 A current rating, 100 MΩ insulation resistance and 3,31 mm profile. They feature 16 contacts with a top-mount position 
...
Read more...
---
Record-seeking sailboat uses Fischer Connectors for sensor data transmission
News Interconnection
The boat is setting out to reach a speed of 80 knots powered only by the wind, and thereby break the long-standing world sailing speed record of 65,45 knots.
Read more...
---
Optoelectronic transceiver for rough conditions
Hiconnex Interconnection
Radiall has added the Essential model to its range of optoelectronic transceivers. Designed for demanding environments, this transceiver combines a small form factor package with an ARINC 801 optical 
...
Read more...
---