printer friendly version
Microchip simplifies automotive designs
29 June 2022
DSP, Micros & Memory
As the market for electric and autonomous vehicles grows, OEMs are experiencing increasing application complexity with the need for AUTOSAR and ISO 26262 functional safety-compliant and secure solutions.
For automotive developers looking to design scalable applications while meeting the latest automotive requirements, Microchip has announced a comprehensive ecosystem around AUTOSAR-ready dsPIC33C digital signal controllers (DSCs) to enable accelerated development and a high level of system optimisation while at the same time helping to reduce total system cost.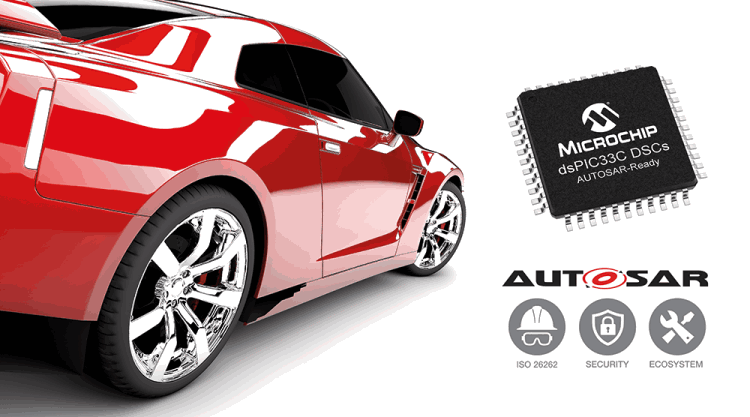 Microchip is expanding its broad portfolio of dsPIC33C DSCs with the new ISO 26262-compliant dsPIC33CK1024MP7xx family. This new family of dsPIC33C DSCs with 1 MB Flash enables applications running automotive software like AUTOSAR, OS, MCAL drivers, and ISO 26262 functional safety diagnostics and security libraries. The family of dsPIC33 DSCs also includes a high-performance central processing unit (CPU) with deterministic response and specialised peripherals for general automotive, advanced sensing and control, digital power and motor control applications.
"The AUTOSAR-ready dsPIC33C DSCs enable designers to achieve a high level of system optimisation by implementing AUTOSAR-based applications, functional safety goals and security use cases in a single microcontroller while meeting robust automotive application requirements," said Joe Thomsen, vice president of the MCU16 business unit at Microchip Technology. "This opens up a world of opportunities for designers looking to work with Microchip while expanding into e-mobility and advanced sensing and control applications."
The benefit of adopting AUTOSAR-ready devices is that customers can improve their risk and complexity management while decreasing development time through reusability. Customers who have previously designed bare metal or non-AUTOSAR automotive applications and are now adopting AUTOSAR can scale up by staying within the dsPIC33C DSC ecosystem. The AUTOSAR ecosystem for the dsPIC33C DSCs includes MICROSAR Classic from Vector, KSAR OS from KPIT Technologies Ltd. and ASPICE- and ASIL B-compliant MCAL drivers from Microchip.
"We have worked with our partners to offer an integrated solution to simplify development for automotive OEMs and Tier 1s", said Matthias Kaestner, vice president of Microchip's automotive products business unit. "The integrated solution gives insights into the AUTOSAR-based development. It simplifies evaluation of an ECU project using AUTOSAR 4.3.x and enables customers to become familiar with the systems based on dsPIC33 AUTOSAR-ready DSCs quickly."
Microchip has expanded its functional safety packages that include FMEDA reports, safety manuals and diagnostic libraries to cover the ISO 26262-compliant dsPIC33CK1024MP7xx DSCs. These AUTOSAR-ready dsPIC33C DSCs, used together with Microchip's TA100 CryptoAutomotive security ICs, enable the implementation of robust security in automotive designs.
For more information contact Andrew Athanasiou, Altron Arrow, +27 21 525 1703, [email protected], www.altronarrow.com
Credit(s)
Further reading:
TI releases top five power design tools
Altron Arrow Design Automation
Texas Instruments has released an online resource combining the top five power design tools available to aid in the next electronic project design.
Read more...
---
Angle sensor for safety-critical applications
Altron Arrow Passive Components
TDK's TAS4240 TMR-based angle-sensor enables precise angle measurements in applications where high performance is needed and space is limited.
Read more...
---
1,5 A LDO linear regulator from TI
Altron Arrow Power Electronics / Power Management
The TPS7A74 from Texas Instruments is a 1,5 A low-dropout linear regulator with programmable soft-start for a wide variety of applications.
Read more...
---
Automotive motion sensor with embedded ML core
Altron Arrow DSP, Micros & Memory
The ASM330LHHX, a six-axis inertial module with embedded machine learning core and dual operating modes, ensures the lowest power consumption and in-sensor event detection.
Read more...
---
Panasonic releases its updated touch-sensitive knob
Altron Arrow Electronics Technology
Panasonic, in conjunction with Microchip, has launched an update to its existing Magic Knob, a capacitive knob ready for standard touch sensors for use in controlling automotive information displays.
Read more...
---
SolidRun releases a SoM solution based on a Renesas SoC
EBV Electrolink DSP, Micros & Memory
In partnership with Renesas, SolidRun has released a SoM solution based on the powerful RZ/G2 family of SoCs, which are engineered for AI-enhanced HMI applications.
Read more...
---
ST develops new serial EEPROM class
Altron Arrow DSP, Micros & Memory
This new class of serial EEPROM is a 32-Mbit page-erasable memory that is less expensive than FRAM while offering a lower power consumption.
Read more...
---
New Espressif MCU embeds Wi-Fi 6
iCorp Technologies DSP, Micros & Memory
Espressif Systems has introduced the ESP32-C5, their first dual-band 2,4 and 5 GHz Wi-Fi 6 and Bluetooth 5 low-energy microcontroller unit.
Read more...
---
Fully programmable motor controllers
Altron Arrow Power Electronics / Power Management
The MOTIX IMD70xA programmable motor controllers from Infineon are now available in one package to power the next generation of battery-powered applications.
Read more...
---
OMRON's latest MicroHAWK ultra-compact code reader
Altron Arrow Manufacturing / Production Technology, Hardware & Services
OMRON expands the MicroHAWK range with the V440-F, a scanner ideal for reading multiple codes in a wide area as well as for applications over longer distances and with minuscule barcodes.
Read more...
---