printer friendly version
Microchip simplifies automotive designs
29 June 2022 DSP, Micros & Memory
As the market for electric and autonomous vehicles grows, OEMs are experiencing increasing application complexity with the need for AUTOSAR and ISO 26262 functional safety-compliant and secure solutions.
For automotive developers looking to design scalable applications while meeting the latest automotive requirements, Microchip has announced a comprehensive ecosystem around AUTOSAR-ready dsPIC33C digital signal controllers (DSCs) to enable accelerated development and a high level of system optimisation while at the same time helping to reduce total system cost.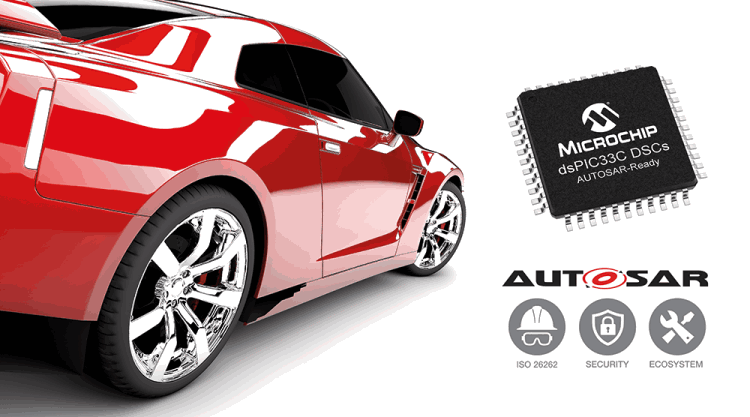 Microchip is expanding its broad portfolio of dsPIC33C DSCs with the new ISO 26262-compliant dsPIC33CK1024MP7xx family. This new family of dsPIC33C DSCs with 1 MB Flash enables applications running automotive software like AUTOSAR, OS, MCAL drivers, and ISO 26262 functional safety diagnostics and security libraries. The family of dsPIC33 DSCs also includes a high-performance central processing unit (CPU) with deterministic response and specialised peripherals for general automotive, advanced sensing and control, digital power and motor control applications.
"The AUTOSAR-ready dsPIC33C DSCs enable designers to achieve a high level of system optimisation by implementing AUTOSAR-based applications, functional safety goals and security use cases in a single microcontroller while meeting robust automotive application requirements," said Joe Thomsen, vice president of the MCU16 business unit at Microchip Technology. "This opens up a world of opportunities for designers looking to work with Microchip while expanding into e-mobility and advanced sensing and control applications."
The benefit of adopting AUTOSAR-ready devices is that customers can improve their risk and complexity management while decreasing development time through reusability. Customers who have previously designed bare metal or non-AUTOSAR automotive applications and are now adopting AUTOSAR can scale up by staying within the dsPIC33C DSC ecosystem. The AUTOSAR ecosystem for the dsPIC33C DSCs includes MICROSAR Classic from Vector, KSAR OS from KPIT Technologies Ltd. and ASPICE- and ASIL B-compliant MCAL drivers from Microchip.
"We have worked with our partners to offer an integrated solution to simplify development for automotive OEMs and Tier 1s", said Matthias Kaestner, vice president of Microchip's automotive products business unit. "The integrated solution gives insights into the AUTOSAR-based development. It simplifies evaluation of an ECU project using AUTOSAR 4.3.x and enables customers to become familiar with the systems based on dsPIC33 AUTOSAR-ready DSCs quickly."
Microchip has expanded its functional safety packages that include FMEDA reports, safety manuals and diagnostic libraries to cover the ISO 26262-compliant dsPIC33CK1024MP7xx DSCs. These AUTOSAR-ready dsPIC33C DSCs, used together with Microchip's TA100 CryptoAutomotive security ICs, enable the implementation of robust security in automotive designs.
For more information contact Andrew Athanasiou, Altron Arrow, +27 21 525 1703, [email protected], www.altronarrow.com
Credit(s)
Further reading:
Curiosity Nano development platform
EBV Electrolink DSP, Micros & Memory
Microchip Curiosity Nano (MC Nano) is a development platform which may be used to develop applications equipped with some of the 32-bit products from the PIC32 and SAM families.
Read more...
---
Powering your automotive electronics
Altron Arrow Power Electronics / Power Management
A look at the challenges of providing multiple supply rails to vehicle systems being powered from a single vehicle battery, with an available solution given.
Read more...
---
Microchip's new IC to replace Hall effect position sensors
Altron Arrow Electronics Technology
The LX34070 IC from Microchip is set to help accelerate the global move away from expensive and less accurate magnet-based solutions for safety-critical EV motor position monitoring.
Read more...
---
8-bit MCU development board provides onboard 5G
Altron Arrow DSP, Micros & Memory
The AVR-IoT Cellular Mini development board is the latest from Microchip and gives developers an easy blueprint for building IoT devices that connect via 5G.
Read more...
---
PowerDI8080 40 V MOSFET delivers industry-leading performance
Altron Arrow Power Electronics / Power Management
Diodes Incorporated has announced the introduction of the PowerDI80808-5, a power package that meets the needs of EV applications.
Read more...
---
Microchip releases secure Arm Cortex-M23 microcontroller
Altron Arrow DSP, Micros & Memory
The microcontroller is integrated with a robust secure subsystem and contains Arm TrustZone technology to isolate security critical components.
Read more...
---
AWS IoT reference example for ESP32-C3
iCorp Technologies DSP, Micros & Memory
Espressif has released the ESP-AWS-IoT library on GitHub which provides a reference framework for development on the ESP32-C3 core.
Read more...
---
Infineon's easy-to-use replacement for legacy barrel jacks
Altron Arrow News
It is estimated that over 10 billion power tools are still using the old barrel jacks for their power needs, which will need to change.
Read more...
---
Evaluation board for MEMS accelerometers
Altron Arrow Analogue, Mixed Signal, LSI
The board is designed to facilitate fast system prototyping and device evaluation of MEMS devices in ST's ASM330LHHX product family.
Read more...
---
ST releases first automotive IMU with embedded ML
Altron Arrow Computer/Embedded Technology
Smart driving moves another step closer to high levels of automation with STMicroelectronics' new machine learning core.
Read more...
---