printer friendly version
8-bit MCU development board provides onboard 5G
30 May 2022
DSP, Micros & Memory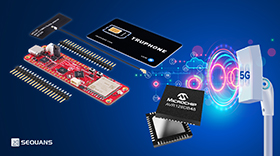 Microchip Technology has announced the AVR-IoT Cellular Mini development board, based on the AVR128DB48 8-bit microcontroller (MCU). This solution will offer location flexibility, low power consumption and deployment simplicity by providing a robust platform to start building sensor and actuator nodes on 5G narrowband IoT networks.
The development board is a small form-factor board, making it an ideal solution for developers who want to connect IoT devices to an available 5G network. This is an essential feature for devices on the go, or which are located in remote areas with limited availability of LoRa networks or other LPWAN solutions.
The board comes pre-configured to send data from onboard light and temperature sensors to the cloud, viewable using Microchip's sandbox portal. The sandbox portal provides customers with the ability to track and monitor their device in real time from a remote location.
This functionality covers the core requirements of many applications in various industries including agriculture, industrial and energy, as well as consumer spaces such as transportation of goods, alarm systems, building automation and remote monitoring.
To provide an even easier, more efficient and more cost-effective solution for developers to connect IoT devices to 5G using the AVR128DB48 MCU, Microchip partnered with Sequans to include its Monarch 2 GM02S single-chip radio equipped with 5G LTE-M and narrowband IoT. Microchip also partnered with Truphone to provide the SIM card for cellular service that offers reliable coverage worldwide.
The AVR-IoT Cellular Mini development board is a beneficial solution for makers and hobbyists as it fits the Adafruit Feather form factor. It features a Qwiic/Stemma I2C connector for easy functionality extension, creating a clear path to production. It is also Arduino-compatible and is supported by Microchip's Github library which provides functionality for HTTPS, MQTT, low power and more.
For more information contact Andrew Athanasiou, +27 21 525 1703, [email protected], www.altronarrow.com
Credit(s)
Further reading:
Take advantage of Wi-Fi 6, 6E
Altron Arrow Telecoms, Datacoms, Wireless, IoT
Infineon has provided a host of online resources to learn more about the technology and benefits involved with Wi-Fi 6.
Read more...
---
Arrow Electronics opens new primary distribution centre
Altron Arrow News
Arrow Electronics, represented in South Africa by Altron Arrow, announced that it has opened a new, state-of-the-art primary distribution centre in Venlo, the Netherlands.
Read more...
---
NXP releases real-time processors for automotive platforms
EBV Electrolink DSP, Micros & Memory
NXP has introduced real-time microcontrollers for automotive electronic control units as part of its S32 range of controllers.
Read more...
---
Altron Arrow FAE earns top award
Altron Arrow News
STMicroelectronics awards top trophy to Altron Arrow's field application engineer for outstanding achievement in the certification course.
Read more...
---
Embedded voice control via the STM32Cube
EBV Electrolink DSP, Micros & Memory
STMicroelectronics and Sensory collaborate to enable mass-market adoption of embedded voice control through the STM32Cube software ecosystem.
Read more...
---
Power supply design considerations for remote patient monitors
Altron Arrow Power Electronics / Power Management
Remote patient monitors (RPMs) are continuously evolving to include new features which creates greater demands on their single-cell battery supply. A solution is provided for an ECG RPM that preserves battery life.
Read more...
---
Transient voltage suppression diodes
Altron Arrow Power Electronics / Power Management
The 24 V XClampR transient voltage suppressors, available in SMC packaging, deliver low clamping ratios for high power density.
Read more...
---
Simple replacement for legacy barrel jacks
Altron Arrow News
It is estimated that over 10 billion power tools are still using the old barrel jacks for their power needs, which will need to change.
Read more...
---
Inertial module enables on-chip AI training
Altron Arrow Telecoms, Datacoms, Wireless, IoT
MIA-M10 concurrently receives four GNSS constellations (GPS, Galileo, BeiDou, and GLONASS) for maximum satellite signal availability.
Read more...
---
50 W Qi charger transmitter reference design
Altron Arrow Power Electronics / Power Management
The design supports two coils, which can work in alternation for increased receiver positioning freedom.
Read more...
---