printer friendly version
8-bit MCU development board provides onboard 5G
30 May 2022
DSP, Micros & Memory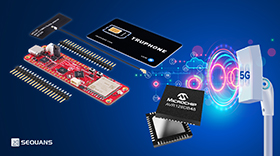 Microchip Technology has announced the AVR-IoT Cellular Mini development board, based on the AVR128DB48 8-bit microcontroller (MCU). This solution will offer location flexibility, low power consumption and deployment simplicity by providing a robust platform to start building sensor and actuator nodes on 5G narrowband IoT networks.
The development board is a small form-factor board, making it an ideal solution for developers who want to connect IoT devices to an available 5G network. This is an essential feature for devices on the go, or which are located in remote areas with limited availability of LoRa networks or other LPWAN solutions.
The board comes pre-configured to send data from onboard light and temperature sensors to the cloud, viewable using Microchip's sandbox portal. The sandbox portal provides customers with the ability to track and monitor their device in real time from a remote location.
This functionality covers the core requirements of many applications in various industries including agriculture, industrial and energy, as well as consumer spaces such as transportation of goods, alarm systems, building automation and remote monitoring.
To provide an even easier, more efficient and more cost-effective solution for developers to connect IoT devices to 5G using the AVR128DB48 MCU, Microchip partnered with Sequans to include its Monarch 2 GM02S single-chip radio equipped with 5G LTE-M and narrowband IoT. Microchip also partnered with Truphone to provide the SIM card for cellular service that offers reliable coverage worldwide.
The AVR-IoT Cellular Mini development board is a beneficial solution for makers and hobbyists as it fits the Adafruit Feather form factor. It features a Qwiic/Stemma I2C connector for easy functionality extension, creating a clear path to production. It is also Arduino-compatible and is supported by Microchip's Github library which provides functionality for HTTPS, MQTT, low power and more.
For more information contact Andrew Athanasiou, +27 21 525 1703, [email protected], www.altronarrow.com
Credit(s)
Further reading:
TI releases top five power design tools
Altron Arrow Design Automation
Texas Instruments has released an online resource combining the top five power design tools available to aid in the next electronic project design.
Read more...
---
Angle sensor for safety-critical applications
Altron Arrow Passive Components
TDK's TAS4240 TMR-based angle-sensor enables precise angle measurements in applications where high performance is needed and space is limited.
Read more...
---
1,5 A LDO linear regulator from TI
Altron Arrow Power Electronics / Power Management
The TPS7A74 from Texas Instruments is a 1,5 A low-dropout linear regulator with programmable soft-start for a wide variety of applications.
Read more...
---
Automotive motion sensor with embedded ML core
Altron Arrow DSP, Micros & Memory
The ASM330LHHX, a six-axis inertial module with embedded machine learning core and dual operating modes, ensures the lowest power consumption and in-sensor event detection.
Read more...
---
Panasonic releases its updated touch-sensitive knob
Altron Arrow Electronics Technology
Panasonic, in conjunction with Microchip, has launched an update to its existing Magic Knob, a capacitive knob ready for standard touch sensors for use in controlling automotive information displays.
Read more...
---
SolidRun releases a SoM solution based on a Renesas SoC
EBV Electrolink DSP, Micros & Memory
In partnership with Renesas, SolidRun has released a SoM solution based on the powerful RZ/G2 family of SoCs, which are engineered for AI-enhanced HMI applications.
Read more...
---
ST develops new serial EEPROM class
Altron Arrow DSP, Micros & Memory
This new class of serial EEPROM is a 32-Mbit page-erasable memory that is less expensive than FRAM while offering a lower power consumption.
Read more...
---
New Espressif MCU embeds Wi-Fi 6
iCorp Technologies DSP, Micros & Memory
Espressif Systems has introduced the ESP32-C5, their first dual-band 2,4 and 5 GHz Wi-Fi 6 and Bluetooth 5 low-energy microcontroller unit.
Read more...
---
Fully programmable motor controllers
Altron Arrow Power Electronics / Power Management
The MOTIX IMD70xA programmable motor controllers from Infineon are now available in one package to power the next generation of battery-powered applications.
Read more...
---
OMRON's latest MicroHAWK ultra-compact code reader
Altron Arrow Manufacturing / Production Technology, Hardware & Services
OMRON expands the MicroHAWK range with the V440-F, a scanner ideal for reading multiple codes in a wide area as well as for applications over longer distances and with minuscule barcodes.
Read more...
---