printer friendly version
Thinner pattern coils set to revolutionise wireless charging
30 May 2022
Power Electronics / Power Management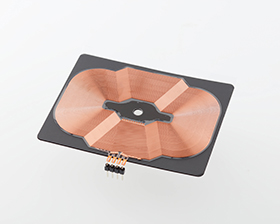 TDK has introduced a thin pattern coil to support the wireless charging of next-generation mobile devices. The WCT38466-N0E0SST101 was developed without employing conventional lithographic exposure/etching techniques. Instead, TDK's process technology was leveraged, in combination with plating technology using the nano dispersion of the organic compound polypyrrole, as developed by Achilles Corporation.
Although wireless charging coils have generally been produced by winding wires, this new approach has made it possible to manufacture them using a thick copper pattern on a thin film. This, together with the application of TDK's proprietary magnetic materials, has enabled coil thickness reduction down to 0,76 mm, which is approximately one-fifth the thickness of traditional 3,8 mm diameter wound-wire coils. Furthermore, the use of TDK's original optimal coil shape pattern means that the new coils cover a larger charging area.
The wireless transfer of power to mobile devices, such as smartphones, has considerable appeal. Uptake of demand for wireless charging is being seen in home, office, retail and automotive environments. With their dramatically thinner diameters, the TDK coils, which are compliant with the Wireless Power Consortium's widely adopted Qi standard, will open new opportunities for wireless charging deployment. In addition, while it was previously necessary for three coils to be incorporated into wireless charging systems, now only one coil will be required, thereby enabling system miniaturisation.
The pattern coil has dimensions of 85 x 67 x 0,76 mm, with an inductance of 10,6 µH and a resistance of 0,139 Ω at 100 kHz.
Credit(s)
Further reading:
Wireless charging IC solution
TRX Electronics Power Electronics / Power Management
The WLC1115 transmitter controller IC is the first highly integrated product of the new WLC family of controllers from Infineon for applications in inductive wireless charging.
Read more...
---
TDK announces robust varistors with 14 mm disk diameter
Electrocomp Passive Components
The new AdvanceD series of varistors have a wide operating voltage range up to 625 V and offer a surge current capability of 3000 A.
Read more...
---
Real-time monitoring of solar power stations
Otto Wireless Solutions Power Electronics / Power Management
WLink's 3G/4G routers remotely monitor and manage power stations in real-time and perform fault diagnosis, power prediction and a daily maintenance routine.
Read more...
---
Compact varistors offer surge capability of 6000 A
Electrocomp Circuit & System Protection
TDK has released the new EPCOS B72314S2* series of leaded disk varistors which cover a wide operating voltage range of 175 V
RMS
to 625 V
RMS
.
Read more...
---
1,5 A LDO linear regulator from TI
Altron Arrow Power Electronics / Power Management
The TPS7A74 from Texas Instruments is a 1,5 A low-dropout linear regulator with programmable soft-start for a wide variety of applications.
Read more...
---
eFuse with transient overcurrent blanking timer
RS Components (SA) Power Electronics / Power Management
The TPS25981xx family of eFuses from Texas Instruments is a robust defence against overloads, short circuits, voltage surges and excessive inrush current.
Read more...
---
New low-cost 60 W PSU
Vepac Electronics Power Electronics / Power Management
The new VCB60 series of 60 W PSUs from XP Power addresses the need for high-quality easy-to-use power solutions at attractive price points.
Read more...
---
New series of high-power pure sine wave inverters
Current Automation Power Electronics / Power Management
The NTS/NTU-2200/3200 series pure sine wave inverters by Meanwell now have the ability to use lithium batteries as well as lead acid as the DC power source.
Read more...
---
Fully programmable motor controllers
Altron Arrow Power Electronics / Power Management
The MOTIX IMD70xA programmable motor controllers from Infineon are now available in one package to power the next generation of battery-powered applications.
Read more...
---
Short body USB-A with no compromise on performance
Electrocomp Interconnection
The all-new USB1125 connector from GCT with a minimal PCB footprint of just 13mm2 is 25% smaller than full-size equivalents.
Read more...
---