printer friendly version
Thinner pattern coils set to revolutionise wireless charging
30 May 2022
Power Electronics / Power Management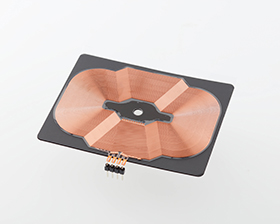 TDK has introduced a thin pattern coil to support the wireless charging of next-generation mobile devices. The WCT38466-N0E0SST101 was developed without employing conventional lithographic exposure/etching techniques. Instead, TDK's process technology was leveraged, in combination with plating technology using the nano dispersion of the organic compound polypyrrole, as developed by Achilles Corporation.
Although wireless charging coils have generally been produced by winding wires, this new approach has made it possible to manufacture them using a thick copper pattern on a thin film. This, together with the application of TDK's proprietary magnetic materials, has enabled coil thickness reduction down to 0,76 mm, which is approximately one-fifth the thickness of traditional 3,8 mm diameter wound-wire coils. Furthermore, the use of TDK's original optimal coil shape pattern means that the new coils cover a larger charging area.
The wireless transfer of power to mobile devices, such as smartphones, has considerable appeal. Uptake of demand for wireless charging is being seen in home, office, retail and automotive environments. With their dramatically thinner diameters, the TDK coils, which are compliant with the Wireless Power Consortium's widely adopted Qi standard, will open new opportunities for wireless charging deployment. In addition, while it was previously necessary for three coils to be incorporated into wireless charging systems, now only one coil will be required, thereby enabling system miniaturisation.
The pattern coil has dimensions of 85 x 67 x 0,76 mm, with an inductance of 10,6 µH and a resistance of 0,139 Ω at 100 kHz.
Credit(s)
Further reading:
New series of power ribbon wire-wound resistors
Electrocomp Power Electronics / Power Management
This QL/QRZG series of high-power resistors have a high-power load up to 2500 W and are suitable for applications such as industrial braking, EV battery packs and charging stations.
Read more...
---
350 W switching power supply
Conical Technologies Power Electronics / Power Management
The LMF350-23BxxUH series from Mornsun is an enclosed, fanless AC-DC switching power supply which is suitable for industrial and outdoor use.
Read more...
---
Surface-mount resettable fuses
Electrocomp Passive Components
The new series of fuses, suitable for overcurrent and thermal protection, expand the hold current up to 6 A and the maximum voltage to 33 V DC.
Read more...
---
EV wireless recharging in the future of transportation
Power Electronics / Power Management
Wireless recharging of electric vehicles as they travel over specially equipped, dedicated road lanes looks promising after months of testing.
Read more...
---
New automotive-qualified driver family
MB Silicon Systems Power Electronics / Power Management
Power Integrations announces the SCALE EV family of gate-driver boards for Infineon EconoDUAL modules targeting high-power automotive applications.
Read more...
---
Power supply design considerations for remote patient monitors
Altron Arrow Power Electronics / Power Management
Remote patient monitors (RPMs) are continuously evolving to include new features which creates greater demands on their single-cell battery supply. A solution is provided for an ECG RPM that preserves battery life.
Read more...
---
How to extend the run-time of battery-powered equipment
Accutronics Editor's Choice Power Electronics / Power Management
For a given battery selection and application, there are several downstream design decisions that can have a drastic impact on how long the battery lasts.
Read more...
---
PSU available in 75 W to 1000 W output range
Vepac Electronics Power Electronics / Power Management
The switched-mode power supplies can accept a wide range of dual AC/DC inputs and have active power factor correction.
Read more...
---
Transient voltage suppression diodes
Altron Arrow Power Electronics / Power Management
The 24 V XClampR transient voltage suppressors, available in SMC packaging, deliver low clamping ratios for high power density.
Read more...
---
50 W Qi charger transmitter reference design
Altron Arrow Power Electronics / Power Management
The design supports two coils, which can work in alternation for increased receiver positioning freedom.
Read more...
---