printer friendly version
Microchip's new IC to replace Hall effect position sensors
30 May 2022
Electronics Technology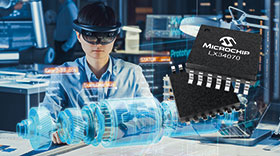 Developers of motor control systems are rapidly replacing Hall effect position sensors and older magnetic resolver solutions with inductive alternatives that eliminate expensive magnets and other transformer-based structures so they can be integrated onto simple, compact PCBs. Extending the line of inductive position sensors into the EV motor control market, Microchip has announced the LX34070 IC that has been purpose-built for EV motor control applications. The IC includes differential outputs, fast sample rates and features that make it functional-safety-ready for ISO 26262 compliance in the Automotive Safety Integrity Level–C (ASIL–C) classification.
"The LX34070 inductive position sensor enables lighter, smaller, more reliable motor control solutions that meet stringent safety requirements, reduce overall system costs, and can operate seamlessly and precisely in the noisy environment of an automobile's DC motors, high currents and solenoids" said Fanie Duvenhage, vice president of Microchip's mixed signal and linear analog business unit. "Designers can use the LX34070 to further streamline EV motor control designs by pairing it with other functional-safety-ready Microchip devices including our 8-bit AVR and PIC microcontrollers, our 32-bit microcontrollers, and our dsPIC digital signal controllers."
The LX34070 inductive position sensor solution offers numerous advantages compared to magnetic resolvers and linear voltage differential transducers (LVDTs), at a fraction of the cost. By using PCB traces rather than transformer-based magnetic windings and coil structures, the LX34070 device has negligible size and mass compared to alternatives. Accuracy is improved since the LX34070 does not depend on magnetic field strength, and the device improves robustness by actively rejecting stray magnetic fields. This allows designers greater flexibility over where they can position the PCB-based LX34070 solution in their EV motor control designs.
PCB-based inductive position sensors use a primary coil to generate an AC magnetic field that couples with two secondary coils. A small metal target object disturbs the magnetic field so that each secondary coil receives a different voltage whose ratio is used to calculate absolute position. Using these techniques, Microchip introduced its first high-volume inductive sensor for automotive and industrial applications over a decade ago and has many programmes in volume production. The LX34070 now brings the same proven PCB materials, approaches and simplified, low-cost packaging to EV motor control and other applications that need its high-speed and low-latency benefits.
Credit(s)
Further reading:
TI releases top five power design tools
Altron Arrow Design Automation
Texas Instruments has released an online resource combining the top five power design tools available to aid in the next electronic project design.
Read more...
---
Angle sensor for safety-critical applications
Altron Arrow Passive Components
TDK's TAS4240 TMR-based angle-sensor enables precise angle measurements in applications where high performance is needed and space is limited.
Read more...
---
1,5 A LDO linear regulator from TI
Altron Arrow Power Electronics / Power Management
The TPS7A74 from Texas Instruments is a 1,5 A low-dropout linear regulator with programmable soft-start for a wide variety of applications.
Read more...
---
Automotive motion sensor with embedded ML core
Altron Arrow DSP, Micros & Memory
The ASM330LHHX, a six-axis inertial module with embedded machine learning core and dual operating modes, ensures the lowest power consumption and in-sensor event detection.
Read more...
---
Panasonic releases its updated touch-sensitive knob
Altron Arrow Electronics Technology
Panasonic, in conjunction with Microchip, has launched an update to its existing Magic Knob, a capacitive knob ready for standard touch sensors for use in controlling automotive information displays.
Read more...
---
ST develops new serial EEPROM class
Altron Arrow DSP, Micros & Memory
This new class of serial EEPROM is a 32-Mbit page-erasable memory that is less expensive than FRAM while offering a lower power consumption.
Read more...
---
Fully programmable motor controllers
Altron Arrow Power Electronics / Power Management
The MOTIX IMD70xA programmable motor controllers from Infineon are now available in one package to power the next generation of battery-powered applications.
Read more...
---
OMRON's latest MicroHAWK ultra-compact code reader
Altron Arrow Manufacturing / Production Technology, Hardware & Services
OMRON expands the MicroHAWK range with the V440-F, a scanner ideal for reading multiple codes in a wide area as well as for applications over longer distances and with minuscule barcodes.
Read more...
---
How to build an uninterruptible power supply for home devices
Altron Arrow Editor's Choice
With the frequent load shedding in South Africa, finding an offline source of power at home has become a necessity. Simon Brumble, staff engineer at Analog Devices shows how to build a home UPS using a car battery as a backup source.
Read more...
---
New chip from ST ideal for use in a 3-phase motor controller
Altron Arrow DSP, Micros & Memory
STMicroelectronics' new STSPIN32G4 is an integrated and flexible motor controller for driving three-phase brushless motors, helping designers choose the most suitable driving mode and at the same time 
...
Read more...
---