printer friendly version
Clearing the Static: ESD Flooring
29 June 2022
Circuit & System Protection
ESD flooring contains antistatic chemicals that enable static to dissipate through the floor to a ground point, and in so doing prevents discharges from occurring. A vital consideration when choosing floor covering is its resistance to earth, which indicates how strongly the material will resist the flow of electricity through it (measured in ohms).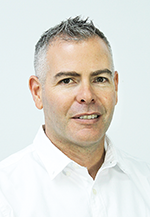 Greg Barron, Actum Group director
Altico's ESD flooring has been specially engineered to facilitate a uniform flow of static electricity directly to a ground point.
A selection of ESD flooring solutions allows you to choose an option to suit your unique facility, ESD requirements and budget. The range includes Static Dissipative (SD), Electrostatic Conductive (EC) and Conductive ROF floorings.
Static Dissipative flooring is a hard-wearing homogenous contact sheet or tile floor covering engineered for ESD protection. It's typically used for computer operator installations, hospital theatre/CAT scan equipment and MRI units.
Electrostatic Conductive flooring is a hard-wearing homogenous commercial flooring product that is designed for areas which require static dissipative qualities. It is typically used for electronic assembly/ repair areas, high-level sensitivity medical equipment, high-level sensitivity computer equipment, electronics etc.
Conductive Flooring is generally used in explosive areas or manufacture of any explosive material, ammunition, or highly sensitive chemicals,
ESD Floors are an essential solution for workspaces where anti-static flooring is required; in order to inhibit the static electricity on a person, reaching sensitive equipment.
Credit(s)
Further reading:
Compact varistors offer surge capability of 6000 A
Electrocomp Circuit & System Protection
TDK has released the new EPCOS B72314S2* series of leaded disk varistors which cover a wide operating voltage range of 175 V
RMS
to 625 V
RMS
.
Read more...
---
Clearing the Static: ESD wrist straps
Actum Electronics Circuit & System Protection
The human body is the primary source of electrostatic charge generation. In order to control and reduce static charge build-up and prevent electrostatic discharges (ESD) at an electronic equipment facility, we use grounding systems to ensure that all components are at the same electrical potential.
Read more...
---
New transient voltage suppressors for automotive applications
EBV Electrolink Circuit & System Protection
The devices offer high surge capability of 3000 W and a high temperature operation up to 175°C for signal line protection.
Read more...
---
Clearing the Static: Safe storage and transportation of ESD-sensitive components
Actum Group Circuit & System Protection
During storage and transportation outside of an ESD-protected area (EPA), it is recommended that ESD-sensitive items are enclosed in packaging that provides ESD shielding. In addition to effective static 
...
Read more...
---
Clearing the Static: Three steps to a dry ESD packaging system
Actum Group Circuit & System Protection
To protect PCBs from both ESD and moisture, they should be stored in a vacuum-sealed moisture barrier bag. To complete a dry-packaging system, desiccant packs and humidity indicator cards should be 
...
Read more...
---
Clearing the Static: Complete ESD solutions for EPAs
Actum Group Circuit & System Protection
An electrostatic protected area (EPA) is a designated area where static is controlled under strict regulations. At Actum Group, we advise that EPAs should be viewed and completed as a whole project and 
...
Read more...
---
Data loggers for temperature and voltage
Actum Group Test & Measurement
Data loggers automatically monitor and record environmental parameters over time, allowing conditions to be measured, documented, analysed and validated. Graphtec is a supplier of data measuring instruments 
...
Read more...
---
Variety of EMI shielding products
TRX Electronics Circuit & System Protection
Laird Performance Materials offers customised, robust protection from harmful performance-draining EMI (electromagnetic interference). Its broad range of shielding products can be tailored to any application, 
...
Read more...
---
Port protection IC for MCUs tailored to USB-C dual-role power
Future Electronics Circuit & System Protection
The STMicroelectronics TCPP03-M20 USB Type-C port protection IC is tailored for Dual-Role Power (DRP) applications, simplifying the design of products that can act as a power source for connected devices 
...
Read more...
---
EMC solutions for demanding applications
TRX Electronics Circuit & System Protection
Available from local TTI distributor, TRX Electronics, is Schurter's wide range of standard products ensuring electromagnetic compatibility (EMC). Products include single- and three-phase line filters 
...
Read more...
---