printer friendly version
Digital ambient light sensor
29 June 2022
Opto-Electronics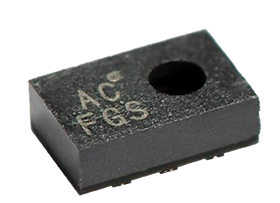 The TSL2540 sensor from ams Osram boasts an integrated on-chip photopic filter which provides near-photopic responsiveness for operation behind the inked glass of a touch panel display, as well as accurate control of the display backlight. It is a highly sensitive light-to-digital converter that transforms light intensity into a digital signal output through a fast-mode direct I2C digital interface.
This digital output can be input to a microprocessor where the ambient light level (in lux) is calculated using an empirical formula to provide accurate metering of light intensity that approximates the response of a human eye, regardless of the light source.
The sensor features very high sensitivity with low power consumption in a small 2 x 2 x 0,5 mm optical QFN package, and is capable of operating from millilux to 50 kilolux environments, allowing it to operate in small and deeply buried sub-system applications.
For more information contact EBV Electrolink, +27 21 402 1940, [email protected], www.ebv.com
Credit(s)
Further reading:
AMD Xilinx online training: Vivaldo ML tools
EBV Electrolink Computer/Embedded Technology
The webinar will explore the features of SystemVerilog that are useful for RTL synthesis using Vivado ML Tools and how the RTL SystemVerilog language constructs have been optimised for productivity and reliability.
Read more...
---
New high current through-hole inductors
EBV Electrolink Passive Components
Vishay has released a high current, through-hole inductor for use in high current and high temperature applications, DC/DC converters, high current differential chokes and inverters.
Read more...
---
Samsung launches GDDR6 RAM module
EBV Electrolink Computer/Embedded Technology
The DRAM is capable of 24 Gbps processing speeds and will significantly advance the graphics performance of AI-based applications and high-performance computing.
Read more...
---
SolidRun releases a SoM solution based on a Renesas SoC
EBV Electrolink DSP, Micros & Memory
In partnership with Renesas, SolidRun has released a SoM solution based on the powerful RZ/G2 family of SoCs, which are engineered for AI-enhanced HMI applications.
Read more...
---
Programmable Bluetooth low-energy wireless SoC
EBV Electrolink Telecoms, Datacoms, Wireless, IoT
The next-gen BlueNRG-LPS SoC, a Bluetooth low-energy 5.3 enabled device, can precisely estimate movement and location with centimetre accuracy.
Read more...
---
Mastering the MicroBlaze processor
EBV Electrolink DSP, Micros & Memory
AMD-Xilinx and Adiuvo will present a hands-on workshop on using the MicroBlaze processor on the Spartan-7 evaluation kit to create, develop and deploy an FPGA solution.
Read more...
---
Hamamatsu Photonics boosts production capacity
Hamamatsu Photonics UK Opto-Electronics
Hamamatsu Photonics increases its current production capacity almost two-fold to help with expanding sales after completion of a new factory complex.
Read more...
---
Low power 36 V operational amplifier
EBV Electrolink Analogue, Mixed Signal, LSI
The TSB622 is a general-purpose, dual operational amplifier featuring an extended supply voltage operating range of 2,7 to 36 V and rail-to-rail output
Read more...
---
High-power semiconductor solutions for green hydrogen electrolyser applications
EBV Electrolink News
Gain insights into AC- and DC-coupled electrolyser applications and learn about Infineon's best-in-class semiconductor solutions in the upcoming webinar.
Read more...
---
NXP releases real-time processors for automotive platforms
EBV Electrolink DSP, Micros & Memory
NXP has introduced real-time microcontrollers for automotive electronic control units as part of its S32 range of controllers.
Read more...
---