printer friendly version
Inertial module enables on-chip AI training
29 June 2022
Telecoms, Datacoms, Wireless, IoT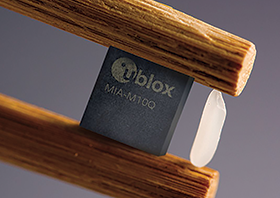 STMicroelectronics has introduced new inertial sensors that contain an on-chip signal processing core, called the intelligent sensor processing unit (ISPU), which enables AI training within the sensor. The ISM330ISN always-on, six-axis inertial measurement unit (IMU) for movement and position sensing aims to accelerate response time and extend battery life in equipment such as condition monitors for predictive maintenance, battery-operated asset trackers and industrial applications such as robots.
Developers can program the ISPU using ST's NanoEdge AI Studio, a package used to deploy AI applications on STM32 microcontrollers, enabling users to easily generate automatically optimised machine-learning libraries. Designing an anomaly detection library with AI learning capability directly inside the ISPU is possible with minimal data and with no specific data-science skills needed.
The ISM330ISN contains a three-axis accelerometer and three-axis gyroscope with low-noise sensing performance, and an output data rate of 6,6 kHz. It consumes only 0,59 mA in combination mode with the accelerometer and gyroscope active, and adopts the same 3 x 2,5 x 0,83 mm package outline as conventional inertial modules.
For more information contact Renaldo Fibiger, Altron Arrow, +27 11 923 9600, [email protected], www.altronarrow.com
Credit(s)
Further reading:
TI releases top five power design tools
Altron Arrow Design Automation
Texas Instruments has released an online resource combining the top five power design tools available to aid in the next electronic project design.
Read more...
---
Flexible 4G/LTE PCB antenna
RF Design Telecoms, Datacoms, Wireless, IoT
The new 4G/LTE antenna from Taoglas is a flexible antenna operating over the frequency range from 698 MHz to 3 GHz, and which provides a peak gain of 5 dBi.
Read more...
---
Qorvo announces fully integrated UWB module
RF Design Telecoms, Datacoms, Wireless, IoT
Qorvo has announced the DWM3001C, a fully integrated ultra-wideband (UWB) module that enables robust UWB implementation in factory, warehouse, automation and safety systems.
Read more...
---
Earn helium when devices connect to your hotspot
Otto Wireless Solutions Telecoms, Datacoms, Wireless, IoT
Otto Wireless Solutions has announced the A150000 RAK Hotspot Helium Miner v2 which earns helium when devices connect as well as for validating wireless coverage delivered by peers on the network.
Read more...
---
Angle sensor for safety-critical applications
Altron Arrow Passive Components
TDK's TAS4240 TMR-based angle-sensor enables precise angle measurements in applications where high performance is needed and space is limited.
Read more...
---
1,5 A LDO linear regulator from TI
Altron Arrow Power Electronics / Power Management
The TPS7A74 from Texas Instruments is a 1,5 A low-dropout linear regulator with programmable soft-start for a wide variety of applications.
Read more...
---
Connectivity for the future with new SIMCom modules
Otto Wireless Solutions Telecoms, Datacoms, Wireless, IoT
With the global phasing out of 2G, SIMCom's new low-cost 4G modules are looking to future-proof your designs by replacing the older 2G modules.
Read more...
---
Cellular module with embedded SIM
RF Design Telecoms, Datacoms, Wireless, IoT
The SARA-R500E LTE-M module from u-blox has an embedded SIM and offers product developers an integrated, robust, and secure solution to connect IoT applications to the cellular network.
Read more...
---
5G-CARMEN project creates 600 km corridor
Telecoms, Datacoms, Wireless, IoT
The project has demonstrated the capability of autonomous vehicles to leverage the 5G cellular network to provide a multi-tenant platform with the goal of enabling self-driving cars.
Read more...
---
Automotive motion sensor with embedded ML core
Altron Arrow DSP, Micros & Memory
The ASM330LHHX, a six-axis inertial module with embedded machine learning core and dual operating modes, ensures the lowest power consumption and in-sensor event detection.
Read more...
---