printer friendly version
From the editor's desk: 42
29 June 2022
News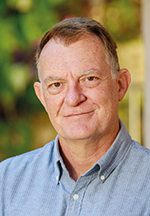 Peter Howells, Editor
To most people, 42 is simply a number. To some, they may think about the fact that it is an even number, or maybe the product of six and seven, or that this is the length of a standard marathon in kilometres. Some of you may even know that the binary equivalent of 42 is 101010 (we do have engineers reading this publication after all). Whatever the connection, many people may be able to relate to the number 42 in some way.
To a few people, however, there may be a strong recollection of a book they once read called the Hitchhiker's Guide to the Galaxy by Douglas Adams. As the story goes, a supercomputer called Deep Thought was built to determine the answer to the ultimate question of "life, the universe, and everything". When Deep Thought eventually came back with the answer of 42, which turned out to be both exceptionally confusing and useless as an answer to that question, it was decided to build a new supercomputer to determine what the actual question should be, this new "supercomputer" being Earth.
To me, the number 42 presented in this book was the start of a journey into wonderful ideas, being amazed at all forms of technology, and the consumption of all things futuristic. I became engrossed in reading about electronics and "cool" gadgets and spent hours wishing the future would come quicker than it was seemingly able to do. This was the beginning of a wondrous life-long journey of learning and discovery.
Why am I telling you this? Primarily as a way of introducing myself to you, the loyal reader of Dataweek magazine. I am a husband, father, engineer, educator, author and outdoor enthusiast, usually in that order.
So, a little bit about myself. Upon leaving school in the mid-eighties, I entered tertiary education where I studied various fields, finally ending up with a diploma and degrees in electronic engineering, instrumentation and control, and business administration. My working life saw me employed first in the industrial field as an instrumentation engineer, and then five years on, as an educator when I joined Technikon Natal in the late nineties to pursue my dream of being able to contribute to engineering in a more meaningful way by guiding young minds as they themselves embarked on a career in engineering. When I was not teaching, I was writing engineering-based texts or, in my down time, travelling around mostly with a backpack strapped to my back or on two wheels. As I enter this new chapter I can look back and realise that this journey I have taken all culminates in education and the gaining of knowledge which I crave.
Moving on thirty years from when it all started, I have now taken the next leap in my ongoing career and taken on a new responsibility, that of being the Dataweek editor. The past month has been a steep learning curve but a thoroughly enjoyable experience at the same time. "Why this new step?" you may ask. Well, as most of the readers know, being in the engineering field means a life-long pursuit of knowledge, not only in the engineering field but also in physics as well as other scientific fields, medicine, business, etc. The learning never stops as new technologies are discovered and developed to eventually become part of the modern engineering landscape. By being involved in a publication such as this, I, just like our readers, am also learning each and every month as I research and edit articles that I think may be of interest in the broad field of data communications.
From computers through to communication devices, modern vehicles, and medical advances, many of the devices that only existed in our imagination when we were growing up are now part of our everyday life. I like to think that magazines such as Dataweek have a hand in driving this pursuit of knowledge and I will sincerely do my utmost best to ensure that this legacy continues.
Credit(s)
Further reading:
Quectel masterclass: IoT device application development
iCorp Technologies News
Quectel has announced the latest masterclass in a series of technical webinars titled "Accelerate wireless IoT device application development with Azure RTOS on STM32 MCUs".
Read more...
---
ST announces status of common share repurchase programme
News
The repurchase programme took place over the period from 11 to 15 July 2022 and saw ST repurchasing 210 462 ordinary shares.
Read more...
---
Actum Group leads in the interconnect industry
Actum Electronics News
Actum Group is a specialist importer and distributor of industrial and electronic products in Southern Africa and a leader in the interconnect industry.
Read more...
---
From the editor's desk: Do we have the power?
Technews Publishing News
On a recent trip to Grahamstown in the Eastern Cape I was reminded, quite rudely and abruptly to be honest, of the load shedding that has plagued South Africa for the last few years. Living in KZN, we 
...
Read more...
---
Top five MPU suppliers strengthen market dominance
Editor's Choice News
The new ranking shows that long-time leader in microprocessor units, Intel, has moved downwards closer to half the total worldwide sales in microprocessors.
Read more...
---
New meta-lens revolutionises vacuum UV optics
News
A research team co-led by City University of Hong Kong have successfully developed a novel vacuum ultra-violet (VUV) meta-lens which can generate and focus the UV light.
Read more...
---
Electronics news digest
Technews Publishing Electronic News Digest News
The Semiconductor Industry Association (SIA) has announced global semiconductor industry sales were $51,8 billion in the month of May 2022, an increase of 18,0% over the May 2021 total of $43,9 billion 
...
Read more...
---
EVENTS
Events News
IFA Berlin
2-6 September Berlin, Germany This event aims to present the latest products and innovations in the commercial electronics industry. It will offer a comprehensive overview of the international 
...
Read more...
---
Going beyond with HONOR
MyKay Tronics Editor's Choice News
The tempo of business in China is lightning fast. But if you are responsive and go a step beyond, the rewards can be great. In just 15 days, Mycronic delivered 30 dispensing systems to HONOR.
Read more...
---
Global cellular IoT connections increase 22%
News
A new report says that the global number of cellular IoT subscribers increased by 22% during 2021 and that the number of cellular IoT devices will reach 4,3 billion by 2026.
Read more...
---