printer friendly version
Arrow Electronics opens new primary distribution centre
29 June 2022
News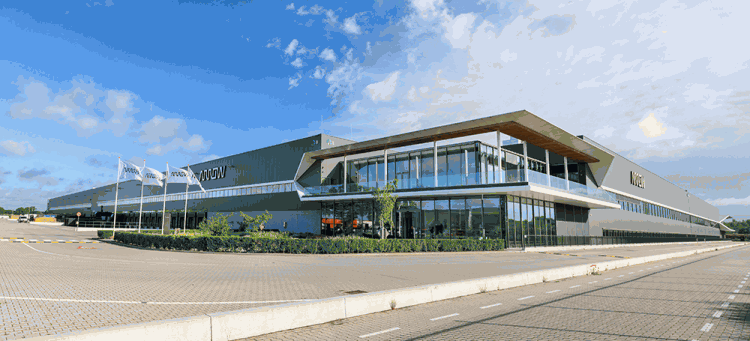 Arrow Electronics announced that it has opened a new, state-of-the-art primary distribution centre (PDC) in Venlo, the Netherlands. The PDC is the key hub serving all customers of Arrow's electronics components business in Europe, Middle East and Africa (EMEA). It is one of the company's largest warehouses worldwide and replaces its existing facilities in the region, providing increased capacity for future growth.
Arrow has invested in the latest logistics technology and infrastructure to help customers and suppliers achieve better time-to-market, as well as quality and service enhancements. Emphasis has been placed on helping ensure not only current, but also future requirements are met regarding physical and virtual security, business continuity and business processes.
The PDC will support a broad range of technologies that Arrow offers its customers in EMEA regions. These include semiconductors, passive and electromechanical components and connectors, embedded solutions and component programming.
"We are excited to embark on this new facility in Europe," said Chuck Kostalnick, senior vice president and chief supply chain officer, Arrow Electronics. "Arrow is committed to the Venlo area and our team of highly skilled employees in the region. This project gives us the opportunity to develop the already excellent services offered to our customers and suppliers, support Arrow's business growth in various segments, enhance the working conditions for our team, and provide the flexibility to adapt according to future needs."
In line with Arrow's goal to continually improve its environmental performance and foster a culture of environmental engagement, the PDC is designed to use the latest energy-efficient technologies, maximising resource reuse and minimising waste. It has achieved an excellent rating according to BREEAM (Building Research Establishment Environmental Assessment Method), a sustainability assessment method used to plan infrastructure and buildings, as well as gaining a host of other horizontal and vertical sector certifications.
For more information on the technologies offered by Arrow Electronics in South Africa, please contact Gyula Wendler, Altron Arrow, +27 11 923 9709, [email protected], www.altronarrow.co.za
Credit(s)
Further reading:
TI releases top five power design tools
Altron Arrow Design Automation
Texas Instruments has released an online resource combining the top five power design tools available to aid in the next electronic project design.
Read more...
---
Quectel masterclass: IoT device application development
iCorp Technologies News
Quectel has announced the latest masterclass in a series of technical webinars titled "Accelerate wireless IoT device application development with Azure RTOS on STM32 MCUs".
Read more...
---
Angle sensor for safety-critical applications
Altron Arrow Passive Components
TDK's TAS4240 TMR-based angle-sensor enables precise angle measurements in applications where high performance is needed and space is limited.
Read more...
---
1,5 A LDO linear regulator from TI
Altron Arrow Power Electronics / Power Management
The TPS7A74 from Texas Instruments is a 1,5 A low-dropout linear regulator with programmable soft-start for a wide variety of applications.
Read more...
---
ST announces status of common share repurchase programme
News
The repurchase programme took place over the period from 11 to 15 July 2022 and saw ST repurchasing 210 462 ordinary shares.
Read more...
---
Actum Group leads in the interconnect industry
Actum Electronics News
Actum Group is a specialist importer and distributor of industrial and electronic products in Southern Africa and a leader in the interconnect industry.
Read more...
---
From the editor's desk: Do we have the power?
Technews Publishing News
On a recent trip to Grahamstown in the Eastern Cape I was reminded, quite rudely and abruptly to be honest, of the load shedding that has plagued South Africa for the last few years. Living in KZN, we 
...
Read more...
---
Top five MPU suppliers strengthen market dominance
Editor's Choice News
The new ranking shows that long-time leader in microprocessor units, Intel, has moved downwards closer to half the total worldwide sales in microprocessors.
Read more...
---
New meta-lens revolutionises vacuum UV optics
News
A research team co-led by City University of Hong Kong have successfully developed a novel vacuum ultra-violet (VUV) meta-lens which can generate and focus the UV light.
Read more...
---
Automotive motion sensor with embedded ML core
Altron Arrow DSP, Micros & Memory
The ASM330LHHX, a six-axis inertial module with embedded machine learning core and dual operating modes, ensures the lowest power consumption and in-sensor event detection.
Read more...
---