printer friendly version
PCB sourcing and quoting using Siemens
27 July 2022
Manufacturing / Production Technology, Hardware & Services
Electronic Manufacturing Services (EMS) companies face major challenges when attempting to provide accurate quotes to their customers in a timely manner. All EMS companies must quote many more products than they will actually build which ties up significant resources. In terms of the total cost of building a PCB, components typically make up 75% of this cost.
The manufacturing processes themselves account for the remaining 25% of the overall costs. In some cases, pricing is complicated by commodity parts that need to be priced in bulk or by a lack of tools to accurately price process costs or address supply chain issues. This article reviews the challenges and demonstrates how they can be overcome with intelligent software solutions.
Data is not standardised
It is often difficult for an OEM to receive quick feedback regarding the pricing of a design before the product is finalised. Data problems, such as inaccuracies in a single file, inconsistencies across files and incomplete data are common. There is no standardisation of data - different formats are used for the bill of materials (BOM) and PCB layout. Although there are many applications that can handle the types of files that are easily imported to Excel in a delimited or columnized format, BOM files present more of a challenge. There can be multiple formats seen in the same file, including different handling of unplaced parts and approved vendor information. Physical layout data is often delivered in ODB++ or Gerber files. In the case of Gerber files, the format is not intelligent and so it must be processed into an intelligent format before being used in a quoting environment. Therefore, quoting typically relies on the BOM files supplied by the OEM.
Nearly every BOM file format is unique. Some BOM formats are focussed on human readability rather than machine readability. The minimal required information generally includes customer part number (CPN), description, quantity, reference designator, approved vendor list (AVL) of manufacturer, and manufacturer part number (MPN). BOM files regularly have inaccurate manufacturer part numbers that make it difficult to know exactly which part is needed. Therefore, a significant amount of time is wasted figuring out the correct part.
Siemens Valor BOM Connector software focuses on getting data imported without manual intervention. Multiple aspects of the BOM import capability can be deployed with different BOM files to automate the import process. Once a specific format has been configured, BOM Connector stores the settings so they can be automatically applied to additional BOM files with the same format and from the same customer.
Comparing data sources to identify discrepancies
PCB quoting is based primarily on the BOM itself, with little additional corroborating information to verify the data it contains. Therefore, performing various cross-checks within the BOM can be a good first step in identifying potential problems during the quoting process. Comparing quantity mismatches to the number of component reference designator counts is worth checking, as are duplicate component names and part numbers. Although it is currently unusual to have CAD layout data, as we move more into process quoting, the presence of this additional source of quoting information becomes increasingly important. It also offers an additional opportunity for cross-checking and identifying discrepancies, because there are two data sources: one based on the BOM, and one based on the layout.
Imagine this common scenario. An EMS company receives a final version of the BOM during the quoting phase. They then receive an update saying that one or two components have been changed, and maybe even receive the new component names. Without the ability to perform a true BOM-to-BOM comparison, the EMS must start from scratch to adjust the quote. Simple text line comparisons do not work for BOM files with varying parts on the AVL list - only different comparison modes, based on component names, CPNs or MPNs as the index, provide the needed comparison capability.
Using customer part number as a key, reference designator as a key and manufacturer part number as a key is necessary to compare two BOM files accurately. Employing these methods provides detailed insight for efficient and accurate BOM-to-BOM comparisons.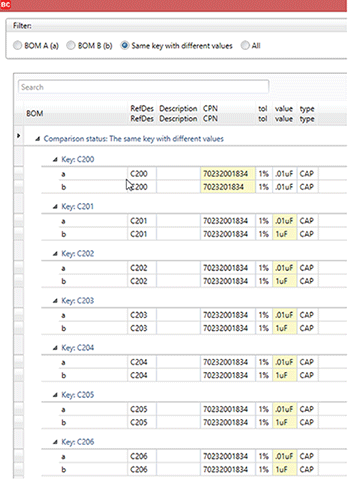 ERP integration
Efficient ERP system utilisation can be critical to improving the cash flow of EMS companies. Although it can seem easier to simply acquire all parts for a BOM, components need to be stored if they are not being used. Therefore, reviewing your ERP system seems like an obvious first step. However, the challenge is being able to connect what a customer wants on the board with the parts that are available in the ERP. If the MPNs are the same, is can be straightforward. However, if alternate parts are involved, the challenges begin to mount.
When multiple methods to create connections between an OEM CPN and the EMS IPN are available, the existing parts that are on hand can be used. In addition to searching for the exact MPN information, fault-tolerance matching may show alternative parts that are available in the ERP that may have been overlooked. Breaking down a description field into specific fields in the same manner as the ERP description can also provide meaningful possible matches between a customer BOM and the ERP system.
The power of Valor BOM Connector is driven by its ability to connect all the available sources.
Component manufacturers have recently been making portals available that provide web-based access to pricing, lead time and alternative parts. These portals allow many parts to be searched in batches to speed up the manual process of looking up each one individually and enable user-specific access so that corresponding customer pricing is available.
In addition, the past two years have presented many challenges, one of which is sourcing goods. In the PCB assembly supply chain, single-sourcing of any component increases the likelihood of delay, and thus the ability to quickly identify alternative sources has become critical to keeping production moving.
Demand forecasts
Volume discounts can be significant - as purchase volume increases, the price per part will decrease. Therefore, it may be worthwhile to purchase more parts than you initially need to secure a lower price per part. This brings us to demand forecasts. Although quoting is typically performed on a per-BOM basis, purchasing can be driven by a demand forecast for a certain period. Commodity parts can be totalled up across multiple products or timeframes, along with total quantities. The quoting and purchase of bulk parts is then directed by the full picture rather than the quantity of parts needed to build a specific number of boards.
Valor BOM Connector does not need a BOM to show its value. Demand forecasts can be imported with a list of internal part numbers, AVL data and quantities, and BOM Connector will use the component portals to obtain the optimum price.

Process pricing
Typical industry solutions rely on manual entering of specific values that can then be compiled into a spreadsheet. Like the simple approach to process costing estimates, these approaches do not create accurate estimates. The Valor Division of Siemens DISW provides cutting-edge solutions that address the fundamental needs of process costing. Not only can CAD design data be used to provide the necessary details regarding the complexity of the design, but complex models can be easily created to cover specific needs in process costing. These models include options for different scenarios to be included or excluded in the overall price, and information about batch size, number of shipping pallets, and type of shipping can be used along with overall margin to derive an accurate process price.
Conclusion
Accurately quoting PCB assembly products is a complex process with many things to consider. Given the myriad of data that needs to be processed, spreadsheets can only go so far, and an intelligent, manufacturing-aware application like Valor BOM Connector has become a necessity. It is an essential solution for today's electronic manufacturing services companies.
ASIC Design Services is the solution partner for Siemens Industry Software.
For more information contact ASIC Design Services, +27 11 315 8316, [email protected], www.asic.co.za
Further reading:
Indium to showcase GalliTHERM liquid metal technology
Techmet Manufacturing / Production Technology, Hardware & Services
Indium Corporation will be showcasing its GalliTHERM liquid metal technology together with its no-clean semiconductor flux at SEMICON to be held in Taiwan.
Read more...
---
Indium earns Allegro MicroSystems excellence award
Techmet Manufacturing / Production Technology, Hardware & Services
Indium Corporation has earned an excellence award from Allegro MicroSystems for the efforts of its Asia-Pacific operations in delivering quality, on-time products during the 2021 fiscal year.
Read more...
---
New online DFM analysis enables better products, faster.
ASIC Design Services Manufacturing / Production Technology, Hardware & Services
Introducing PCBflow, a new cloud-based tool for collaboration between PCB designers and manufacturers.
Read more...
---
Electronics contract manufacturer overcomes PCB assembly engineering challenges.
ASIC Design Services Manufacturing / Production Technology, Hardware & Services
ESCATEC uses Valor Process Preparation to create comprehensive digital twin and speed time-to-market due to reduced NPI timelines.
Read more...
---
Increasing PCB assembly profitability using Valor Process Preparation
ASIC Design Services Manufacturing / Production Technology, Hardware & Services
Valor Process Preparation solution from Siemens Industries Software enabled Phuntronix to reduce preparation time by over 50%.
Read more...
---
Electronics manufacturer enhances accuracy and speeds up BOM quotes
ASIC Design Services Manufacturing / Production Technology, Hardware & Services
Using Valor BOM Connector enabled BMK to speed up preparation times and streamline the quotation process.
Read more...
---
The gold standard in PCB assembly analysis
ASIC Design Services Manufacturing / Production Technology, Hardware & Services
Valor Process Preparation's design for assembly analysis is a critical solution in today's increasingly high-mix, low-volume environments.
Read more...
---
Omnigo adopts Valor BOM Connector
ASIC Design Services Manufacturing / Production Technology, Hardware & Services
Omnigo has now chosen Valor BOM Connector to reduce request for quotation response time, improve PCBA accuracy and simplify BOM entry in the ERP.
Read more...
---
Yamaha demonstrated the power of robot teamwork
Truth Electronic Manufacturing Manufacturing / Production Technology, Hardware & Services
Yamaha Motor Robotics FA Section demonstrated industrial robots working together autonomously to raise productivity and reduce waste at Automatica 2022, held recently in Munich.
Read more...
---
High-speed screen-printing machine
Techmet Manufacturing / Production Technology, Hardware & Services
Panasonic's SPG2 high-speed screen-printing machine is tailored to SMT manufacturing and comes equipped with multi-stage board handling to improve productive time.
Read more...
---