printer friendly version
New chip from ST ideal for use in a 3-phase motor controller
27 July 2022
DSP, Micros & Memory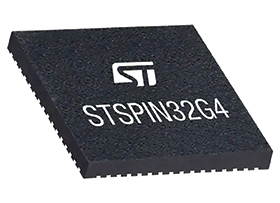 STMicroelectronics' new STSPIN32G4 is an integrated and flexible motor controller for driving three-phase brushless motors, helping designers choose the most suitable driving mode and at the same time reduce PCB area and overall bill of materials.
The STSPIN32G4 embeds a triple half-bridge gate driver able to drive power MOSFETs with a current capability of 1 A (sink and source). Three bootstrap diodes are also embedded in the package. The high- and low-side switches of the same half-bridge cannot be simultaneously driven high thanks to an integrated interlocking function.
The integrated MCU (STM32G431VBx3) is based on the 32-bit ARM Cortex-M4 core, operating at a frequency up to 170 MHz and featuring a single-precision floating-point unit (FPU), full set of DSP instructions and a memory protection unit (MPU), which enhances the application's security.
Credit(s)
Further reading:
Angle sensor for safety-critical applications
Altron Arrow Passive Components
TDK's TAS4240 TMR-based angle-sensor enables precise angle measurements in applications where high performance is needed and space is limited.
Read more...
---
1,5 A LDO linear regulator from TI
Altron Arrow Power Electronics / Power Management
The TPS7A74 from Texas Instruments is a 1,5 A low-dropout linear regulator with programmable soft-start for a wide variety of applications.
Read more...
---
Automotive motion sensor with embedded ML core
Altron Arrow DSP, Micros & Memory
The ASM330LHHX, a six-axis inertial module with embedded machine learning core and dual operating modes, ensures the lowest power consumption and in-sensor event detection.
Read more...
---
Panasonic releases its updated touch-sensitive knob
Altron Arrow Electronics Technology
Panasonic, in conjunction with Microchip, has launched an update to its existing Magic Knob, a capacitive knob ready for standard touch sensors for use in controlling automotive information displays.
Read more...
---
SolidRun releases a SoM solution based on a Renesas SoC
EBV Electrolink DSP, Micros & Memory
In partnership with Renesas, SolidRun has released a SoM solution based on the powerful RZ/G2 family of SoCs, which are engineered for AI-enhanced HMI applications.
Read more...
---
ST develops new serial EEPROM class
Altron Arrow DSP, Micros & Memory
This new class of serial EEPROM is a 32-Mbit page-erasable memory that is less expensive than FRAM while offering a lower power consumption.
Read more...
---
New Espressif MCU embeds Wi-Fi 6
iCorp Technologies DSP, Micros & Memory
Espressif Systems has introduced the ESP32-C5, their first dual-band 2,4 and 5 GHz Wi-Fi 6 and Bluetooth 5 low-energy microcontroller unit.
Read more...
---
Fully programmable motor controllers
Altron Arrow Power Electronics / Power Management
The MOTIX IMD70xA programmable motor controllers from Infineon are now available in one package to power the next generation of battery-powered applications.
Read more...
---
OMRON's latest MicroHAWK ultra-compact code reader
Altron Arrow Manufacturing / Production Technology, Hardware & Services
OMRON expands the MicroHAWK range with the V440-F, a scanner ideal for reading multiple codes in a wide area as well as for applications over longer distances and with minuscule barcodes.
Read more...
---
How to build an uninterruptible power supply for home devices
Altron Arrow Editor's Choice
With the frequent load shedding in South Africa, finding an offline source of power at home has become a necessity. Simon Brumble, staff engineer at Analog Devices shows how to build a home UPS using a car battery as a backup source.
Read more...
---