printer friendly version
How does a Qvar sensor work?
29 March 2023 Editor's Choice Analogue, Mixed Signal, LSI
Qvar is an electrostatic sensor from STMicroelectronics that can be used for human presence and motion detection, touch detection, and user interface (UI) applications.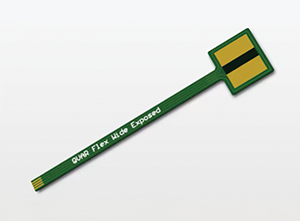 Figure 1. Qvar electrode.
All materials are comprised of atoms, each of which has a positive nucleus with electrons surrounding it. When two different materials are brought together in close physical contact such as rubbing, one of the materials may attract electrons more than the other, so some electrons are pulled from one material to the other. When the materials are separated, one of them has gained some more electrons (negatively charged) while the other has lost some (positively charged), depending on the working function of each material. Such a phenomenon is often known as the triboelectric effect, where the prefix 'tribo' means friction. Since the triboelectric phenomenon exists widely in our daily lives, electrostatic sensors can be used to detect or sense a diverse range of human activities, mechanical systems, or industrial processes.
Qvar stands for electric charge (Q) variation (var). It is an electrical potential sensing channel able to measure the quasi-electrostatic potential changes, enabling applications such as:
• Contact and no-contact human motion detection.
• Human motion gait analysis.
• Human presence detection.
• A user interface (UI).
• Water detection.
An electrostatic charge is expected on a material whenever it comes into contact with another material, or a solid or liquid surface. The level of charge is usually unpredictable, but it can be detected by means of an electrode and an electronic signal conditioning circuit. A signal is derived from the electronic circuit due to the fluctuations in the electric field resulting from the passage of the charged particles.
When a sensor works by electrostatic induction, the sensing principle may be explained in terms of an equivalent capacitive sensor. This is because the charged object can be modelled as a plate of a capacitor while the electrode itself is modelled as the other plate. The movement of the charged object, with reference to the electrode, changes the distance between the two plates and hence the value of the capacitance. Similarly, the quantity of charge on the object, and hence the voltage across the plates, may change with time.
It is well known that electrode features such as size, shape and material are important factors that may produce different Qvar channel results. For instance, there exists a linear relationship between sensitivity and the electrode area. The sensitivity of the sensor is asymptotically increased with the area of the electrode.
A typical Qvar electrode is shown in figure 1, which uses Q+ and GND pins to detect a charge variation, and enables the INT2 interrupt to rise when Qvar detects the presence of the human body in contact with the electrode. It is printed on a flex board with the contact surfaces (in copper) exposed. In this way, to detect a touch gesture, it can be put in the area of the device that should be touched by the user. The goal of the design is to let the user touch both the Q+ and GND area at the same time. For this reason, many different designs are possible. The exposed copper areas at the tip of the board are the actual electrodes. When both electrodes are touched, the sensor measures a high charge variation, and the output signal is almost saturated. This saturated signal is comparable to the press of a button.
For more information visit www.st.com
Further reading:
Products of the year 2023
Editor's Choice News
A summary of products and technologies from 2023 that are currently shaping the electronic engineering industry.
Read more...
---
The dream of Edge AI
Altron Arrow Editor's Choice AI & ML
AI technology carries a great promise – the idea that machines can make decisions based on the world around them, processing information like a human might. But the promise of AI is currently only being fulfilled by big machines.
Read more...
---
Save space and improve efficiency with a 4-switch buck-boost controller
Altron Arrow Editor's Choice Telecoms, Datacoms, Wireless, IoT
A new generation of 4-switch buck-boost controllers enables power system design with very high efficiency and high power density by using inductor DC resistance (DCR) current-sensing techniques.
Read more...
---
Matter 1.2 adds new capabilities
NuVision Electronics Editor's Choice Telecoms, Datacoms, Wireless, IoT
This update introduces new device types and expands the reach of Matter into new markets, while also bringing other improvements that enhance interoperability and user experience.
Read more...
---
Personality Profile: Paul Eveleigh
Hiconnex Editor's Choice
With a strong and experienced team behind him, he can put into practice what he has learned during his career and ultimately grow the company towards its strategic objectives.
Read more...
---
FPGAs speed up intelligent edge designs
ASIC Design Services Editor's Choice DSP, Micros & Memory
Microchip Technology has added nine new technology- and application-specific solution stacks to its growing collection of mid-range FPGA and SoC support.
Read more...
---
Raspberry Pi 5 announced
RS Components SA Editor's Choice DSP, Micros & Memory
The R-Pi 5 comes with new features and is over twice as fast as its predecessor, the R-Pi 4, thanks to an upgrade to the main processor.
Read more...
---
Dead-reckoning GNSS module
Altron Arrow Editor's Choice Telecoms, Datacoms, Wireless, IoT
STMicroelectronics' Teseo-VIC3D module is an easy-to-use dead-reckoning global navigation satellite system (GNSS) standalone module, embedding TeseoIII single-die standalone positioning receiver IC.
Read more...
---
Quantum leap in battery technology
Editor's Choice Power Electronics / Power Management
A German start-up has developed a solid-state battery ready for series production with outstanding properties: no cobalt, ten times longer service life, and non-flammable electrolyte.
Read more...
---
Simplify your USB-C PD design using a standalone controller
Altron Arrow Editor's Choice
USB PD poses new power requirement challenges because of the variety of voltage and current combinations available to supply the wide range of power the USB PD standard must provide.
Read more...
---