printer friendly version
AI-Inferencing small form factor computer
26 April 2023
AI & ML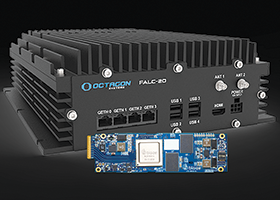 J-Squared and Blaize showcased J-Squared's FALC product family at the International Security Conference & Exposition 2023. Designed for video and AI applications at the edge, the FALC product family offers rugged and industrial variants, suited to any environment and ideal for a wide range of applications and industries.
J-Squared's flagship product, the FALC-20, provides AI inferencing performance of up to 64 TOPS and can be populated with up to four Blaize Xplorer X1600E EDSFF small form factor (SFF) accelerator cards. "Blaize made a great strategic decision in developing a version of its solution on an EDSFF card," said Andrew Woollard, from J-Squared's CTO office. "The E1.S form factor is flexible and power efficient. Integrating this into the FALC-20 design has enabled AI acceleration and storage to be interchangeable. This embraces J-Squared's design philosophy for the FALC-20 platform of modularity and versatility."
The FALC-20 leverages a COMe architecture to increase modularity further, which offers 'plug-and-play' CPU options. "J-Squared's FALC-20 provides AI acceleration powered by the Xplorer X1600E EDSFF Small Form Factor Accelerator, ideal for computer vision applications and AI inferencing solutions for edge use cases," said Dinakar Munagala, CEO and Co-founder of Blaize. "By offering a feature-rich platform capable of scaling both CPU and AI acceleration performance, it meets end application software requirements, while handling the power and thermal limitations imposed by rugged and challenging edge deployment environments in aerospace, industrial, and transportation industries."
With options for wireless communication, the FALC-20 is the ideal solution for both edge-native and hybrid edge-cloud architectures. "The pendulum is starting to swing away from cloud-only deployments, and many industries are beginning to adopt hybrid-cloud architectures. Companies are seeking to tap into the advantages of edge-computing such as freedom from wireless bandwidth challenges, reduced latency, and privacy challenges, all which greatly impact security and surveillance applications," said Jeff Gibson, J-Squared's founder and CEO.
For more information visit www.jsquared.com
Further reading:
The dream of Edge AI
Altron Arrow Editor's Choice AI & ML
AI technology carries a great promise – the idea that machines can make decisions based on the world around them, processing information like a human might. But the promise of AI is currently only being fulfilled by big machines.
Read more...
---
MAX78000 neural network accelerator chip
Altron Arrow AI & ML
The hardware-based convolutional neural network accelerator enables even battery-powered applications to execute AI inferences.
Read more...
---
Nanomaterials to build next-gen AI hardware?
AI & ML
From improving scientific analyses and imaging capabilities, to predictive maintenance and monitoring operations in industrial settings, artificial intelligence is becoming ever more present in modern-day society.
Read more...
---
Microchip launches MPLAB ML development suite
AI & ML
Microchip's unique solution is first to support 8-, 16- and 32-bit MCUs and 32-MPUs for machine learning at the edge.
Read more...
---
ToF sensor enables AI applications
Altron Arrow AI & ML
The VL53L7CH from STMicroelectronics is the perfect Time-of-Flight sensor enabling AI applications, with ultrawide 90° diagonal FoV and low power consumption.
Read more...
---
Analogue compute platform to accelerate Edge AI
Altron Arrow Editor's Choice AI & ML
Microchip has teamed up with Intelligent Hardware Korea to develop an analogue compute platform to accelerate Edge AI/ML inferencing using Microchip's memBrain non-volatile in-memory compute technology.
Read more...
---
World's most powerful open LLM
AI & ML
With a staggering 180 billion parameters, and trained on 3,5 trillion tokens, Falcon 180B has soared to the top of the Hugging Face Leaderboard for pretrained LLMs.
Read more...
---
Advancing quality control
Avnet Silica AI & ML
As manufacturing processes continue to become more sophisticated, the importance and effectiveness of advanced DVI solutions escalate, presenting opportunities for improved quality control.
Read more...
---
Give your edge AI model a performance boost
AI & ML
Join this webinar from STMicroelectronics to learn how to create an edge AI application easily on an STM32 MCU using the NVIDIA TAO toolkit.
Read more...
---
Three reasons why AI, ML add value for SMMEs only if the basics are in place
AI & ML
There is much chatter around artificial intelligence (AI) and the subfield of machine learning (ML), which can be confusing for SMME owners who may believe that they need to climb on the bandwagon.
Read more...
---