printer friendly version
Night time landings during load shedding
26 April 2023
Opto-Electronics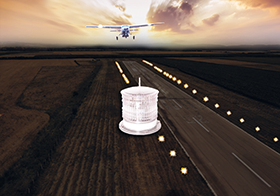 Solar/battery-powered runway lights that are totally independent of any external power source are now available through Otto Wireless Solutions The lights have a built-in light-sensitive switch making them turn on automatically in low visibility or as the light fades, and off again when there is sufficient light.
The lights are available in a variety of colours – green for approach, white for runway lights, red for end lights, and blue for taxiway lights. Both the red and green lights have a 120° visibility arc to ensure that they can be seen only from the correct side.
The lights use high-intensity LEDs and are visible from a minimum of 3000 m away in low visibility conditions. The high-capacity battery will ensure the light operates for up to 12 days at 12 hours a day, from a full charge.
The LEDs used have a life span of over 80 000 hours, while the long-life battery has a life span of around four years, with the battery being able to be easily replaced when required.
Each lamp is a standalone unit and is independent of any other lighting. Installation is quick and simple. No trenches need to be dug, and no cables are required.
This lighting solution is perfect for any airfield that requires runway lighting but does not have a suitable power system in place to overcome load shedding.
Credit(s)
Further reading:
Industrial networking devices from InHand
Otto Wireless Solutions Computer/Embedded Technology
The InHand routers, edge gateways, and industrial switches are ideal solutions for any scenario in which control of an IIoT Ethernet network is needed.
Read more...
---
NTC thermistors for laser diode temperature measurement
Electrocomp Opto-Electronics
These bondable NTC thermistors can be mounted with Au wire bonding inside the package for highly accurate temperature detection of laser diodes used for optical communication.
Read more...
---
Otto Wireless Solutions invests in the future
Otto Wireless Solutions Telecoms, Datacoms, Wireless, IoT
Otto Wireless Solutions has recently invested in a new Keysight Vector Network Analyzer with an operating frequency range of 300 kHz to 9 GHz.
Read more...
---
Touch screen enables wise data visualisation
Rugged Interconnect Technologies Opto-Electronics
ADLINK offers comprehensive industrial-grade touch monitors and smart panels with in-house value-added customisation.
Read more...
---
IEEE 802.11be: What's the fuss?
Otto Wireless Solutions Editor's Choice Telecoms, Datacoms, Wireless, IoT
The next amendment to the IEEE 802.11 Wi-Fi standard is known as IEEE 802.11be EHT (extremely high throughput), or by its common name, Wi-Fi 7.
Read more...
---
The next evolution in the industrial router range
Otto Wireless Solutions Telecoms, Datacoms, Wireless, IoT
Chief amongst the considerations for using Wlink is its seamless SIM failover, WAN failover, APN failover, and engine failover (in the case of their dual engine routers).
Read more...
---
Upgraded GUIs on STM32 microcontrollers
Altron Arrow Opto-Electronics
TouchGFX has now been upgraded to version 4.22, which sees many new features to aid developers with their user experience.
Read more...
---
Ultrabright chip LEDs
Avnet Abacus Opto-Electronics
Vishay's range of high-reliability ultrabright chip LEDs feature a tiny footprint with excellent efficiency, and are available in two sizes, SMD 0603 and 0402.
Read more...
---
Efficient industrial LED lighting systems
Opto-Electronics
icotek produces a range of smart lighting solutions for control panels, machinery and server racks, to provide effective lighting in various applications.
Read more...
---
The Otto Wireless team is growing
Otto Wireless Solutions News
Otto Wireless Solutions has announced the appointment of two new team members, one as receptionist and another as part of the internal sales team.
Read more...
---