printer friendly version
Pinpoint detection with the HG-F laser distance sensor
26 April 2023
Opto-Electronics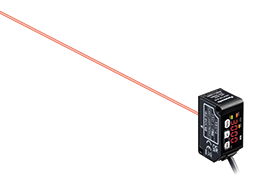 Panasonic Industry has released the new laser distance sensor HG-F, that can reliably detect at distances of up to 3 m using ToF (Time of Flight) technology. This means that the sensor can be installed at some distance from the object to be measured so that the movement of employees, or the movement radius of cobots or robot arms, is not hindered in any way. The long range of the HG-F also ensures freedom of design: installation at a distance enables the measurement of large workpieces or products of different heights on a line.
As a laser sensor, the HG-F uses ToF technology and falls into laser class 1. The advantage of this laser class is that no special protective devices are necessary. The laser beam is also visible, which is helpful when setting up the sensor. In addition, the HG-F has a special installation mode that makes commissioning particularly easy by amplifying the light intensity.
Another advantage of laser measurement is that the laser beam has a narrow pathway to the workpiece. This makes the HG-F ideal for applications where there is little space available for optical measurement.
The HG-F is housed in a compact, lightweight and high-strength aluminium diecast case, that measures only 20 x 44 x 25 mm, making it well-suited for operation in demanding environments with limited space. The housing also contains a digital display which aids in setup. Mounted alongside the three buttons, the desired measuring distance can be numerically set on the sensor, and the display provides immediate feedback of the desired clearance.
Credit(s)
Further reading:
Short pulse fibre laser marker
ElectroMechanica Manufacturing / Production Technology, Hardware & Services
Panasonic's LP-ZV series is a 3D short pulse laser marker that offers high speed and precision, making it ideal for a wide range of metal or plastic marking applications.
Read more...
---
NTC thermistors for laser diode temperature measurement
Electrocomp Opto-Electronics
These bondable NTC thermistors can be mounted with Au wire bonding inside the package for highly accurate temperature detection of laser diodes used for optical communication.
Read more...
---
Touch screen enables wise data visualisation
Rugged Interconnect Technologies Opto-Electronics
ADLINK offers comprehensive industrial-grade touch monitors and smart panels with in-house value-added customisation.
Read more...
---
Upgraded GUIs on STM32 microcontrollers
Altron Arrow Opto-Electronics
TouchGFX has now been upgraded to version 4.22, which sees many new features to aid developers with their user experience.
Read more...
---
Ultrabright chip LEDs
Avnet Abacus Opto-Electronics
Vishay's range of high-reliability ultrabright chip LEDs feature a tiny footprint with excellent efficiency, and are available in two sizes, SMD 0603 and 0402.
Read more...
---
Efficient industrial LED lighting systems
Opto-Electronics
icotek produces a range of smart lighting solutions for control panels, machinery and server racks, to provide effective lighting in various applications.
Read more...
---
LIDAR filters
Editor's Choice Opto-Electronics
LIDAR filters must be designed with the specific application and sensor type in mind to maximise signal-to-noise ratio.
Read more...
---
New UHF RFID increases picking efficiency
Brady Corporation Opto-Electronics
Brady's new LED UHF RFID label and reader solution is optimised to increase picking efficiency, as it is now possible to pinpoint the location of assets with greater accuracy.
Read more...
---
Battle germs with UV-C LEDs
CST Electronics Opto-Electronics
LITEON provides compact LED solutions for ultraviolet-C applications that can battle germs and viruses by deactivating the reproduction process of microorganisms.
Read more...
---
MicroLEDs are revolutionising the way we see
EBV Electrolink Opto-Electronics
MicroLED technology is promising exceptionally brilliant colours, very high brightness and resolution, and great reliability, all at very low power consumption.
Read more...
---