printer friendly version
Giving you the smart edge
31 May 2023
AI & ML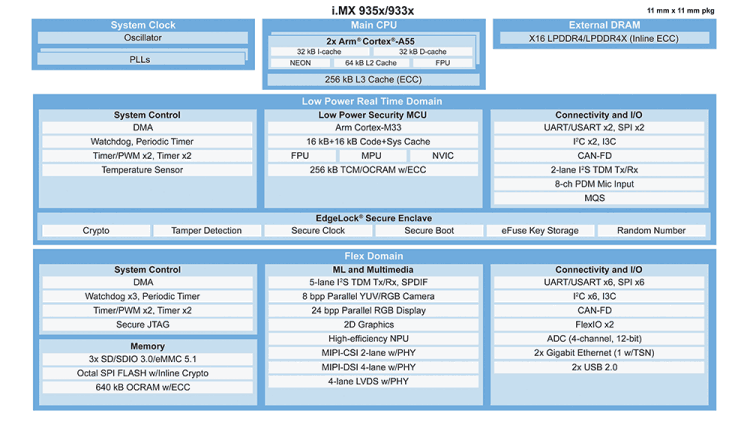 NXP's i.MX 93 family of applications processors is the first in the next generation i.MX 9 applications processors series. The i.MX 93 system-on-chip (SoC) architecture integrates one or two Arm Cortex-A55 cores, one Arm Cortex-M33 core, and an Arm Ethos-U65 Neural Processing Unit (NPU). These processing units were chosen for their superior power efficiency and performance capabilities compared to their previous generation counterparts.
The Cortex-M33 provides added security with Arm's TrustZone technology. In addition to these components, a big part of the reason i.MX 93 family achieves high power efficiency and performance is NXP's innovative energy flex architecture.
The i.MX 93 SoC also integrates NXP's EdgeLock secure enclave – a self-managing, state-of-the-art security solution. This enhanced-security sub-system provides robust and autonomous management of critical security functions, such as root of trust (RoT), run-time attestation (RTT), trust provisioning (TP), secure boot, key management, and cryptographic services, while at the same time simplifying the path to industry-standard security certifications.
NXP's highly integrated PCA9451A power management integrated circuit (PMIC) and the IW612 Wi-Fi module are bundled together with the i.MX 93 family development kit. They are designed to deliver the highest performance from the i.MX 93 processor family, and were defined, co-developed, and co-validated with the processor to enable a more efficient design process.
A complete Linux environment is provided to ease the applications development process. A fully operational toolchain, kernel and board specific modules are ready to use together for i.MX 93 development.
Credit(s)
Further reading:
High-precision coreless current sensor
RS South Africa Power Electronics / Power Management
The Infineon XENSIV TLE4971 is a new automotive-qualified pre-programmed 120 A sensor without the saturation or hysteresis effects.
Read more...
---
Low-profile power inductors
RS South Africa Passive Components
TDK Corporation has announced the introduction of its new PLEA85 series of high-efficiency power inductors developed for battery-powered wearables and other devices.
Read more...
---
RS unveils Better World product range
RS South Africa News
RS South Africa recently announced the launch of its Better World product range, which includes products that are supported by trusted certifications and eco-labels.
Read more...
---
The dream of Edge AI
Altron Arrow Editor's Choice AI & ML
AI technology carries a great promise – the idea that machines can make decisions based on the world around them, processing information like a human might. But the promise of AI is currently only being fulfilled by big machines.
Read more...
---
MAX78000 neural network accelerator chip
Altron Arrow AI & ML
The hardware-based convolutional neural network accelerator enables even battery-powered applications to execute AI inferences.
Read more...
---
Nanomaterials to build next-gen AI hardware?
AI & ML
From improving scientific analyses and imaging capabilities, to predictive maintenance and monitoring operations in industrial settings, artificial intelligence is becoming ever more present in modern-day society.
Read more...
---
Indoor air-quality monitor
RS South Africa Test & Measurement
Manufactured by ebm-papst, the new indoor air-quality (IAQ) monitor constantly assesses five key factors that can affect people's health, including particulate matter (PM2.5), carbon dioxide (CO
2
), volatile organic compounds (TVOC), temperature, and humidity.
Read more...
---
Microchip launches MPLAB ML development suite
AI & ML
Microchip's unique solution is first to support 8-, 16- and 32-bit MCUs and 32-MPUs for machine learning at the edge.
Read more...
---
ToF sensor enables AI applications
Altron Arrow AI & ML
The VL53L7CH from STMicroelectronics is the perfect Time-of-Flight sensor enabling AI applications, with ultrawide 90° diagonal FoV and low power consumption.
Read more...
---
Analogue compute platform to accelerate Edge AI
Altron Arrow Editor's Choice AI & ML
Microchip has teamed up with Intelligent Hardware Korea to develop an analogue compute platform to accelerate Edge AI/ML inferencing using Microchip's memBrain non-volatile in-memory compute technology.
Read more...
---