printer friendly version
Battle germs with UV-C LEDs
31 May 2023
Opto-Electronics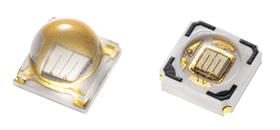 In many industries, the ability to disinfect surfaces without the use of chemicals is critical.
This is where ultraviolet light sterilisation can provide a safe and effective solution. LITEON provides compact LED solutions for UV-C applications in disinfection, decontamination, sterilisation and sanitisation. This UV-C light, also known as shortwave or germicidal UV light, will kill organisms such as bacteria, yeasts, and fungi in seconds without the need for harmful chemicals.
LITEON's solutions offer a flexible design for any application that requires UV-C radiation. These LEDs provide excellent humidity protection, with a quartz lens for long lifetime performance. Advanced thermal management provides high quality and reliability. Verified by a third-party, the UV-C solution is certified to kill 99.99% of all bacteria, and with an IP58 rating, these electronic components provide a robust decontamination solution.
The range of UV-C LEDs include low-, medium-, and high-power devices. The high-power LTPL-G06UV275GX LED module is a 6 x 6 mm chip that provides 80 mW of output power with a peak wavelength of 275 nm and a viewing angle of 120°.
Typical applications for these LEDs include horticulture treatment, sensing, and standard UV-C treatment of any surface or enclosure.
For more information contact CST Electronics, +27 11 608 0070, sales@cstelectronics.co.za, www.cstelectronics.co.za
Credit(s)
Further reading:
New NeoMesh protocol stack version
CST Electronics Circuit & System Protection
NeoCortec has released an updated NeoMesh protocol stack version 1.6 firmware for its NC2400 and NC1000 module series, which now supports the new Sensirion SHT4xA temperature and humidity sensor series.
Read more...
---
NTC thermistors for laser diode temperature measurement
Electrocomp Opto-Electronics
These bondable NTC thermistors can be mounted with Au wire bonding inside the package for highly accurate temperature detection of laser diodes used for optical communication.
Read more...
---
Touch screen enables wise data visualisation
Rugged Interconnect Technologies Opto-Electronics
ADLINK offers comprehensive industrial-grade touch monitors and smart panels with in-house value-added customisation.
Read more...
---
Upgraded GUIs on STM32 microcontrollers
Altron Arrow Opto-Electronics
TouchGFX has now been upgraded to version 4.22, which sees many new features to aid developers with their user experience.
Read more...
---
Ultrabright chip LEDs
Avnet Abacus Opto-Electronics
Vishay's range of high-reliability ultrabright chip LEDs feature a tiny footprint with excellent efficiency, and are available in two sizes, SMD 0603 and 0402.
Read more...
---
Efficient industrial LED lighting systems
Opto-Electronics
icotek produces a range of smart lighting solutions for control panels, machinery and server racks, to provide effective lighting in various applications.
Read more...
---
Pine Ox64 SBC
CST Electronics DSP, Micros & Memory
The Ox64 single board computer from the company Pine64 is a RISC-V based SBC powered by Bouffalo Lab's BL808 64-bit RISC-V CPU.
Read more...
---
LIDAR filters
Editor's Choice Opto-Electronics
LIDAR filters must be designed with the specific application and sensor type in mind to maximise signal-to-noise ratio.
Read more...
---
Energy measurement IC with integrated relay control
CST Electronics Power Electronics / Power Management
The SY7T501 and SY7T502 from Silergy are its newest energy measurement ICs for cost-sensitive IoT applications such as smart-plugs, dimmers, power-strips, and intelligent lighting.
Read more...
---
Single-phase energy measurement IC
CST Electronics Power Electronics / Power Management
Silergy's SY7T611+L2 energy measurement IC contains a high-resolution delta-sigma ADC with configurable analogue inputs for sampling two voltage and two current sensor signals, perfect for monitoring of any two-/three-wire single-phase circuit.
Read more...
---