printer friendly version
MicroLEDs are revolutionising the way we see
31 May 2023
Opto-Electronics
LED technology laid the foundation for high-quality colour-intensive video walls and LCD screens. It was followed by OLED technology offering high colour contrast, wider viewing angles, and flexible designs. Today, the increasing volume of data creates the need to display as much information as possible in the smallest possible space, in real time and in the highest quality. MicroLED technology is expected to meet the demands of the display industry, promising exceptionally brilliant colours at very low power consumption, very high brightness and resolution, great reliability, fast response times, and flexibility.
Furthermore, microLEDs are not sensitive to oxygen and moisture and therefore, no encapsulation is needed. This enhances their ability to be manufactured into smaller modules.
MicroLEDs have another major trick up their sleeve when compared to LCD technology. Being modular, with each individual LED able to emit light and be individually controlled, allows them to be manufactured into flexible displays.
ams OSRAM is in a unique position as it offers application and product expertise in LEDs, sensors, and drivers. Julia Halasz, head of the displays business line, says: "MicroLED displays are based on tiny LED devices that are used to directly generate the individual pixels. Each of these pixels consists of individual red, green and blue LEDs as independently controllable sub-pixels."
MicroLEDs today have an edge length of about 50 µm. ams OSRAM is focusing on chip edge lengths of 10µm and less as it believes that this will be the disruptive component in the market. To put this into perspective, there is enough space on a 1-euro coin for more than four million microLEDs!
Halasz adds: "In addition to their brilliant colours and all the benefits already mentioned, microLED-based displays have the potential to integrate sensors and infrared LEDs to enable touch, brightness and motion sensing. Some of those features are already available and mounted behind OLED displays, and this is particularly interesting for future developments in smartphones and wearables."
To provide the promise of high image quality, brilliant colours and good readability even in bright sunlight, the technology needs to offer a wide colour gamut, high contrast, wide viewing angles, high pixel density, and fast refresh rates. These are the specifications that microLEDs can provide.
Energy efficiency is of course also an important consideration and as microLED displays only draw power for lit pixels, their system efficiency is high. This could result in significantly lower power consumption and longer battery life.
MicroLED displays are both durable and robust, and are therefore also suited to automotive applications which have demanding conditions including extreme temperatures and humidity. Like their bigger brothers, microLEDs also enable modular, seamless designs. This will pave the way to large borderless interactive wall displays.
MicroLED technology will disrupt the display market, promising to herald in a new age of high-resolution, vibrant, and robust displays.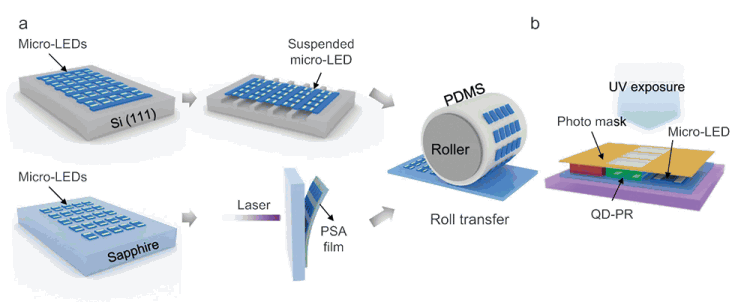 a) Schematic of transferring a microLED array from mother substrate to target substrate using roll transfer. b) Patterning of QD-PR on microLED array using conventional photolithography. [npj flexible electronics, December 2022]
For more information contact EBV Electrolink, +27 21 402 1940, capetown@ebv.com, www.ebv.com
Credit(s)
Further reading:
Making Matter provisioning secure and easy
EBV Electrolink Telecoms, Datacoms, Wireless, IoT
Integrated solution of CommScope's PKIWorks platform with STMicroelectronics' STM32WB wireless microcontroller enables IoT security for Matter device development.
Read more...
---
Driver amplifiers for wireless infrastructure
EBV Electrolink Telecoms, Datacoms, Wireless, IoT
The BGA7P320 is a 3,3 to 4,2 GHz mid-band driver amplifier that can be used as pre-driver or driver in RF applications, from MIMO 5G base stations to small cells and access points.
Read more...
---
Vishay honours EBV with distributor award
EBV Electrolink News
Vishay has honoured EBV Elektronik with the 'Semiconductor Distributor of the Year – 2022' award based on the company's outstanding contribution, design activities, overall process excellence and performance throughout EMEA.
Read more...
---
Chip extends battery life
EBV Electrolink Power Electronics / Power Management
Nexperia's new DC-DC converter IC has been designed to extend the life of 3V coin cells in IoT applications.
Read more...
---
Advanced power supply design automation
EBV Electrolink Power Electronics / Power Management
Power Integrations and SnapMagic have announced that PI Expert, Power Integrations' robust, online design tool, now features schematic and netlist export, made possible by SnapMagic's new schematic export technology.
Read more...
---
Microchip's 28 nm memory in production
EBV Electrolink DSP, Micros & Memory
GlobalFoundries and Microchip have announced that Microchip's 28 nm SuperFlash embedded flash memory solution is in production. The widely deployed non-volatile memory (NVM) solution is optimised for microcontrollers, smart cards and IoT chips.
Read more...
---
All-in-one chips for automotive applications
EBV Electrolink Power Electronics / Power Management
STMicroelectronics' SPSB081 automotive power-management IC' s features include a main fixed-voltage low-dropout regulator (LDO), a secondary programmable LDO, four high-side drivers, a CAN FD transceiver, and an optional LIN transceiver.
Read more...
---
NTC thermistors for laser diode temperature measurement
Electrocomp Opto-Electronics
These bondable NTC thermistors can be mounted with Au wire bonding inside the package for highly accurate temperature detection of laser diodes used for optical communication.
Read more...
---
EBV Electronik wins best distributor award
EBV Electrolink News
EBV Elektronik has been recognised by STMicroelectronics as its '2022 Best Performing Distributor in EMEA', after showing the highest POS growth and best demand creation results.
Read more...
---
Arm Cortex-A53-based applications processors
EBV Electrolink DSP, Micros & Memory
NXP's i.MX 8M Nano family of applications processors provide cost-effective integration and affordable performance for smart, connected, power-efficient devices requiring graphics, vision, voice control, intelligent sensing, and general-purpose processing.
Read more...
---