printer friendly version
Absolute digital output barometer with Qvar
28 June 2023
Test & Measurement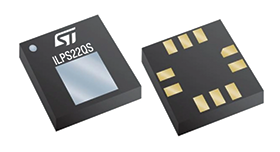 STMicroelectronics' ILPS22QS is a dual full-scale 4060 hPa absolute digital output barometer with integrated Qvar sensor.
The ILPS22QS is available in a small fully moulded package 2 x 2 x 0,73 mm. This high-performance barometer IC has an absolute accuracy of ±0,5 hPa in the temperature range from -20 to 80°C, with a full operating temperature range of -40 to 105°C.
Two modes of operation are available:
• Mode 1 allows measurement up to 1260 hPa (1,26 bar).
• Mode 2 further increases this to 4060 hPa (4 bar).
The IC exhibits high absolute pressure accuracy of 0,5 hPa (mode 1) and 0,28% (mode 2). A low noise figure of only 0,34 Pa in mode 1, and 0,57 Pa in mode 2, is present.
Current consumption is down to 1,8 µA in ultra-low power mode. Embedded temperature compensation realises a temperature coefficient offset of only 0,45 Pa/°C.
Used as a pressure sensor for altimeter applications, a resolution of less than 5 cm can be achieved under stable environmental conditions. Other applications include smart filters, ventilators, and CPAP equipment.
Credit(s)
Further reading:
Webinar: The key to smart occupancy
Test & Measurement
This one-hour session will allow the attendee to discover the company's latest infrared sensor with high-sensitivity presence and motion detection capabilities.
Read more...
---
Portable 100 MHz digital oscilloscope
Vepac Electronics Test & Measurement
The PeakTech P1331 is a powerful 100 MHz four-channel portable digital oscilloscope that is ideal for mobile use on a laptop, or for permanent installation in control cabinets.
Read more...
---
OTDR evaluates 20 000 km of submarine cables
Coral-i Solutions Test & Measurement
The MW90010B from Anritsu can evaluate up to 20 000 km of submarine cable, and has an easily selectable wavelength that covers the full C-band.
Read more...
---
Wireless MCU with 15 years of battery life
Altron Arrow DSP, Micros & Memory
ST has integrated an industry-unique ultra-low-power radio which the MCU can power-down to save energy while listening continuously for a wake-up signal.
Read more...
---
High bandwidth current-sense amplifier
Altron Arrow DSP, Micros & Memory
The AD8410A from Analog Devices is a high voltage, high-bandwidth current-sense amplifier which features an initial gain of 20 V/V.
Read more...
---
Microcontroller with Bluetooth LE 5.3
Altron Arrow News
The STM32WBA 32-bit Wireless series from STMicroelectronics brings designers the performance, efficiency, and security required for Bluetooth Low Energy 5.3-enabled applications. The STM32WBA offers essential 
...
Read more...
---
Comprehensive AI computing solution
Altron Arrow News
Powered by the NVIDIA Jetson AGX Orin, the BOXER-8640AI fanless Box PC from AAEON Technology brings AI capabilities to the edge. The NVIDIA Jetson AGX Orin's Ampere architecture boasts 1792 CUDA and 56 
...
Read more...
---
Isolated solid state relay
Altron Arrow Passive Components
The ISO808, ISO808-1 (PowerSO-36) and ISO808Q, ISO808Q-1 (TFQFPN32) are galvanic isolated eight-channel drivers featuring a low supply current.
Read more...
---
Laser shaft alignment tool
Comtest Test & Measurement
The Fluke 831 lets technicians and engineers easily verify shaft alignment, with an intuitive guided user interface that enables quick and complete shaft alignment without advanced training or complicated programs.
Read more...
---
The dream of Edge AI
Altron Arrow Editor's Choice AI & ML
AI technology carries a great promise – the idea that machines can make decisions based on the world around them, processing information like a human might. But the promise of AI is currently only being fulfilled by big machines.
Read more...
---