printer friendly version
Case study: material handling system
26 July 2023 Editor's Choice Manufacturing / Production Technology, Hardware & Services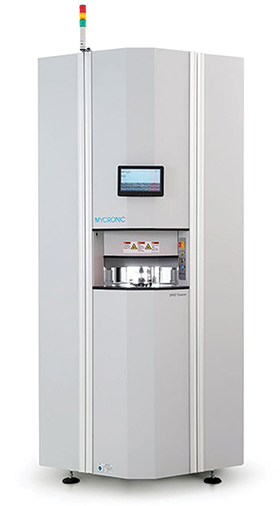 Gables Engineering has a deep history in aviation avionics. Being an industry leader in avionics controls, with customers including Boeing and Airbus, the company's custom control panels can be found on virtually every major commercial aircraft model produced in the last 70 years.
To promise customers short design-to-production cycles with an expansive product mix, material handling was a constant challenge. "When we started SMT manufacturing at this site," says Clarence Nichols, SMT supervisor at Gables Engineering, "we placed our parts on shelves and in drawers. It was difficult to locate parts."
In addition to requiring a four-person kitting staff, the manual storage system gave little insight into the location, stock levels or traceability of parts. Manual documentation was time-consuming, and with such a large stock of parts, discrepancies in inventory counts were inevitable. Only an annual inventory audit revealed eventual overstock and waste.
As part of a continuous effort to define future developments in the industry, the engineers at Gables regularly visited the major SMT trade shows in search of evolving technologies. It was here that a promising alternative for the material handling issues was identified. "One year we visited APEX and were introduced to Mycronic's SMD Tower," says Nichols. The assembly team decided to give the system a try. Those towers turned out to be a lifesaver when it came to inventory.
As soon as the team began labelling reels, programming jobs, and assembling kits, the benefits became obvious. "Time spent locating parts and gathering kits dropped sharply, and so we began installing more of them", explains Nichols. "Today we have seven towers and are considering upgrading a few of them."
Nichols continued, "The system's software features have enabled an unprecedented level of stock accuracy. The combination of the tower and the MYCenter software gives us real-time tracking of our inventory and the location of all our parts. So instead of doing annual inventory audits like before, we can just go into the system, print out the total number of parts left, and make adjustments."
Further reading:
Products of the year 2023
Editor's Choice News
A summary of products and technologies from 2023 that are currently shaping the electronic engineering industry.
Read more...
---
The dream of Edge AI
Altron Arrow Editor's Choice AI & ML
AI technology carries a great promise – the idea that machines can make decisions based on the world around them, processing information like a human might. But the promise of AI is currently only being fulfilled by big machines.
Read more...
---
Save space and improve efficiency with a 4-switch buck-boost controller
Altron Arrow Editor's Choice Telecoms, Datacoms, Wireless, IoT
A new generation of 4-switch buck-boost controllers enables power system design with very high efficiency and high power density by using inductor DC resistance (DCR) current-sensing techniques.
Read more...
---
Matter 1.2 adds new capabilities
NuVision Electronics Editor's Choice Telecoms, Datacoms, Wireless, IoT
This update introduces new device types and expands the reach of Matter into new markets, while also bringing other improvements that enhance interoperability and user experience.
Read more...
---
Personality Profile: Paul Eveleigh
Hiconnex Editor's Choice
With a strong and experienced team behind him, he can put into practice what he has learned during his career and ultimately grow the company towards its strategic objectives.
Read more...
---
FPGAs speed up intelligent edge designs
ASIC Design Services Editor's Choice DSP, Micros & Memory
Microchip Technology has added nine new technology- and application-specific solution stacks to its growing collection of mid-range FPGA and SoC support.
Read more...
---
Raspberry Pi 5 announced
RS Components SA Editor's Choice DSP, Micros & Memory
The R-Pi 5 comes with new features and is over twice as fast as its predecessor, the R-Pi 4, thanks to an upgrade to the main processor.
Read more...
---
Dead-reckoning GNSS module
Altron Arrow Editor's Choice Telecoms, Datacoms, Wireless, IoT
STMicroelectronics' Teseo-VIC3D module is an easy-to-use dead-reckoning global navigation satellite system (GNSS) standalone module, embedding TeseoIII single-die standalone positioning receiver IC.
Read more...
---
Quantum leap in battery technology
Editor's Choice Power Electronics / Power Management
A German start-up has developed a solid-state battery ready for series production with outstanding properties: no cobalt, ten times longer service life, and non-flammable electrolyte.
Read more...
---
Simplify your USB-C PD design using a standalone controller
Altron Arrow Editor's Choice
USB PD poses new power requirement challenges because of the variety of voltage and current combinations available to supply the wide range of power the USB PD standard must provide.
Read more...
---