printer friendly version
Portable GPU for AI applications
26 July 2023 Editor's Choice AI & ML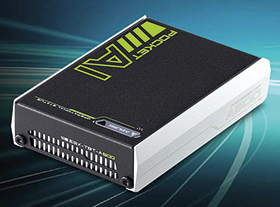 Pocket AI by ADLINK embeds a portable adaptation of an Nvidia RTX GPU to offer the ultimate in flexibility and reliability while on the move. This portable, plug and play AI accelerator delivers a perfect power/performance balance.
The Pocket AI module consists of an Nvidia RTX A500 GPU with 4 GB GDDR6 RAM onboard. The GPU consists of 2048 CUDA cores, 64 Tensor cores, and 16 RT cores, and is capable of 100 TOPS in inference and 6,54 TFLOPS peak FP32 bit performance. Nvidia CUDA X and RTX software enhancements are included.
A thunderbolt interface is used to connect the Pocket AI to a host laptop. Pocket AI takes the advantages of Thunderbolt on its lighting transfer speed of up to 40 Gb/s and general availability in modern hosts, creating an intuitive plug-n-play UX with a stellar boost in productivity for AI developers and professionals.
Pocket AI is the perfect device for AI developers, professional graphics users and embedded industrial applications for boosting productivity by improving the work efficiency. The module also offers affordable gaming performance. It provides a smooth and seamless gaming experience, without the need for a high-end gaming laptop, making it an ideal solution for budget gamers.
Further reading:
Products of the year 2023
Editor's Choice News
A summary of products and technologies from 2023 that are currently shaping the electronic engineering industry.
Read more...
---
The dream of Edge AI
Altron Arrow Editor's Choice AI & ML
AI technology carries a great promise – the idea that machines can make decisions based on the world around them, processing information like a human might. But the promise of AI is currently only being fulfilled by big machines.
Read more...
---
Save space and improve efficiency with a 4-switch buck-boost controller
Altron Arrow Editor's Choice Telecoms, Datacoms, Wireless, IoT
A new generation of 4-switch buck-boost controllers enables power system design with very high efficiency and high power density by using inductor DC resistance (DCR) current-sensing techniques.
Read more...
---
Matter 1.2 adds new capabilities
NuVision Electronics Editor's Choice Telecoms, Datacoms, Wireless, IoT
This update introduces new device types and expands the reach of Matter into new markets, while also bringing other improvements that enhance interoperability and user experience.
Read more...
---
Personality Profile: Paul Eveleigh
Hiconnex Editor's Choice
With a strong and experienced team behind him, he can put into practice what he has learned during his career and ultimately grow the company towards its strategic objectives.
Read more...
---
FPGAs speed up intelligent edge designs
ASIC Design Services Editor's Choice DSP, Micros & Memory
Microchip Technology has added nine new technology- and application-specific solution stacks to its growing collection of mid-range FPGA and SoC support.
Read more...
---
Raspberry Pi 5 announced
RS Components SA Editor's Choice DSP, Micros & Memory
The R-Pi 5 comes with new features and is over twice as fast as its predecessor, the R-Pi 4, thanks to an upgrade to the main processor.
Read more...
---
Dead-reckoning GNSS module
Altron Arrow Editor's Choice Telecoms, Datacoms, Wireless, IoT
STMicroelectronics' Teseo-VIC3D module is an easy-to-use dead-reckoning global navigation satellite system (GNSS) standalone module, embedding TeseoIII single-die standalone positioning receiver IC.
Read more...
---
Quantum leap in battery technology
Editor's Choice Power Electronics / Power Management
A German start-up has developed a solid-state battery ready for series production with outstanding properties: no cobalt, ten times longer service life, and non-flammable electrolyte.
Read more...
---
Simplify your USB-C PD design using a standalone controller
Altron Arrow Editor's Choice
USB PD poses new power requirement challenges because of the variety of voltage and current combinations available to supply the wide range of power the USB PD standard must provide.
Read more...
---