printer friendly version
Efficient industrial LED lighting systems
26 July 2023
Opto-Electronics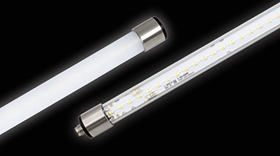 icotek produces a range of smart lighting solutions for control panels, machinery and server racks. The ALLIOLIGHT range of luminaires provide effective lighting in enclosures for industrial and IT applications. Made in Germany, the lighting systems boast a product of the highest quality.
The ALLIOLIGHT system is available in three styles: the TUBE, the ALU-LINE, and the ALLIO system.
The TUBE system provides effective lighting for machinery and equipment. They have M12 connectors for standardised interconnections and are rated to IP67.
The ALU-LINE features innovative LED lighting for industry and IT applications and provides effective lighting in enclosures. Their aluminium housing makes them particularly high-quality and robust.
The compact design of the ALLIO range provide LED lighting for industrial and IT enclosures. The system features a 190° rotating tube and offers a space-saving design.
The LED luminaires all feature a circuit-independent service life of 50 000 operating hours, irrespective of temperature or the presence of chemicals. The lighting systems, which have a guaranteed luminosity, are easy to mount in any application.
For more information contact Radél, +27 11 888 6696, info@radel.co.za, www.radel.co.za
Further reading:
NTC thermistors for laser diode temperature measurement
Electrocomp Opto-Electronics
These bondable NTC thermistors can be mounted with Au wire bonding inside the package for highly accurate temperature detection of laser diodes used for optical communication.
Read more...
---
Touch screen enables wise data visualisation
Rugged Interconnect Technologies Opto-Electronics
ADLINK offers comprehensive industrial-grade touch monitors and smart panels with in-house value-added customisation.
Read more...
---
Upgraded GUIs on STM32 microcontrollers
Altron Arrow Opto-Electronics
TouchGFX has now been upgraded to version 4.22, which sees many new features to aid developers with their user experience.
Read more...
---
Ultrabright chip LEDs
Avnet Abacus Opto-Electronics
Vishay's range of high-reliability ultrabright chip LEDs feature a tiny footprint with excellent efficiency, and are available in two sizes, SMD 0603 and 0402.
Read more...
---
LIDAR filters
Editor's Choice Opto-Electronics
LIDAR filters must be designed with the specific application and sensor type in mind to maximise signal-to-noise ratio.
Read more...
---
New UHF RFID increases picking efficiency
Brady Corporation Opto-Electronics
Brady's new LED UHF RFID label and reader solution is optimised to increase picking efficiency, as it is now possible to pinpoint the location of assets with greater accuracy.
Read more...
---
Battle germs with UV-C LEDs
CST Electronics Opto-Electronics
LITEON provides compact LED solutions for ultraviolet-C applications that can battle germs and viruses by deactivating the reproduction process of microorganisms.
Read more...
---
MicroLEDs are revolutionising the way we see
EBV Electrolink Opto-Electronics
MicroLED technology is promising exceptionally brilliant colours, very high brightness and resolution, and great reliability, all at very low power consumption.
Read more...
---
TFT displays with integrated capacitive touch
NuVision Electronics Opto-Electronics
The Winstar TFT Q Series is a TFT module family which includes module sizes from 3,5 up to 10,2 inches, with all modules featuring an integrated SSD1963 controller board.
Read more...
---
Are we ready for quantum computing?
Opto-Electronics
"Quantum computing is rapidly approaching commercial viability, and when it does, it will have an enormous impact on our lives, accelerating advances in emerging technologies in ways that are unimaginable today." – Lenore Elle Hawkins.
Read more...
---