printer friendly version
Metallised DC-link film capacitors
30 August 2023
Passive Components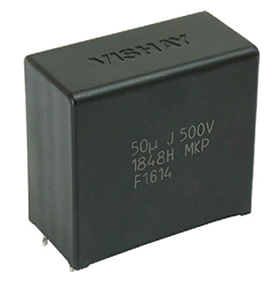 Vishay's MKP1848H metallised polypropylene DC-link film capacitors set a new benchmark in power electronics, providing an advanced solution to meet the ever-growing demands of modern energy-efficient systems. With their exceptional performance, reliability, and compact design, these capacitors offer a significant advantage in enhancing power conversion efficiency and ensuring long-term system reliability.
Engineered for robustness and endurance, the MKP1848H capacitors exhibit excellent thermal stability and offer a wide operating temperature range. Their compact size and low-profile design allow for easy integration into space-constrained applications. At the same time, their low dissipation factor and high insulation resistance contribute to increased system efficiency.
Thanks to high ripple currents, the MKP1848H capacitors are designed to withstand demanding environments, and offer long service life and reliability. They offer a large degree of robustness under conditions of high humidity up to 85% RH.
These capacitors are ideal for applications outdoors and in other harsh environments, for use in renewable energy inverters and UPS.
Credit(s)
Further reading:
Power modules enable 15% weight reduction in race cars
Future Electronics Power Electronics / Power Management
Chosen for their small and lightweight characteristics, the Vicor modules efficiently step down the high-voltage accumulator's power from 400 – 600 V to 27 – 38 V.
Read more...
---
Long-range passive infrared motion sensor
Future Electronics Passive Components
Panasonic Industry (PaPIRs) recently introduced he world's most compact long-range passive infrared motion sensor, for installation heights of up to 15 metres.
Read more...
---
Isolated solid state relay
Altron Arrow Passive Components
The ISO808, ISO808-1 (PowerSO-36) and ISO808Q, ISO808Q-1 (TFQFPN32) are galvanic isolated eight-channel drivers featuring a low supply current.
Read more...
---
Low-profile power inductors
RS South Africa Passive Components
TDK Corporation has announced the introduction of its new PLEA85 series of high-efficiency power inductors developed for battery-powered wearables and other devices.
Read more...
---
Miniature capacitor for automotive applications
Avnet Abacus Passive Components
Murata has released its LLC series of multi-layer ceramic capacitors for automotive applications, that feature a reversed termination for low ESL.
Read more...
---
Sealed tantalum capacitors
Electrocomp Passive Components
With an operating temperature range of -55 to 125°C, with voltage derating, these capacitors have been designed especially for avionics and aerospace applications.
Read more...
---
Bringing performance and security to BLE applications
Future Electronics Telecoms, Datacoms, Wireless, IoT
STMicroelectronics' STM32WBA 32-bit wireless series brings designers the performance, efficiency, and security required for Bluetooth Low Energy 5.3-enabled applications.
Read more...
---
Double metallised polypropylene capacitors
Future Electronics Passive Components
The Electrocube 985B series offers high-frequency operation, high current and low ESR in a miniature package.
Read more...
---
New series of chip-type capacitors
Electrocomp Passive Components
Panasonic Industries' SMT capacitor series all benefit from the longest lifetime plus the lowest ESR values currently available.
Read more...
---
32-bit MCU with embedded security
Future Electronics DSP, Micros & Memory
The highly configurable PIC32CZ CA microcontrollers are available with a 300 MHz Arm Cortex-M7 processor and an embedded Hardware Security Module.
Read more...
---